Underappreciated Sitcoms To Add To Your Must-Watch List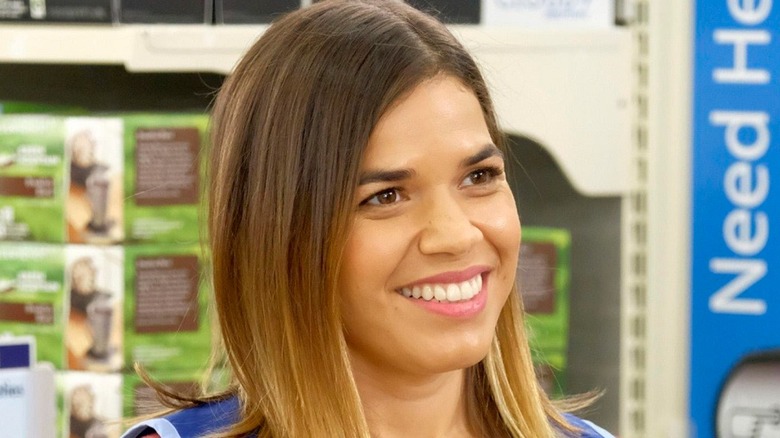 NBC
With so much scripted television out there in the universe (not to mention unscripted TV, news, sports, etc.), it can sometimes be overwhelming when you're searching out a new show. That's why so many of us end up re-watching sitcoms we have already seen, opting for the reliability of  "Seinfeld," "Cheers," or  "Fresh Prince of Bel Air" over something new and different.
For that reason, we wanted to make the case for some of our favorite underappreciated comedies –- sitcoms that either ended too soon, or that simply never got the type of hype they deserve. In today's world, where almost everything is streaming and accessible, there's really no reason why you need to miss out on these humorous programs any longer. Here are 14 amusing, innovative shows that may not be awards magnets or water cooler buzz shows but worth adding to your must-watch list right now.
Happy Endings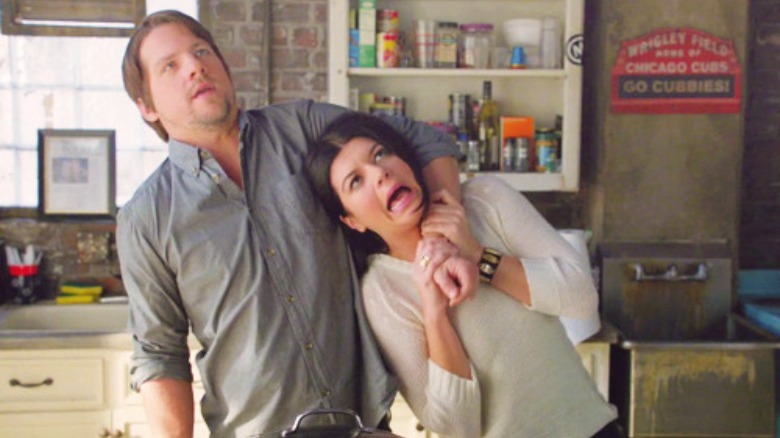 ABC
In an ideal world, ABC's "Happy Endings" would have lasted as long as "Friends" or "Big Bang Theory," but a long life was not in the cards for the hilarious sitcom. Created by David Caspe ("Marry Me," "Black Monday"), "Happy Endings" aired for three seasons – from 2011 to 2013 – before being cancelled, at least partially because the network moved it around in a manner that Vulture said "messed it all up." Shortened life notwithstanding, "Happy Endings" is an absolute gem of a comedy.
The show revolves around six wacky friends — think "Friends" if there were six Phoebes. The cast includes control-freak Jane (Eliza Coupe), her banker husband Brad (Damon Wayans Jr.), and unemployed slob Max (Adam Pally). There's also Jane's sister, Alex (Elisha Cuthbert), who loves ribs and doesn't have much intelligence to speak of, her sappy ex-fiance Dave (Zachary Knighton), and the group's man-crazy, trend obsessed PR maven Penny Hartz (Casey Wilson).
The jokes on "Happy Endings" are virtually nonstop, like a machine gun peppering out sidesplitting little bullets. And as a situational comedy, the scenarios the gang finds themselves in are always spot-on, but the ongoing gags – like Penny making up new pronunciations for words or Dave bragging about being one-sixteenth Navajo — are also what makes the show so great. There is a reason why — even now, nearly a decade after its demise – people still talk about a possible reboot.
Girls5eva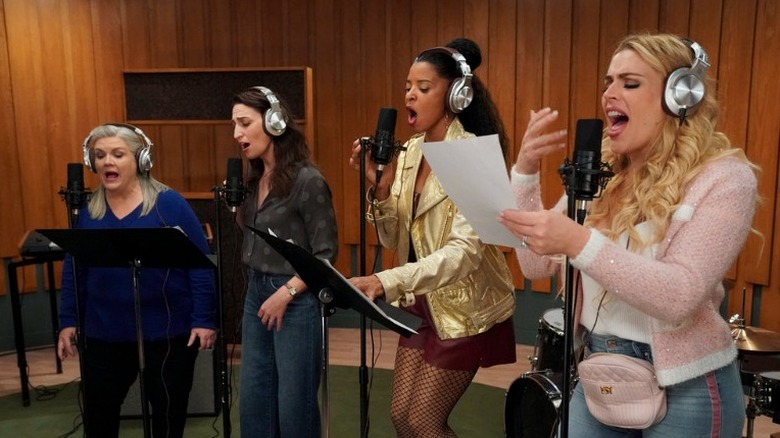 Peacock
"Girls5Eva" is a fantastic sitcom that deserves more attention. Many critics predicted that "Girls5Eva" would hit it big at this year's Emmys, the freshman comedy scored only one nomination (for outstanding writing in a comedy series). Even so, "Girls5Eva" was renewed by Peacock for a second season (via Entertainment Weekly), which is one more reason why you should catch up on existing episodes.
The show centers on four women as they set out to revive their 1990s girl group — which regained some heat after a rapper decided to sample one of their songs. It is the brainchild of writer Meredith Scardino, who previous wrote for "The Colbert Report" and penned several episodes of "Unbreakable Kimmy Schmidt."
Singer-songwriter Sara Bareilles stars as Dawn, now a waitress and the most level-headed member of the band. Dawn is joined by diva Wickie (Renee Elise Goldsberry), airhead Summer (Busy Phillips), and loose cannon Gloria (Paula Pell). We also see a fifth group member, Ashley (Ashley Park) in flashbacks, who died in a tragic infinity pool accident. If for no other reason, check out this show for the musical elements (sample lyric: "If my man does cheat / We'll only get real mad at the other girl / It was her fault only").
Workin' Moms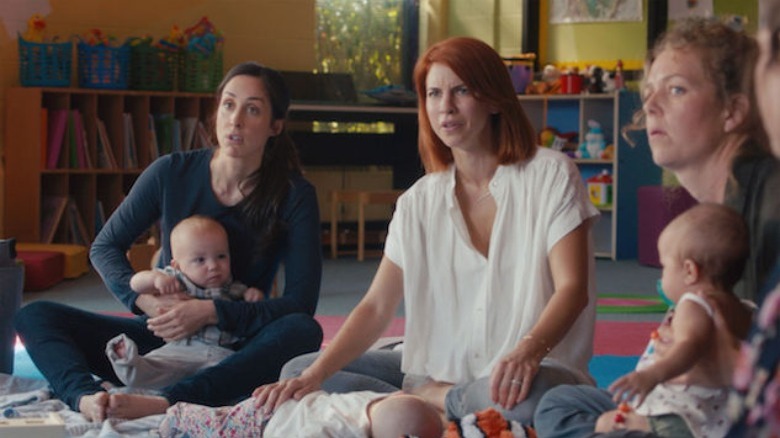 CBC
It is relatively rare for a Canadian sitcom to garner a huge audience in the United States, but with the popularity of "Schitt's Creek" and the increasing presence of foreign programs on streaming platforms, that may be changing. And if you are going to pick up one show from our Northern neighbor, make it the extremely enjoyable "Workin' Moms."
The show was created by Catherine Reitman, daughter of "Ghostbusters" director Ivan Reitman. It offers a brutally honest, unpretty look at contemporary motherhood. Reitman stars as main character Kate Foster, a driven public relations executive with a tendency to get herself into blunders. Kate belongs to a mommy group that also includes her best friend Anne (Dani Kind) –- a deeply sarcastic and jaded psychologist -– and free spirited realtor Frankie (Juno Rinaldi), among others.
"Workin' Moms" was created for the CBC in Canada, and can be seen on Netflix in America. It often seems more like a Netflix sitcom versus a mainstream broadcast one, given how raw it can be. There's occasional nudity and profanity, as well as storylines about masturbation, breastfeeding, slut shaming, and sexual abuse.
Enlisted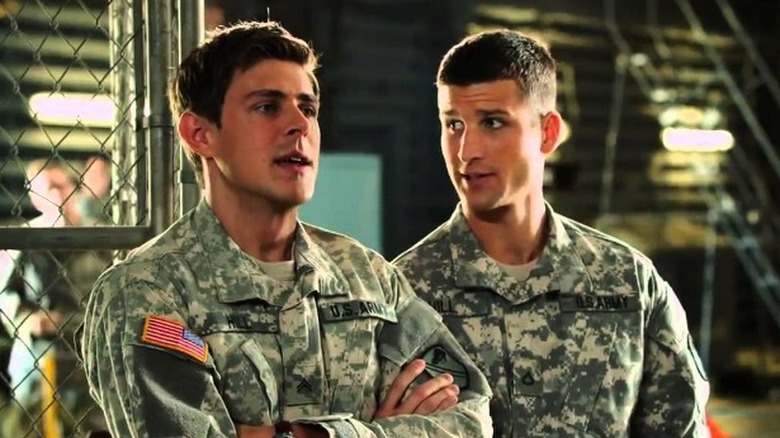 Fox
Created by Kevin Biegel ("Cougar Town"), "Enlisted" lasted only one season -– though, to be fair, the ratings-challenged show was plagued with a Friday night timeslot back in 2014. And what the comedy did give us was thirteen entertaining episodes that feature solid jokes and impeccable chemistry between the three leads.
"Enlisted" is about three brothers serving in the armed forces, all stationed at the same base. Geoff Stults plays Sargant Pete Hill, who is in charge of the platoon that includes his younger brothers Corporal Derrick (Chris Lowell) and Private Randy (Parker Young). There are a slew of other misfit characters, but it's the dynamic between the brothers that makes the show so great.
Uptight Pete has quite the temper (he was kicked out of Afghanistan for assaulting a superior) and a love for boundaries, and so it's quite the joy watching dimwitted Randy invade his space by slipping into the shower beside him or hearing wisecracking Derrick land a zinger at his expense. "Enlisted" is a military comedy crossed with a family sitcom and it's worth tracking down the one-and-done show for immediate viewing.
Superstore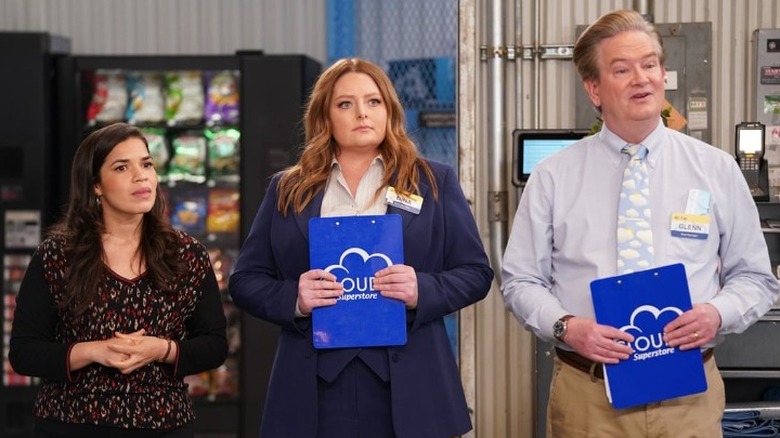 NBC
Unlike so many sitcoms out there, "Superstore" never entered a decline –- it just kept getting better and better throughout its six season run. Not even the departure of leading lady America Ferrera (who played Amy Sosa) derailed it, which is saying something considering how much weight the show gave to Amy's relationship with fellow employee Jonah (Ben Feldman).
The show takes place almost entirely inside of a St. Louis, Missouri, Cloud Nine — a fictional big brand chain — and focuses on the inner workings of the store. It uses humor to explore serious workplace issues like unionization, maternity leave, health insurance, and corporate greed. "Superstore" also tackles immigration issues, as one worker (Mateo) is undocumented, and at one point is removed from the store by ICE. 
Even though some of the issues are deep, the cast of zany, diverse characters ensure that "Superstore" provides a plethora of laughs that hit at a mile-a-minute. In addition to Amy and Jonah, the other main characters include uber-religious store manager Glenn (Mark McKinney) and no-nonsense assistant store manager Dina (Lauren Ash). There's also a slew of associates including gossipy friends Mateo (Nico Santos) and Cheyenne (Nichole Sakura), who later becomes floor supervisor. And some of the best characters lay beyond the core cast, as recurring players like mild-mannered Sandra (Kaliko Kauahi), desperate Justine (Kelly Schumann), sarcastic pharmacist Tate (Josh Lawson), and all-around mess Marcus (Jon Barinholtz) add more than their fair share of humor.
The Mindy Project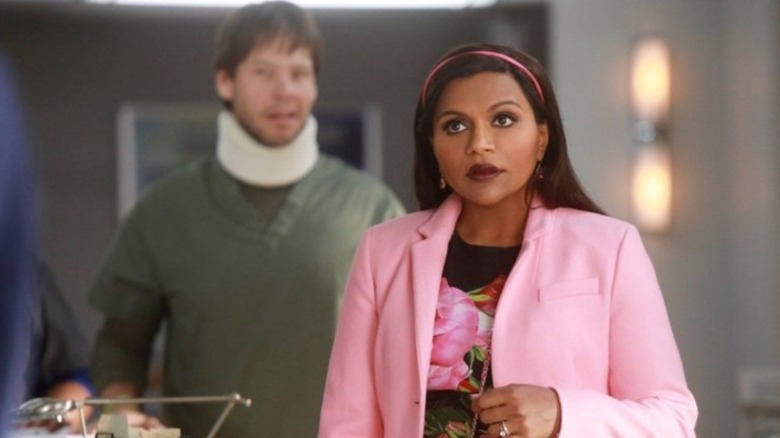 Hulu
"The Mindy Project" had some early buzz, but conversations about its near-constant casting changes came to dominate its narrative in the press. It's a shame that the show never caught on as a big water cooler show, because creator and star Mindy Kaling is absolutely hysterical. Indeed, "The Mindy Project" is an underappreciated gem with its somewhat limited audience, and the show was even cancelled by Fox after season three because of its ratings –- though Hulu picked it up and aired three more seasons.
"The Mindy Project" centers on Mindy Lahiri (Kaling), an OB/GYN with limited boundaries, a messy dating life, and a love for all things pop culture. She works with a cranky doctor named Danny Castellano (Chris Messina), and a slew of other characters that -– as noted –- change throughout the run of the series. But the show is very much about Mindy, anyway. Though somewhat egotistical and self-absorbed, Mindy is much different than other doctors on television –- she is judgmental, lazy, and clumsy, often times acting more like a teenager than a 30-something. Mindy is the type of character you can't help but love for her relatability, whether she's confessing to giving the Louvre one star on Yelp, or pumping herself up by inhabiting her alter ego, Beyoncé Pad Thai.
Never Have I Ever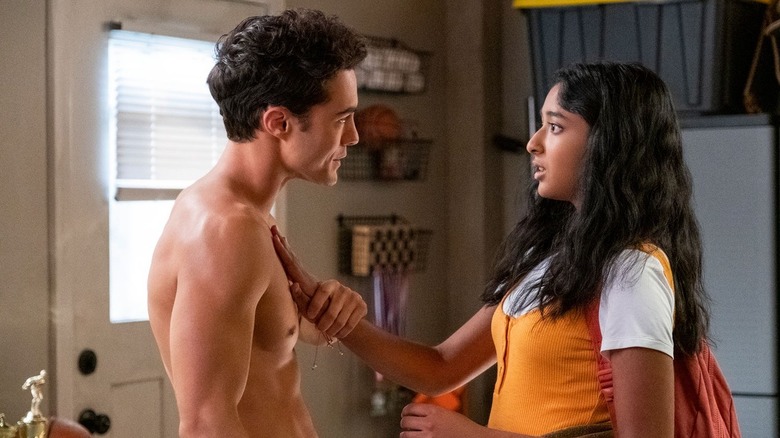 Netflix
Netflix's "Never Have I Ever" is another underappreciated sitcom from the mind of Mindy Kaling. "Never Have I Ever" is a relatable coming of age story, a poignant look at the role of grief in the family unit, an authentic portrait of an Indian-American family, and a straight-up charming little sitcom.
The show focuses on Devi Vishwakumar (Maitreyi Ramakrishnan), a high school student in Sherman Oaks, California, who must deal with the usual teenage struggles while also grieving the unexpected death of her father, Mohan (Sendhil Ramamurthy). The show additionally explores the way that first-generation Americans must balance their ethnic and cultural identities with their American ones. It's rare to see South Asian representation on television, especially in a non-tokenized, culturally-informative, stereotype-busting way.
Much of "Never Have I Ever" is about Devi's love triangle with heartthrob Paxton (Darren Barnett) and onetime-nemesis-turned-unexpected-love-interest Ben (Jaren Lewison). Devi's friendships with her besties Fabiola (Lee Rodriguez) and Eleanor (Ramona Young) are another key part of the show, but it's her relationship with her strict mother, Nalini (Poorna Jagannathan) that is the highlight of the show. Another reason to tune in: tennis legend John McEnroe serves as Devi's inner voice and the show's narrator.
The Grinder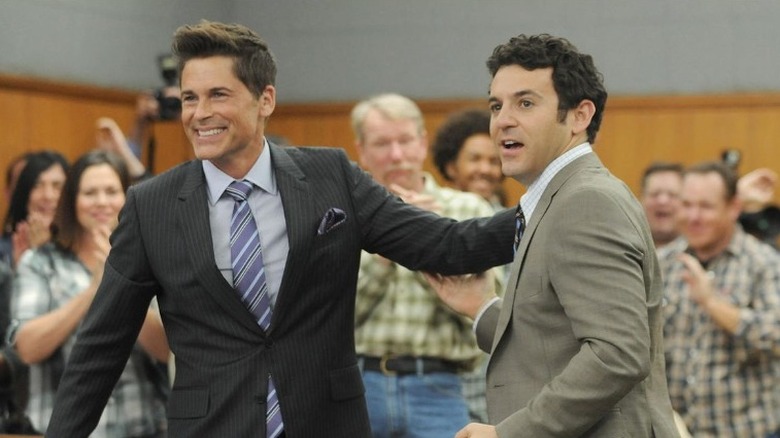 Fox
If for no other reason, you should check out "The Grinder" for Rob Lowe. He gives one of his career-best performances as Dean Sanderson Jr., a television actor who believes he has the skills to work at his family's law firm due to his long-running role as a lawyer on TV. While Lowe and the show got some good buzz (Lowe was nominated for a Golden Globe), Fox cut "The Grinder" from its schedule after one year due to low ratings.
Dean moves back to his hometown in Idaho upon the end of his show (which also named "The Grinder") and settles in at his family's firm, run by his father Dean Senior. His brother Stewart (Fred Savage) is an actual lawyer there, and far more down-to-earth than Dean Jr. — which causes uproarious sibling rivalry and allows Savage to shine nearly as brightly as Lowe. Their relationship is further put to test when, upon returning to Boise, Dean Jr. moves in with Stewart, his wife Debbie (Mary Elizabeth Ellis), and their two teenage children.
Much of the humor comes from the odd couple pairing of the very different brothers, but there's more to the show than that. For example, comicality is also found in the way that Dean Jr. navigates his return to "normal" life, his pursuance of lawyer Claire (Natalie Morales), and in his rivalry with Timothy Olyphant, who appears as a fictionalized version of himself.
Saved by the Bell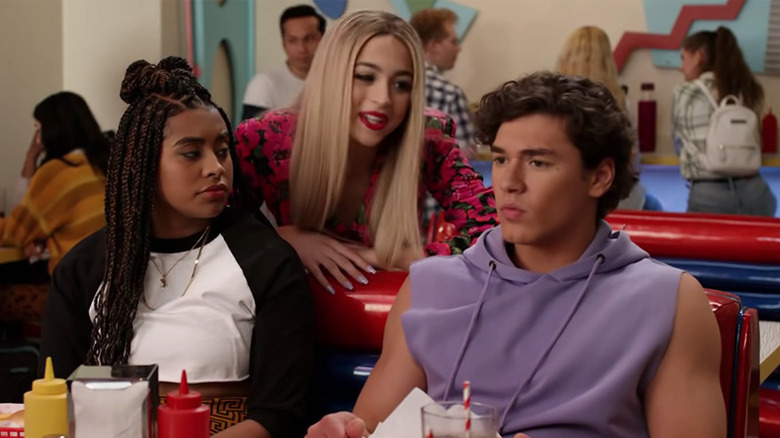 Peacock
The original "Saved by the Bell" is nothing short of legendary, and the new, reimagined "Saved by the Bell" is similarly awesome, albeit tonally very different. The reboot premiered on Peacock in 2020, and it once again took viewers inside the halls of Bayside High, a Pacific Palisades high school where students act like they're 30. The big joke with the reboot is that it's in on the fun -– the ridiculousness of the original is frequently referenced, including a brief appearance by caffeine pills. The wink-wink, over-the-top humor shouldn't really come as a surprise to anyone, given that Tracey Wigfield developed the show. Wigfield previously wrote for "30 Rock," which has a similar absurdist humor.
Much of the original gang is back –- Jesse Spano (Elizabeth Berkley) is now the school's guidance counsellor, A.C. Slater (Mario Lopez) is the gym teacher, and Zack Morris (Mark-Paul Gosselaar) is somehow Governor of California -– but the focus is mostly on the teens who fill the halls. This includes Jesse's son Jamie (Belmont Cameli), a soft-hearted football player, and Zack's son Mac (Mitchell Hoog), who picked up where his father left off as the school prankster. There is also cheerleader Lexi (Josie Totah), class president Daisy (Haskiri Velazquez), star quarterback Aisha (Alycia Pascual-Peña), and musical theatre actor Devante (Dexter Darden). The latter three students are new transfers, having been assigned to Bayside after the closure of their underfunded school, which allows the show to touch on issues of class, race, and privilege.
Special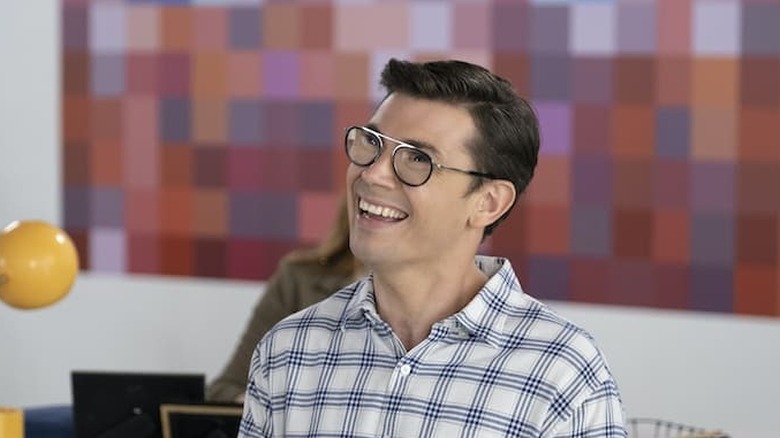 Netflix
Netflix's "Special" focuses on a differently-abled gay man, which is unlike anything we've seen on TV before. And yet, despite earning a few Emmy nominations for its first season, it isn't a show on many people's radar. Based upon Ryan O'Connell's memoir "I'm Special: And Other Lies We Tell Ourselves," "Special" is about a man with cerebral palsy who feels stuck in his identity and perceived limitations.
Ryan Hayes (O'Connell) lives with his mother Karen (Jessica Hecht), and desperately wants to distance himself from her to find his passion and achieve independence. When Ryan starts an internship at a publication called Eggwoke, he keeps his disability a secret at first. He also meets future best friend Kim Laghari (Punam Patel), who is one of the funniest characters on any contemporary TV show. 
Ryan is given a full dating life, which produces some of the best storylines. As Ryan deals with things like mobility issues during sex, or a man who is only attracted to him because of his disability, it presents situations unlike what we are used to seeing in mediated representation of disabled folks. It's a sweet, different sitcom that you can binge –- all two seasons -– in a night, so there's really no reason not to track it down.
Great News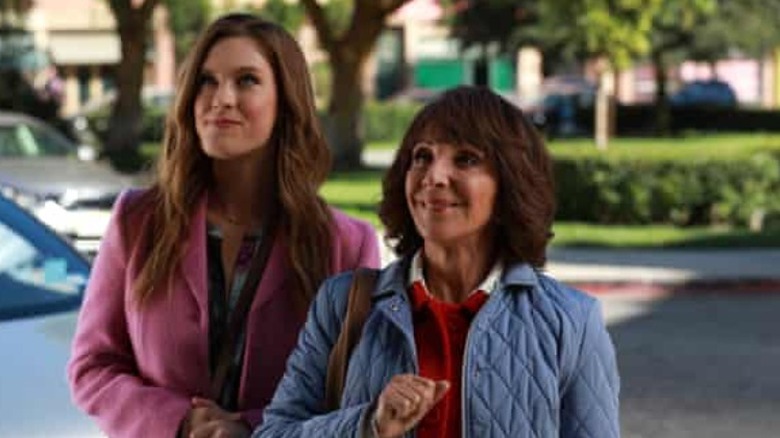 NBC
Another Tracy Wigfield gem, "Great News" is a fantastic show that should have lasted far longer than its two seasons. If you like shows such as "30 Rock," "Parks and Recreation," or "Brooklyn Nine-Nine," this one is for you.
Briga Heelan stars as Katie Wendelson, a news producer who tries to be taken seriously at work all while overseeing the intern from hell -– her mother Carol (Andrea Martin). Katie struggles to cover hard news, as her boss/eventual love interest Greg (Adam Campbell) will only assign her fluff pieces, but the best parts of the show come from her interactions with her mom. Boundaries are not something Carol understands, much like the technology necessary for her internship.
The supporting characters in "Great News" are also hilarious and this is very much an ensemble workplace comedy. Nicole Richie is a highlight as trendy, superficial co-anchor Portia Scott-Griffith, and John Michael Higgins is as good as ever as her out-of-touch co-anchor Chuck Pierce. Everything in "Great News" is amplified to the extreme, but if that fits your sense of humor, it's a great sitcom to check out.
Broad City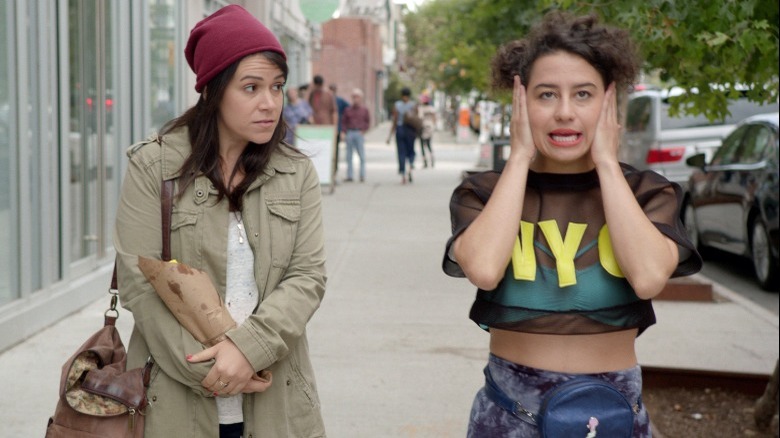 Comedy Central
Based upon a web series of the same name, "Broad City" is the brainchild of Ilana Glazer and Abbi Jacobson, two comedic geniuses deserve to be household names. It's also one of the best shows to ever come out of Comedy Central — and even though it has been off the air for a couple of years, it is anything but stale.
The show follows the exploits of two millennial best friends in New York City –- Abbi Abrams (Jacobson), an artist and janitor, and Ilana Wexler (Glazer), a hardcore slacker who mostly spends her time getting high and being a complete weirdo. The two women are Jewish, and this is often referenced in the series. For instance, the final two episodes of season three ("Getting There" and "Jews on a Plane") follow them on a flight as they go on a Birthright trip to Israel. As the girls navigate life, they deal with issues that are totally relatable (terrible roommate situations and confusing public transit adventures) and totally not (dog weddings and making out with one's own doppelgänger), but the lead actresses' charm and incredible chemistry never ceases to be entertaining.
A.P. Bio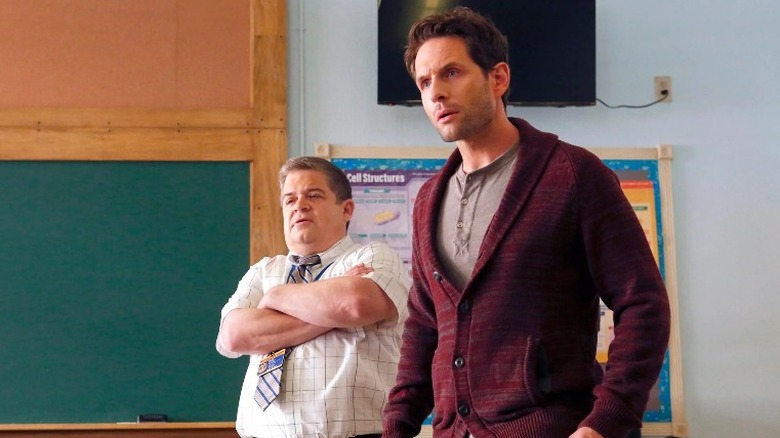 NBC
"A.P. Bio" was canceled after two seasons on NBC, only to be revived by the network's streaming platform Peacock. In "A.P. Bio," Glenn Howerton plays Jack Griffin, a fallen philosophy professor who must return home to Toledo, Ohio, after losing out on a big promotion at Harvard. Rather than actually teach his room full of honor roll students at Whitlock High School, Jack decides to use them to seek revenge on his enemies — starting with Miles Leonard (Tom Bennett), who got the job he wanted at Harvard. We have seen the uninterested teacher thing before, but Howerton's screen presence and the show's stellar writing make this a must-watch program.
In addition to Jack and his Advanced Placement Biology class, main characters include exasperated principal Ralph Durbin (Patton Oswalt), optimistic secretary Helen Demarcus (Paula Pell), and a roster of hilarious teachers. Jack eventually branches out from seeking revenge on Miles, focusing his wrath on everyone from an old man who comes around to see his dead mom ("Old Brandon"), his former high school bully, and even his mom's church (after realizing she spent her money on a statue there). The specific plots he executes make the show pop: It doesn't get better than Jack making his students catfish his adversary.
Don't Trust the B---- in Apartment 23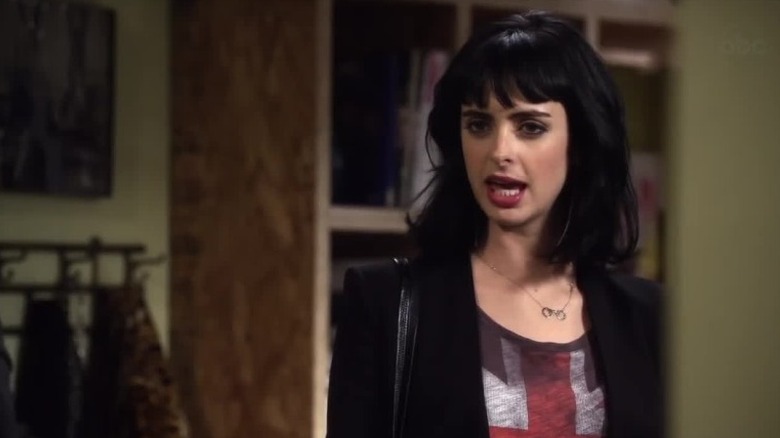 ABC
Before she created "Fresh Off the Boat," Nahnatchka Khan created "Don't Trust the B—- in Apartment 23," a truly entertaining two-season comedic treasure. There was so much to love about the show that it is still baffling as to why it never caught on — though the title was likely part of it. Even so, its early demise won't keep us from appreciating the episodes we did get. Every character worked, and the chemistry between the cast was perfection.
Krysten Ritter stars as Chloe, the B in apartment 23, who takes rent money from her roommates and then makes it her mission to scare them off with her antics. Her newest roommate is June Colburn (Dreama Walker), a recent NYC transplant who has lost her dream job and is forced to live with Chloe despite her terribleness. The two women eventually become friends, though Chloe never gets less awful.
Ritter's mischievous, manipulative party girl is the best part of the show, tied only with James Van Der Beek playing a fictionalized version of himself. Chloe's schemes are hilarious -– for example, adopting a foster daughter who can work as her personal assistant. Since the last eight episodes of the show never even aired on ABC, there's parts of the show even fans might not have seen.