What Is The Song At The Beginning Of American Horror Stories' The Naughty List?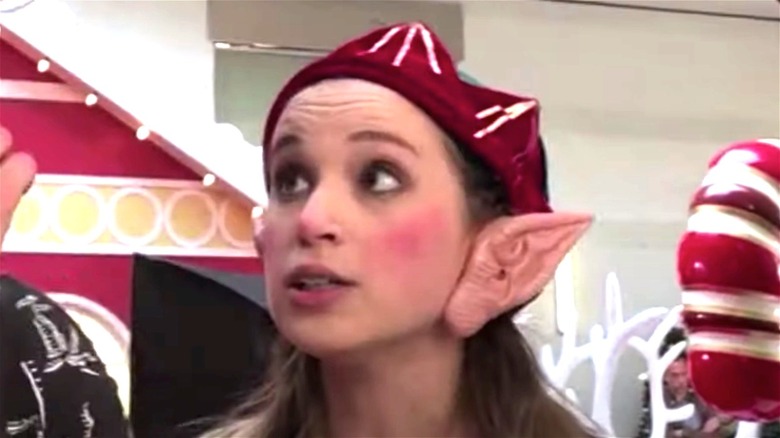 FX
With a sadistic Santa Claus (Danny Trejo) on the loose, it's fitting that the soundtrack for the latest episode of "American Horror Stories" was mostly filled with classic Christmas songs. However, with the focus being on a group of influencers from The Bro House, there were also some upbeat tracks in the mix.
At the beginning of the episode, the four Bros introduce themselves in talking head segments between clips of their wild antics. Their videos are drenched in emojis and neon stickers with slogans like "Hot Bro Summer" and "YOLO BROLO." Manic editing aids in selling the illusion that what they're doing is "crazier" than what their competition is up to.
There's Zinn (Nico Greetham) the "Bad Boy" ringleader, Wyatt (Charles Melton) the "Heartthrob," Barry (Kevin McHale) the "3.8 GPA" tech guy, and James (Dyllón Burnside), the "Pretty Boy." Often shirtless, shouting, and throwing "Project X" level parties, they intentionally act immature to distract from the fact that they're "like, 40 in influencer years." To "keep riding the edge," they lean into what's trending with the youth. Naturally, this is reflected in the energetic songs in the background of their intro video.
Here's the song that was playing at the beginning of "The Naughty List."
#TheBroHouseIsOverParty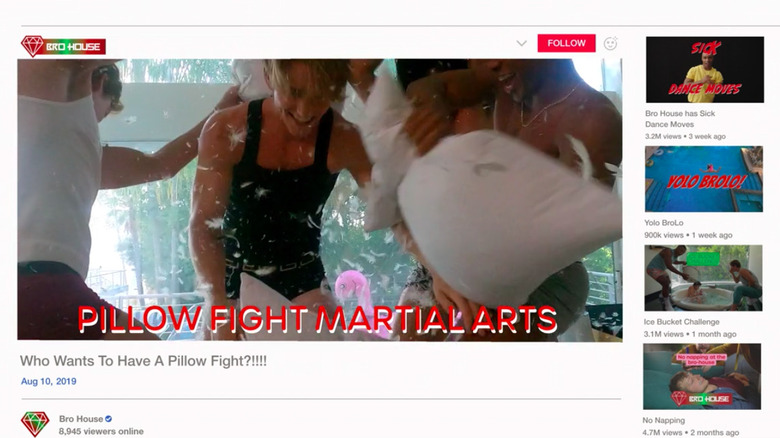 FX
While "The Naughty List" opens with a montage set to the 2009 club hit "Memories" by David Guetta (feat. Kid Cudi), two more recent dance-worthy songs soundtrack The Bro House's exploits.
The catchy, Bro-approved songs are "Body" by Loud Luxury (feat. Brando) and "Mood" by 24kGoldn (feat. iann dior). While the former 2017 breakthrough hit from the Canadian duo may not sound familiar, the latter is 41 on The Hot 100 Chart, where it's stayed for 50 weeks (via Billboard). The song's success was unexpected, with a surprisingly casual origin story to bat. 
"We made 'Mood' playing Call of Duty and drinking beer," dior told NME in 2020. "We were just chilling, and now it's one of the biggest songs in the world."
On top of being remixed with Justin Bieber and J Balvin, the song about toxic relationships can now boast that it was featured in a brutal, festive episode of "American Horror Stories."