Brooklyn Nine-Nine's Final Season Trailer Has Fans Excited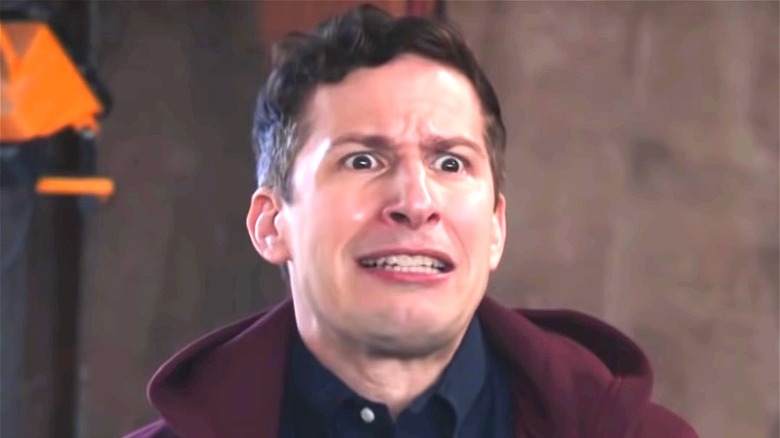 NBC
"Brooklyn Nine-Nine" fans are going wild in the wake of the recent Season 8 trailer posted to the show's official YouTube channel. Fans are excited to see what will become of their beloved 99th precinct, and they don't have too much longer to wait — the season premieres in August. Thankfully, the trailer, entitled "One Last Ride," gives us a sneak peak of what is to come.
The trailer starts off sentimental, showing us scenes of the longtime crime-fighting duo, Jake (Andy Samberg) and Charles (Joe Lo Truglio), reminiscing over their years together on the force. The tone is especially sad because like the show itself, their time may be coming to an end, as Jake and Amy (Melissa Fumero) are caught in the throes of parenthood.
On a lighter note, we see that the Nine-Nine is still up to its old antics. The trailer shows us an invading army of Hitchcocks and Scullys from other precincts, a bit of a digital mishap as Captain Holt (Andrew Braugher) accidentally sends a rather private picture of himself to the wrong person, and more than one classic side character scheduled to make a grand return in this upcoming season. 
Here's what the fans have to say about it all.
Fans flocked to social media to share their support, and their sadness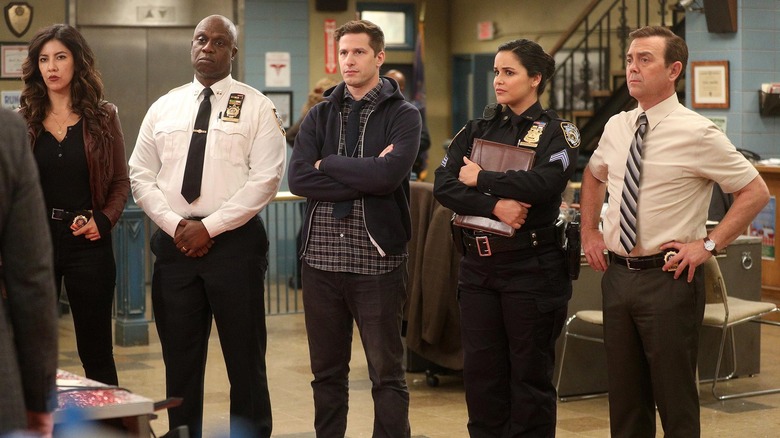 NBC
Though most fans are overwhelmingly excited for the new episodes, many expressed sadness, too. After all, this is the last season of a show that has faithfully served its fanbase for eight long years.
"I don't know if it's the trailer or the fact that B99 is coming to an end, but this trailer just made me so sad," wrote u/supersad19 on Reddit. "B99 was such a big part of my life, it was my comfort show and it feels like I'm saying goodbye to it."
Similar sentiments were shared on Twitter. "Can't wait for this but also at the same time I don't want it to start cause that means the end is near," wrote @JodsUJWORLD.
However, it's not all bad. Plenty of fans did more than just mourn the show's upcoming end. Many shared how excited they were to see the full season. One fan pointed out the fact that actor John C. McGinley was briefly featured during the trailer, a fact that should excite any fan of "Scrubs" or "Office Space." 
"Brooklyn Nine-Nine" looks like it's gearing up for one heck of a finale.