The Walking Dead's Scott Gimple Teases Rick Grimes' Potential Return
Shutterstock
Last weekend's San Diego Comic-Con@Home offered plenty of news about "The Walking Dead" franchise, including an airdate for spinoff "Fear the Walking Dead" Season 7: it'll return on October 17, 2021, after a hiatus of several months. As you may recall, the series ended its sixth season with a nuclear missile attack by Teddy Maddox's (John Glover) doomsday cult that has probably decimated large areas of the landscape. Video clips from the show's panel have provided a few previews as to what this post-post-apocalyptic Texan landscape will be like for the survivors, but there may also be a storyline that revisits the fate of a fan-favorite character.
Showrunner Scott Gimple has teased that Season 7 could include a storyline that follows the group that saved Rick Grimes, taking him to safety via helicopter. They're the CRM, and Gimple says their role in "Fear the Walking Dead" will be a recurring narrative in upcoming episodes. He said, however, that the show won't become Rick-centric; instead, each show will have "a different piece of he puzzle." And these pieces of the puzzle "are personal stories for the characters that do advance aspects of the greater mythology" (via Express). He also said that the "CRM stuff in 'Fear' really has to do with a couple of characters very deeply. Their situation bleeds out to other characters."
It's unclear exactly who those characters might be, but "Fear the Walking Dead" will see the returns of CRM pilot Isabelle (Sydney Lemmon) and Al (Maggie Grace) in the next season, too. Frankly, his quotes are a bit vague overall, but that's only to be expected at this point.
Rick Grimes disappeared in 2018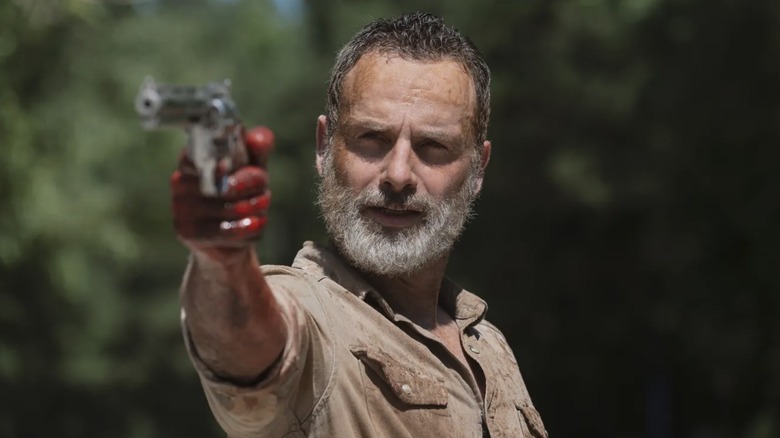 AMC
Rick Grimes, played by Andrew Lincoln, was a major character on "The Walking Dead" for more than eight seasons. He left the show in 2018 in a death fake-out designed to set up a series of feature films. It seems he may also be back for the final season of the show, though, as footage of the main show's Season 11 seems to feature him in flashbacks (via Digital Spy). 
Additionally, AMC is reportedly moving forward with the previously announced movie spin-off films about Grimes. According to ComicBook.com, those movies were first announced in 2018, not long after Grimes disappeared, and in 2019 a teaser released during San Diego Comic-Con confirmed that the character would return in theaters. Greg Nicotero, producing director and makeup effects artist, says that "The Walking Dead" Universe chief content officer Scott Gimple and creator Robert Kirkman are just "making sure that they get it right," which seems to suggest the feature films are still in the offing, despite pandemic-related complications.
Given Gimple's comment about puzzle pieces, this seems to indicate that all three series are going to have a bit of Rick Grimes content, with all of them combining to tell the true story about what actually happened to him. It'll be interesting to see when and if Rick's friends and family discover that he's still alive, and what he's been through in the meantime.