New Merch Reveals The Name Of One Of Spider-Man's New No Way Home Suits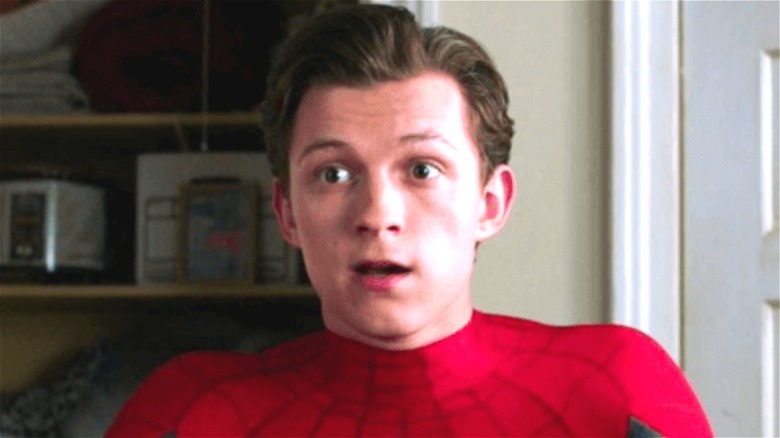 Marvel Studios/Disney
Usually, studios want to build hype around an upcoming project as early as humanly possible. It's not unusual for a major blockbuster to get its first trailer a year before the film's release. This gives the company plenty of time to get the word out and audiences ample notice to clear out their schedules for the chance to see it. That's what makes Marvel's approach to the upcoming "Spider-Man: No Way Home" so unusual.
As of this writing, we're less than five months away from the movie coming out, and Marvel Studios still hasn't come out with a trailer. It's allowed fans' imaginations to run wild as theories emerge about how the film will officially bring the multiverse to the film side of the Marvel Cinematic Universe. Despite zero confirmations, fans believe wholeheartedly that Tobey Maguire and Andrew Garfield will reprise their roles as different iterations of Peter Parker alongside Tom Holland's version. The actors remain adamant they're not involved, but that's precisely what they would say to keep their roles secretive. 
We have to rely on what limited information does come out, and so far, that's been chiefly toys. One Redditor has supplied the goods, and there's a good chance one of Peter's new suits in the upcoming superhero flick has been revealed.
The Iron Spider Integration Suit makes an appearance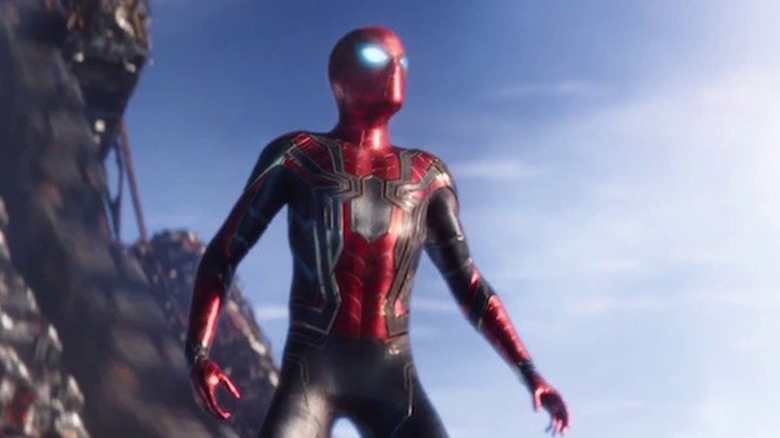 Marvel Studios/Disney
If toys are anything to go off of, Peter Parker will have plenty of costume changes in "No Way Home." Or perhaps all of the different outfits getting leaked further indicate that the Spider-Man we know from the MCU will meet numerous variants of himself. A black-and-gold Spidey suit came out not too long ago, and now, u/Soundbytes87 has uploaded a picture to Reddit of another Spider-Man toy wearing the "Iron Spider Integration Suit."
The description for the new suit goes as follows: "Spider-Man gears up in his Iron Spider Integration Suit to fight evil and defeat villains everywhere!" The fact that "Iron Spider" comes up repeatedly suggests this is a suped-up variation of the outfit we saw introduced in "Avengers: Infinity War." While there's not much else to go off on, the inclusion of the phrase "defeat villains everywhere" is intriguing. It certainly implies that the Peter Parker we know and love will venture far beyond Europe, and it further hints that the multiverse will, indeed, come up in "No Way Home."
The presence of multiple Spider-Men would certainly help Tom Holland's Peter Parker as Mysterio revealed his identity to the world at the end of "Far From Home." Perhaps a variant of our Peter Parker can take the fall for Mysterio's demise, allowing Holland to keep going out to save the world. It's hard to say what exactly will go on without a trailer, and at this point, a teaser should come out any day now.