Buffy Producer Talks Revival Chances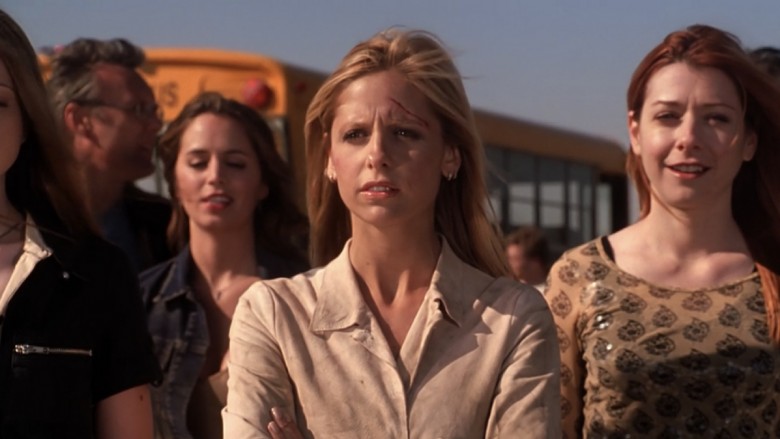 Netflix
With the 20th anniversary of Buffy the Vampire Slayer quickly approaching, talk of a potential revival of the genre-defining series has intensified, with various cast and crew members commenting on whether they would ever be interested in ever returning to the show. According to producer Gail Berman, the woman responsible for bringing Buffy to television in the first place, the decision on a revival would fall solely in the hands of Joss Whedon.
"I would be really happy to get the call from Joss," said Berman, who owned the rights to the 1992 Kristy Swanson feature Whedon wrote and first suggested making it into a TV show. (via The Hollywood Reporter) "I have my own thoughts of what it would look like, but my own thoughts are not important. It would be what he thought. I will always let everyone know this is all about Joss. I did everything I knew on how to to be supportive of that, but the stories, the direction, the writing, and the tale telling, that's all Joss."
Berman, now CEO and chairman of The Jackal Group, approached Whedon about the idea to make a television show after reading the script for the movie. Realizing they had similar ideas for the show, the two crafted a pitch that they presented to Fox and NBC. However, the right fit for the groundbreaking series ended up being the upstart network The WB, which had just launched in 1995.
"I'm not sure that anybody initially involved with it, certainly not [producers] 20th Century Fox Television or Warner Bros., were sure where this was headed," Berman said, noting that, at first, The WB just ordered a presentation from Whedon instead of the traditional pilot. "Susanne [Daniels, then WB president] and Jordan [Levin, then WB Network CEO] were convinced they could get it picked up for midseason. And they did. They understood we were doing something new and young. Joss' voice was speaking generationally."
Buffy changed the nature of television and entertainment in many ways, something which Berman is very aware of. "There weren't a lot of empowered young women on TV at the time," she said. "This show was important for female storytelling, for genres like Twilight and anything that came after Buffy. It changed storytelling. One of the great things that Joss does is he's creating another language. I don't know many writers capable of that."
The producer said that even smaller pieces of the show, like Willow being Jewish, were new at the time. "A young girl being a Jewish character on television was not very common," she said. "There were a lot of young girls who loved Willow for that. She was also just such a great friend, so smart, so devoted."
Willow relationship with Tara was also a huge breakthrough for television, especially when the two characters finally kissed on screen in season five's "The Body." "That was groundbreaking," said Berman. "I don't think there's anything about the nature of the show that was not groundbreaking. It always seemed so natural. It's not like the intent was to shine the light on anything and yet the light was shined on just about everything."
In today's television landscape, where reboots of long canceled series have become the norm, there could easily be a place for more Buffy, if the original show's cast and crew decided they were interested. (Star Sarah Michelle Gellar, who, along with Whedon, would also be key to a revival, has implied that she is not interested, telling THR that she hopes Buffy is "somewhere on a beautiful beach located far away from any Hellmouth.") With no plans for more Buffy definitively on the horizon, though, relive the show by remembering how the finale blew viewers away.