Why Simone Biles' Commercials Have Fans' Eyebrows Raised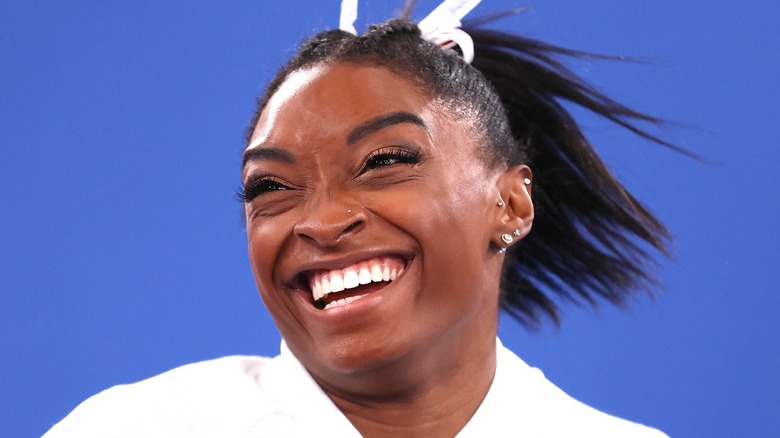 Laurence Griffiths/Getty Images
As the entire world knows by now, Simone Biles dropped out of competition yesterday at the 2021 Tokyo Olympics, leaving her teammates to grab the silver — that's second place — in the team gymnastics final (via CNBC). The star gymnast has been facing both criticism and kudos ever since, with some (including the official Olympics Twitter account) applauding her prioritization of her mental health, while others — like The Daily Mail's Piers Morgan – declaring, "You let down your teammates, your fans and your country."
Today, fans are putting the blame on all the pressure that's been put on the athlete's tiny shoulders (she's 4' 8"). In fact, they say, Biles' status as the GOAT (greatest of all time) has been magnified by the media's insistence on making her the face of the Olympics, as well as the assumption that, with her around, the U.S. was bound to achieve Olympic gold. 
As part of that dynamic, Biles' legion of fans are saying that it's easy to point to a particular type of media that could have been a major source of stress.
Fans say companies are treating her like a commodity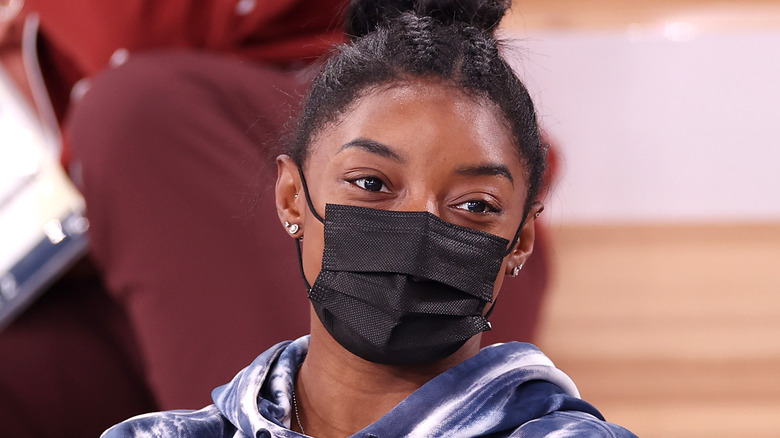 Jamie Squire/Getty Images
If you've been watching the Olympics, you know that Biles hasn't been a presence just on the gymnastics floor. She's also been appearing in a bevy of television commercials set to air during the NBC broadcasts — both in real-time and during the primetime highlights. They include spots promoting NBCSports' coverage of the Olympics — such as an ad featuring the Minions interrupting her training — as well as more traditional endorsements like Ritz commercials and Uber Eats ads. Her Twitter supporters are putting the onus for some of the pressure right on these ads. 
The fans point out that Biles' high visibility and dominance, not just in her events but on television screens, was at least partially engineered by those who stand to make a buck off her. "I'm sure it didn't help Simone Biles headspace that she was doing commercial ads and sponsorships. Just added pressure really," said @couldbejohndoe. 
Twitter user @SiobhanKukolic said, "Cannot imagine the pressure to be on every commercial and expected to be magic." 
And @jaelynnca pointed out, "Simone Biles was treated as commercial property by NBC, etc." The poster also pointed out that Biles' was expected to be perfect. 
@_babysloth said, "Every single commercial in between events had @Simone_Biles in it. She is CONSTANTLY called the GOAT and put on an extremely high pedestal (granted, the praise is deserved). Do you not realize the immense pressure you are putting on our premiere athletes? They are PEOPLE."
Barring additional comment from Biles herself, there's no clear way to determine what the contributing factors to her decision to leave the games might have been, though it's certainly plausible that her market saturation didn't help.