Magi Season 3 - What We Know So Far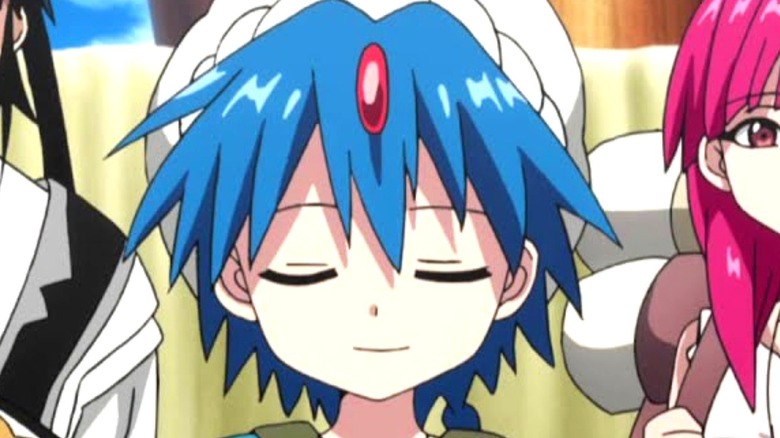 A-1 Pictures
When most people hear the name Aladdin, they think of the Walt Disney Company's famous interpretation of the Arabian prince. However, the character's origins can be traced all the way back to 16th-century folk tales that have inspired various creators throughout the ages. Stories about the boy and his genie have even found their way into manga and anime, the most popular of which is arguably the "Magi" franchise. Similar to other versions of the beloved tale, the story follows Aladdin as he encounters a genie and embarks on some magical adventures. In this one, he's joined by friends Alibaba and Morgiana, both of whom are also based on people from those ancient tales.
Based on Shinobu Ohtaka's manga of the same name, a "Magi" TV series was released in 2012 and aired until 2014. While the show produced a spin-off in the form of "Magi: Adventure of Sinbad," fans have longed for a return to the original story. Seven years is a long time to wait for another installment, but all hope might not be lost after all.
When will Magi Season 3 be released?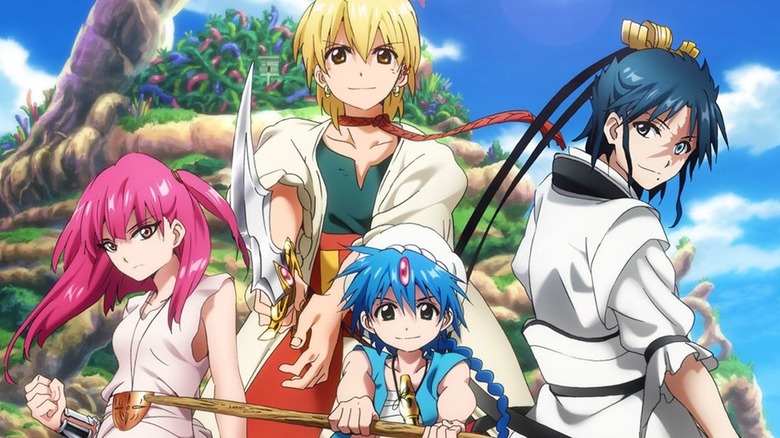 A-1 Pictures
The third season of "Magi" is expected to arrive in late 2021 or early 2022, but it may arrive sooner rather than later. According to The NU Herald, Season 3 might drop as soon as this coming October. The release may have experienced setbacks due to the COVID-19 pandemic, and it's still too early to tell if real-life events will cause further delays. However, at least knowing that "Magi" will return to screens in the near future is something to look forward to — especially considering that many anime fans on Reddit thought the franchise's on-screen adventures ended with the last season of "Magi: Adventure of Sinbad."
Another reason behind the delay could be the ambitious nature of the production. As the NU Herald report notes, Season 3 of "Magi" has a bigger budget to work with, suggesting that the creators have been taking their time to make sure the series delivers in terms of scope and scale. 
Who will be in the next season of Magi?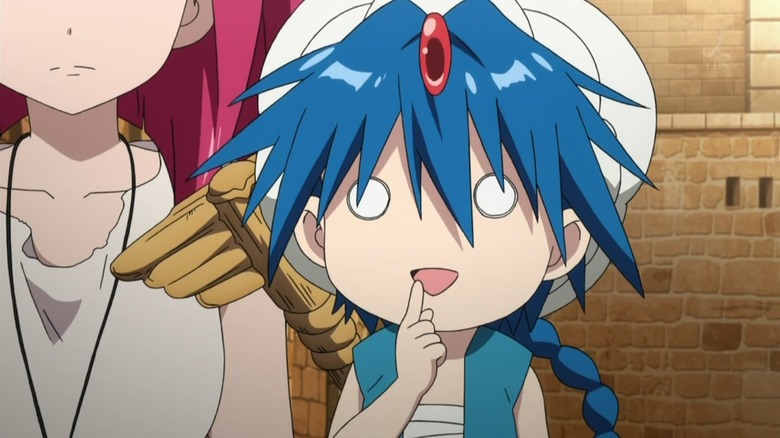 A-1 Pictures
The cast of "Magi" Season 3 hasn't been confirmed yet, though it's probably safe to assume that the original voice actors will reprise their roles. Kaori Ishihara — whose other credits include "Digimon Adventure tri." portrayed Aladdin in the previous installments, and fans will be hoping that she'll make a return. This has been a busy year for Ishihara thus far, though, having lent her voice talents to "Combatants Will Be Dispatched," "Miss Kobayashi's Dragon Maid," Black Clover," and "Higehiro" as well. Hopefully, she's made time in her schedule for "Magi."
Yûki Kaji, who voiced Alibaba in the series, will be another major asset for the third season should he return to the fold. His profile has only grown since the last "Magi" adventure, having gone on to be a part of "Attack on Titan," "Psycho-Pass," "Gantz:O," "Weathering with You," and several other series and movies that represent the anime medium at its very best.
Haruka Tomatsu, who played Morgiana, rounded up the main cast the last time out. She's also had a huge 2021, appearing in shows such as "Horimiya" and "Peach Boy Riverside," but she's bound to have some unfinished business in the "Magi" universe. It remains to be seen if the original gang will return, but so far, there has been no information that suggests otherwise.
What is Magi Season 3 all about?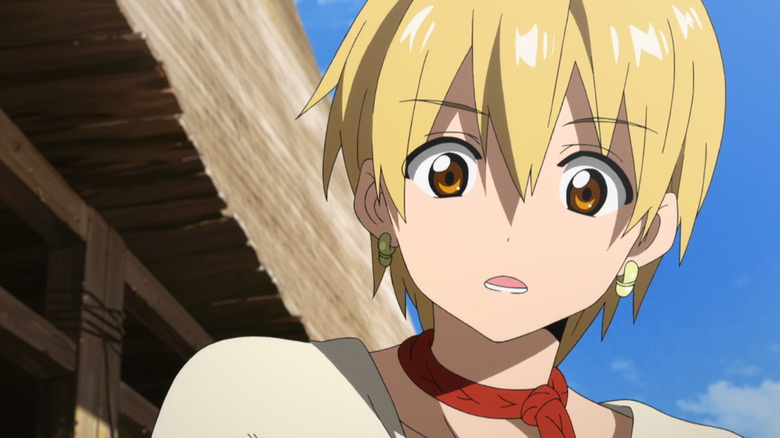 A-1 Pictures
Little is known about the plot details of "Magi" Season 3 at the time of this writing, but it will likely continue Aladdin's journey throughout the world, encountering all manner of friends and foes. The series is about adventure, first and foremost, and the third installment is bound to feature plenty of them. Studio A-1 Pictures hasn't provided any significant updates at the time of this writing, though viewers can probably expect more mature storytelling as the series has progressively gotten bolder with its tales. The second season dealt with themes such as war, political scheming, and social deprivation, which led to more morally ambiguous story arcs. With the characters now seemingly older and wiser in the next outing, the show can take more chances.
The previous seasons also incorporated elements from numerous stories included in the "1001 Arabian Nights" collection that originally featured Aladdin's adventures. Season 3 is bound to continue this tradition as there are still plenty of ideas to mine from that source material and apply to an exciting adventure-themed anime like "Magi."