Who Is The Actress In The Buick Envision 2021 Commercial?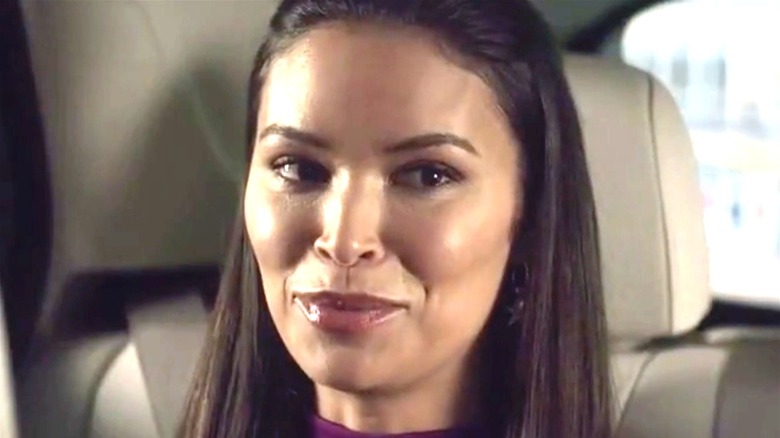 Buick
We may receive a commission on purchases made from links.
Some commercials capture our attention because of an unusual premise or an attractive star. Buick's 2021 Envision ad has both. In the ad, a woman enters the car after getting out of what she refers to as a "brutal" spin class. A version of her from the passenger seat suggests using the massaging seat to ease her post-workout pains, while another version from the backseat wants music from Apple CarPlay. A version of her wearing glasses wants to make sure they all like the music and then asks for the car's wi-fi password. When it turns out to be "BuickEnvision2021," she admonishes her driving-version self to pick a new one, pointing out that it's "really predictable." All four agree they used to intensely dislike parallel parking. Fortunately, the car uses automatic parking assist, so none of her alter egos have to worry about it. 
It's an interesting idea for an ad, but over on YouTube, people are commenting that it appears to be a rip-off of a concept (via Commercial Society) created by Instagram and TikTok influencer Katie Florence, who created a group of people all played by herself called the Kouncil (via Self). Each of the characters represents a specific part of her psyche. This type of interplay also reminds us of Pixar's 2015 film "Inside Out," which focused on specific emotions.
If you've seen the spot, you may be wondering who the actress is who is playing different clones of herself showing off the features of the Buick SUV. It turns out that she's an actress and dancer from the Bay Area in California, according to her Facebook fan page.
Vanessa Curry is a model and actress with a number of ads and other acting credits to her name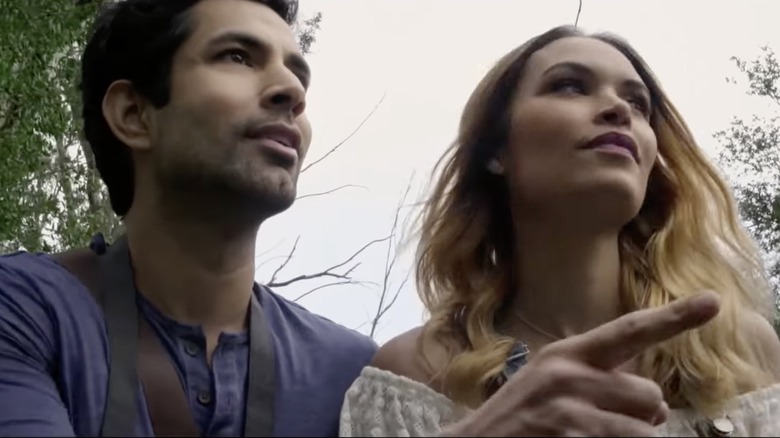 Barbed Wire Films
Her name is Vanessa Curry. Her IMDb page indicates that her portfolio of work in commercials includes ads for AT&T, BMW, Home Depot, Gillette Venus, Urban Decay Cosmetics, Cover Girl Cosmetics, Applebee's and Target. However, her work hasn't only been limited to ads. She's been seen on TV and in a few movies as well. 
In 2012, for instance, she had a small unnamed role in "CSI: NY." In 2016, she was in a low-budget horror anthology movie called "Barrio Tales 2," and in 2018 she starred in another horror movie lots of people thought was pretty bad, called "Behind the Trees" from Barbed Wire Films. She played lead character Amy Edwards, who is taking a romantic getaway with her boyfriend to North India. In 2020, she had a role in the Urbanflix TV show "Pump." She was also in a suspense movie from 2020 called "Always and Forever." 
However, her acting career doesn't really seem to be her focus. If you think you've seen her but don't recall the ads in question, or her other on-screen credits, it may be that you know her from a number of other things that she's done, mostly in the realms of music and dance. 
Vanessa Curry is a singer and dancer
A former Laker girl, Vanessa Curry popped up as a member of the Pussycat Dolls' third and fourth lineup in 2010 (via the Orange County Register) and she was re-introduced in 2012 at the Super Bowl (via the International Business Times) with the rest of the fourth Dolls lineup. During this time she also recorded a solo music video for Electronic Records in 2012 called "Watch Me" and appeared in the Nomads song and video "Addicted to Love w/Vanessa Curry and Leighton Meister," which was directed by Wilmer Valderrama and Andrew Sandler. She has also danced with artists such as Christina Aquilera, Pitbull and Sensato, and has appeared as performer on shows like "Dancing with the Stars," "XFactor," and the iHeart Radio Music Awards.
She's also a social media influencer. With 25,400 followers, you can often find her on Instagram talking about products she seems to be aligned with. For example, she recently plugged candles from Otherland, a woman-owned company that uses clean ingredients.