Owl House Season 3 - What We Know So Far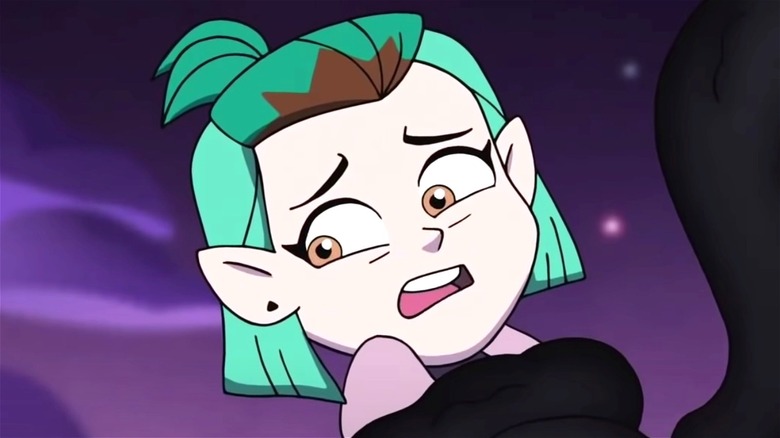 Disney
Creeated by Dana Terrace, Disney Channel's "The Owl House" tells the story of a girl named Luz Noceda (Sarah-Nicole Robles), an ambitious dreamer from Connecticut who accidentally travels through a portal to a magical world called the Boiling Isles instead of heading to summer camp. There, she meets "The Owl Lady," Eda Clawthorne (Wendie Malick), an individualistic and talented witch who offers to train Luz in magic as they try to get her back to the human realm. Living at the Owl House with Eda and another roommate, the demon King (Alex Hirsch), Luz quickly makes herself at home in this strange new land, attending a local magic school where she makes new friends, enemies, and more.
"The Owl House" is a fan-favorite series for a variety of reasons, one of the biggest being that the show made history by having Disney's first bisexual lead in a series, with Luz and Amity (Mae Whitman), a girl from her school, starting a relationship. This is a major accomplishment for kids animation, and is just one example of the constantly expanding LGBTQ+ representation. Season 2 of the animated series premiered on June 12, 2021, and will have 21 episodes released in two batches, continuing the story of Luz, Eda, and the others, with the threat of the menacing Emperor Belos (Matthew Rhys) constantly looming. While "The Owl House" viewers are clearly enjoying watching the new episodes, the question of Season 3 is ever present. So is this the end of Luz's story?  
Here's everything we know so far about "The Owl House" Season 3.
When is The Owl House coming back for Season 3?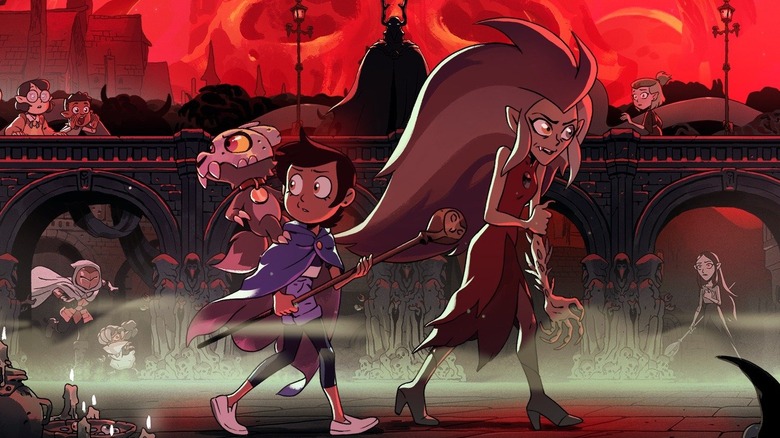 Disney
Luckily for "The Owl House" fans, the series will be coming back for a third season, but it will look a little different than the previous two in structure. According to a report from Deadline, the show's third season will consist of three 44-minute specials. Unfortunately, the news is a little bittersweet, as it was also announced that Season 3 will be the show's last, confirmed by Terrace on her Twitter. 
As for when we may see Season 3 hit our screens, "The Owl House" has to finish Season 2 first. Since the season premiere in mid-June 2021, new episodes have been airing every week, and the first half of Season 2 will end on August 14, 2021. As of right now, it is unclear when the season will resume to finish out the rest of the episodes.
The first season of "The Owl House" ended on August 29, 2020, so even with the pandemic to contend with, it took less than a year for Season 2 to premiere in 2021. This is great news for fans, who can hopefully expect Season 3 of the show to premiere the first of the three specials within a year of Season 2's end date. 
Who will be in the cast of The Owl House Season 3?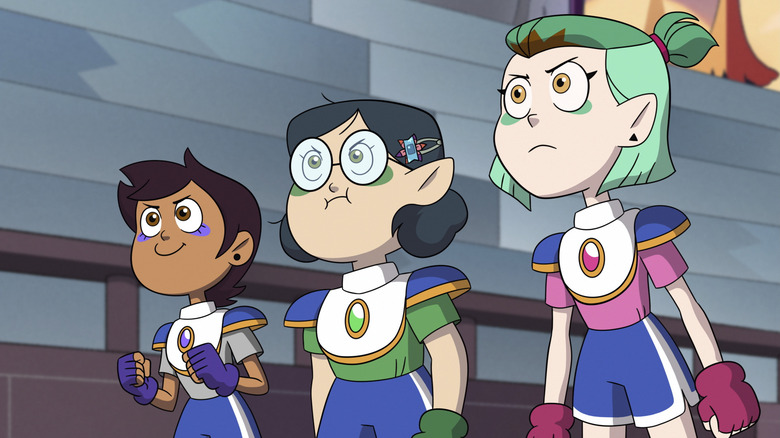 The third season of "The Owl House" will feature the main cast of the series, which includes Robles, Hirsch, Malick, and Whitman, as well as Tati Gabrielle as Luz's school friend Willow, Isaac Ryan Brown as her other friend Gus, and Cissy Jones as Eda's sister Lilith. Season 2 has an expanded cast from Season 1, with Rhys expected to have a bigger role going forward as Belos, and Zeno Robinson playing the Golden Guard, a new character in the second season who is sent by Belos to spy on the Owl House and its inhabitants. 
There are also quite a few well-known names in the guest voice cast for Season 2, which includes Felicia Day from "The Guild," Harvey Guillén from "What We Do in the Shadows," Nik Dodani from "Atypical," and Alex Lawther from "The End of the F***ing World," among others. This trend of prominent guest stars is expected to continue into Season 3, but as of yet, there has been no mention of any specific actors who might be featured. 
What will The Owl House Season 3 be about?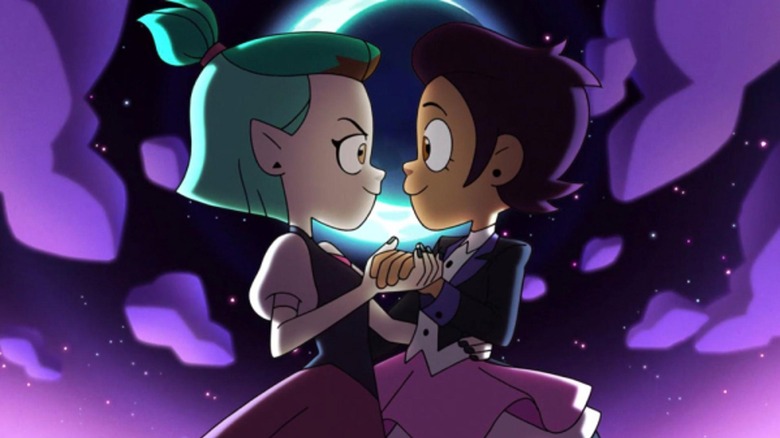 Disney
The currently airing Season 2 of "The Owl House" picks up right where Season 1 leaves off, and Season 3 is expected to do the same with the end of Season 2. In the Season 1 finale, Luz and King must rescue a cursed Eda from Belos, who wants control of the portal to the human realm. In order to stop him, Luz destroys the portal, her only way home, before promising her mother that she will find an alternative way to return soon. Meanwhile, Lilith, who was previously a loyal supporter of Belos, goes against him in order to save her sister from a horrible fate. While she can't cure Eda of her curse, Lilith is able to transfer half of it to herself, returning Eda to herself, but with less magic. 
In Season 2, "The Owl House" takes on a darker, more serious tone. Belos is now rebuilding the portal, while Lilith attempts to make up for past mistakes by helping Eda and the others in any way she can. Eda and Lilith work on their relationship as sisters while also managing their shared curse, which requires them to take elixirs. At the same time, King discovers the truth about where he comes from, Luz learns about other humans on the Boiling Isles, and Amity's feelings for Luz — and vice versa — continue to grow. 
While it's hard to predict what this crew might go through in Season 3, one thing that is practically assured is that Luz, King, Eda, Lilith, and Amity will all be there, and there's sure to be plenty of more magical trouble.