Reid Miller Dishes On What It Was Really Like Working With Mark Wahlberg On Joe Bell - Exclusive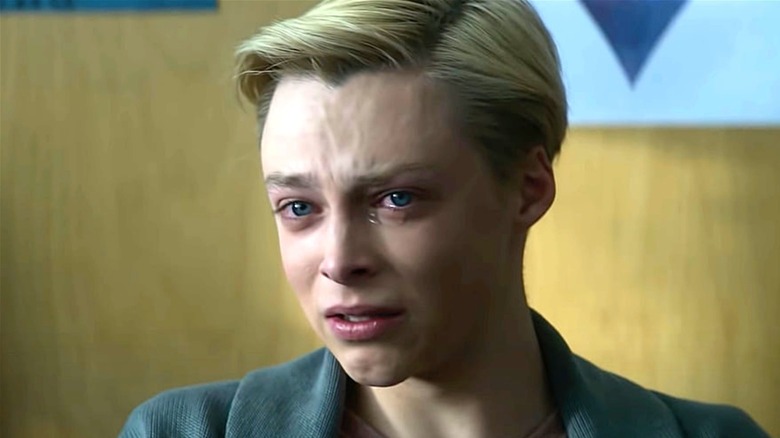 Roadside Attractions
Six years after working in television in guest roles on series like "Criminal Minds" and "Training Day," as well as taking on the leading role on the ESPN-themed series "Play by Play," actor Reid Miller has made the big leap into the feature film realm with "Joe Bell." What makes the role extra special for Miller, though, is that he's acting opposite acclaimed film star Mark Wahlberg in a heartbreaking, fact-based story about the tragedy of a gay teen and his father's quest to warn people of the potentially deadly consequences of bullying.
Mark Wahlberg stars as the title character in "Joe Bell," an Oregon father who embarks on a cross-country walk in 2013 to draw attention to how bullying can lead to teen suicide, as was the case with his son, Jadin Bell (Miller). During his long trek, Joe imagines that Jadin is walking with him to both come to terms with his failures as a father and attempt to forge the relationship with his gay son that he never had. In an exclusive interview with Looper, Miller said he and Wahlberg immediately began to bond, while reading lines to one another during Miller's audition.
"I mean, the first time I met him, and we read the scenes together, it was for an audition. He walked me out of the audition room, and he looked at me. And he was like, 'When we were reading together, I felt like I was reading and talking to my son,' and I felt the same way, like I was talking to my dad," Miller recalled. "I mean, it's like we had this instant bond, and I think that ... the producers, and the director [Reinaldo Marcus Green] saw that. And that's probably one of the big reasons I got the role, was we just had such great chemistry, and me and him bonded almost instantly — that's the crux of the whole thing, is that relationship."
If you or anyone you know is having suicidal thoughts, please call the National Suicide Prevention Lifeline​ at​ 1-800-273-TALK (8255)​.
Reid Miller says he observed — and challenged — Mark Wahlberg working on Joe Bell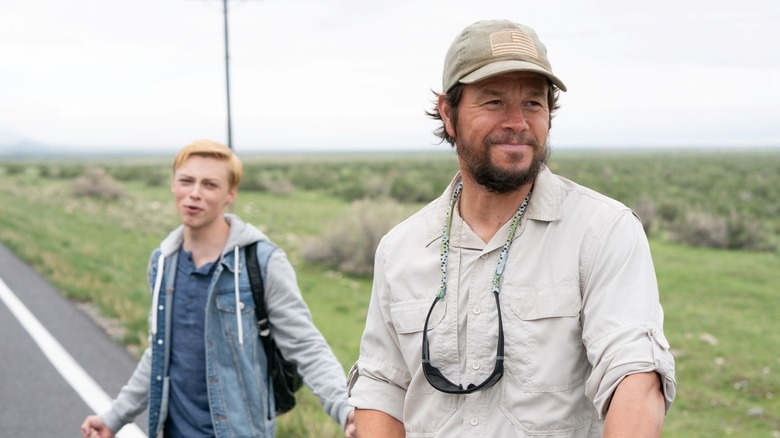 Roadside Attractions
One of the most important goals for Miller with the film was to observe his surroundings and learn from Wahlberg. Among his long list of accolades, Wahlberg earned a Best Supporting Actor Oscar nomination for his role in the "The Departed," as well as a Best Picture nomination as one of the producers of "The Fighter" — and Miller wasn't about to squander any opportunity to pick up valuable lessons from his esteemed co-star.
"I definitely noticed what his process is, and it helped me. Mark on set is actually a very quiet guy, and he was very reserved, and he very much stays in his lane. He's always focused. And that was something that I was still learning," Miller said. "This is my first huge movie. So, having the opportunity to just sort of watch him and also just be in scenes with him was so great."
The wonderful part about Miller's working relationship with Wahlberg was the way the A-list actor treated the young actor as an equal. Not only was Miller not intimidated by the stature of Wahlberg, but he also challenged the seasoned film veteran in scenes — creating an atmosphere that made the film's already profound material even more powerful.
"When we act together, it's kind of competitive — and he likes to improvise, and I do, too — and I don't think he knew that," Miller explained. "And then when we started filming, he would improvise, and then I'd improvise. And then he would go to top me, and then I'd go to top him. And then it would just be this constant back and forth. And then that's typically what would end up in the final cut, because me and Mark just have such good chemistry."
"Joe Bell" is now playing in theaters nationwide.