The Character We Could See Dwayne Johnson Play In The Simpsons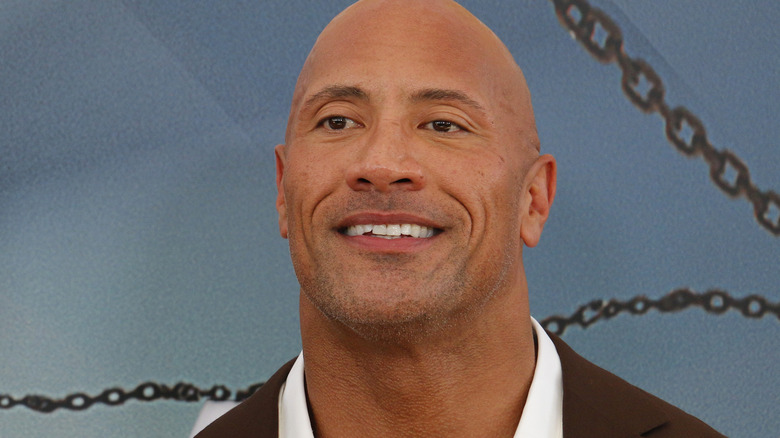 Shutterstock
Beginning as a series of shorts on "The Tracey Ullman Show" back in 1987 before receiving its own fully-fledged primetime series in 1989, "The Simpsons" is one of the longest-running and most successful shows on the small screen. Chronicling the adventures of the titular animated family — Marge, Homer, Lisa, Bart and Maggie — as they encounter all sorts of situations in the town of Springfield, "The Simpsons" also seems to have told every type of story there is to tell. The good news is that the show isn't slowing down any time soon, having recently been renewed for two more seasons. It's evident that the creators haven't run out of fresh ideas, and fans can expect to see the beloved sitcom continue to break records.
Another key part of the sitcom's success is its ability to attract big-name voice talent. From Ricky Gervais to Seth Rogen and many more, "The Simpsons" has welcomed some A-list stars into the Springfield fold throughout the years, and one future episode could see the most electrifying man in all of entertainment make an appearance.
The Simpsons could smell what Dwayne "The Rock" Johnson is cookin'
Universal Pictures
In a recent panel at the virtual San Diego Comic-Con, the cast and crew of "The Simpsons" shared some interesting information about their future plans for the show. During the conversation, Yeardley Smith, who voices Lisa Simpson, asked the writers if they could make an episode in which her character befriends Dwayne Johnson. This led to Carolyn Omine revealing that a story is already in the works, though she wasn't able to divulge too much information about what it will entail.
Nothing is set in stone yet. While the writers are keen to have Johnson make an appearance as Lisa's new friend, they need to get the mega-star to agree to it first. Omine noted how Johnson hasn't "heard" their calls yet, so it's up to the fans to start making some noise. Matt Selman then weighed in on the matter, assuring Johnson that they have a "great part" for him. Here's hoping that the actor can find time in his busy schedule to make this dream a reality.