Rick & Morty's Creators Reveal The Hilarious Inspiration Behind Mr. Nimbus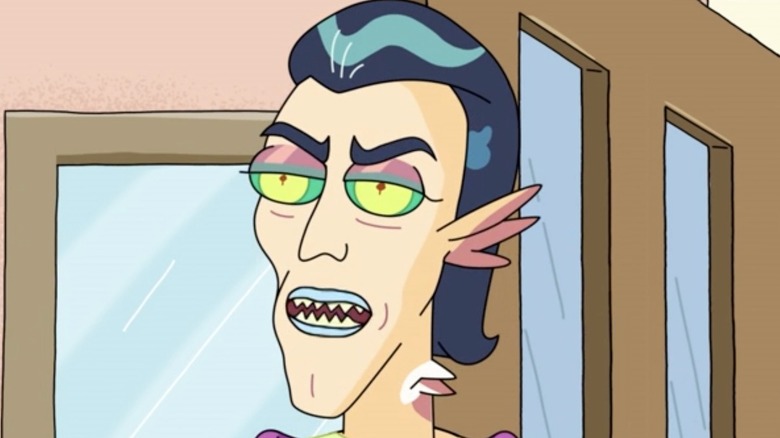 Cartoon Network
San Diego Comic-Con isn't just the place for breaking news on upcoming shows — it's also a place for analyzing them, breaking them down, and finding out surprising things about the behind-the-scenes workings of your old favorites. On July 23, in a panel that featured co-creator Dan Harmon, showrunner Scott Marder, actor Chris Parnell (the voice of Jerry), Sarah Chalke (the voice of Beth), Spencer Grammer (the voice of Summer), and moderator Brandon Johnson, there were plenty of revelations to be had, including the inspiration behind Season 5 villain Mr. Nimbus. 
Back in June, the show's crew had already spilled the beans a bit on the horny king of the ocean and controller of the police who appears in the Season 5 episode "Mort Dinner Rick Andre." In a behind-the-scenes video about the show that aired on the Adult Swim YouTube channel, Harmon said, "Mr. Nimbus has been talked about here and there for a while." Jeff Loveness, who wrote the episode, added, "He was in another episode that died. But we all loved Nimbus so much we were just waiting for a chance to use him." He pointed out in that video that Nimbus is the antithesis of Rick, maybe "the purest form of Rick."
At that point, fans already understood some of the origins of Mr. Nimbus. But the Comic-Con panel revealed what actually inspired the character.
Mr. Nimbus is based on David Bowie and Marvel's Sub-Mariner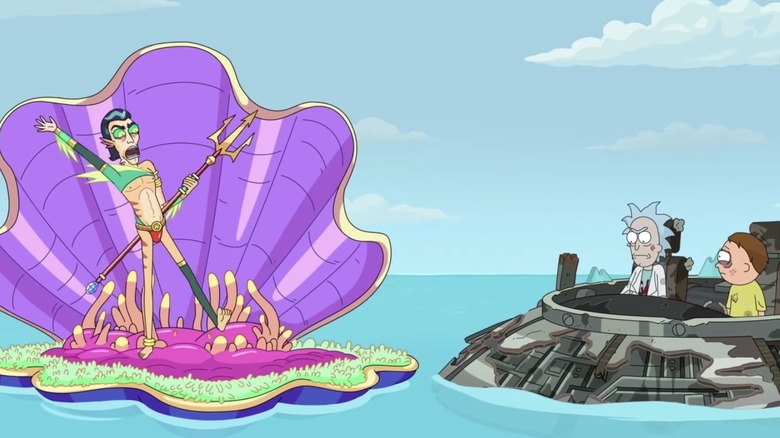 Cartoon Network
Marder said that when he started, Mr. Nimbus was in a lost "Rick and Morty" episode, "but everyone internally was like there's this character, he's amazing ...the nemesis [of Rick]. This is one he's got a unique relationship with him, he's definitely ashamed of him being his nemesis to some extent, looks like they have a really storied past." After he called it a "super-cool episode," Chalke asked about where they got Mr. Nimbus' look. "David Bowie was definitely an inspiration there," Marder responded.
Harmon then chimed in, saying, "I think it started with the question, how could you be into Sub-Mariner in high school without getting beaten up every day, and then we asked ourselves, 'What if the goal was to get beaten up?'" Which, honestly, is a pretty hilarious thought right there, and goes oh so well with the Bowie vibe: the androgynous look, the mullet-style hairdo, colorful eye makeup, and body decorations. 
Mr. Nimbus, a play on the word "nemesis," sports a thin build that is a bit of a departure from the Marvel character Sub-Mariner, who usually sports gold cuffs, green Speedo-style swimwear, and not a whole lot else, although he does carry a trident that's similar to Mr. Nimbus'. Once you see it, you can't really deny the similarities. Sub-Mariner, also known as Namor, is a half-Atlantean, half-human who hates humans but has also fought alongside the Fantastic Four and various Avengers. Yeah, Mr. Nimbus is definitely a Sub-Mariner style guy you could beat up. Unless you're Rick, that is.