See Orlando Jones As Mr. Nancy In American Gods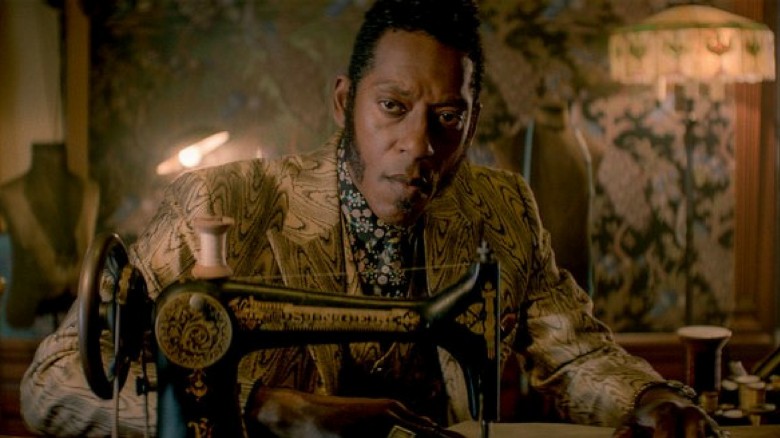 Starz
Orlando Jones has been preparing for his role as the African trickster god Anansi in Starz's American Gods adaptation for years. In an interview with Vanity Fair, the actor, pictured in a still from the show above, talked about the stories his great-grandfather used to tell him about the god when he was a child growing up in Mobile, Alabama. "He would tell me about the Trickster God and Dr. Buzzard— this guy who lives on this island who supposedly would grant all your wishes," he said. "I began hearing them from my great-grandfather when I was around seven, eight years old. Not in my wildest dreams did I think I would ever get to play one of them— but Anansi's a huge character in African folklore, and African-American folklore as well."
Jones was first introduced to Neil Gaiman's Anansi, also known as Mr. Nancy, when he read the 2005 novel Anansi Boys, a spin-off of American Gods. He then read the original book, falling in love with the story. "I did the total nerd thing where I read it, then I went back and I listened to the book-on-tape version of it," he said, adding that he started talking to Gaiman over Twitter after reading the book. "I'm so excited to play Mr. Nancy— one of my favorite characters ever— this is really like a pinch-yourself moment the entire way. I'm just giddy about it."
Jones said that he was attracted to Mr. Nancy's funny side and his scary side. "I think that it's rare that you get to play characters, or write characters, that have such a rich history and that connect to so many themes that still resonate today," he said. "Anansi is a trickster— he is completely looking to manipulate you at every step, at every turn."
Mr. Nancy, like many of the old gods featured in the series, will be introduced to the show in a pre-credits cold open based on the "Coming to America" vignettes from Gaiman's novel. The short pieces show how the gods came to America, with Mr. Nancy getting a memorable introduction with a rousing speech on an African slaving ship bound for America. "It's a wonderfully written, incredible scene clearly in keeping with the way Neil Gaiman saw the character," Jones said.
Although American Gods hasn't aired an episode yet, Jones said that there has already been talk among the show's production staff of a possible Anansi Boys spin-off. Although the novel doesn't actually follow Mr. Nancy (it follows his two sons following his death), Jones said he would be happy to be a part of a spin-off of any kind. "I love this character," he said. "I love these writers. I've been fortunate that this is one of the most exciting and incredible experiences I've been able to do as an actor, and I'll continue for as long as I possibly can."
American Gods premieres on April 30. The show, from Hannibal and Pushing Daisies' Bryan Fuller, stars The 100's Ricky Whittle as Shadow Moon, a con recently released from prison who finds himself working with a mysterious man named Mr. Wednesday (Ian McShane), who he later finds out is actually the Greek god Odin. Shadow becomes entangled in a war between the ancient gods (including Jones' Mr. Nancy) and the gods of new American obsessions like media, celebrity, and technology. The show also stars Gillian Anderson as the new god Media, Emily Browning as Shadow's wife Laura, and Pablo Schrieber as the leprechaun Mad Sweeney. Jonathan Tucker, Cloris Leachman, Peter Stormare, Kristin Chenoweth, Yetide Badaki, Bruce Langley, Crispin Glover, Chris Obi, Demore Barnes, Corbin Bernsen, Dane Cook, and Mousa Kraish also appear. While we wait for American Gods to premiere, see why we think it will change your life in 2017.