11 Best Anime Movies On Amazon Prime [October 2021]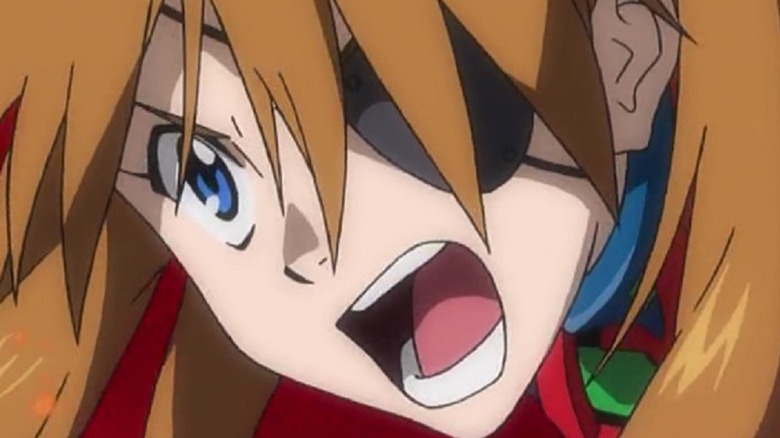 Toei Company
Once upon a time, it was difficult for English-speaking fans to get their hands on anime movies. Sure, a Studio Ghibli picture like "My Neighbor Totoro" or "Spirited Away" might come along every few years or so, but those were the exception and not the rule. Eager aficionados lent each other what they had, discussed their favorite flicks online, and did what they could to make it clear to licensing companies that the people wanted more anime, and they wanted it now.
Nowadays, things are very different indeed. A wide variety of anime movies can be found on a number of streaming platforms, and Amazon Prime boasts a particularly intriguing mix. Their library of anime films includes introspective high school dramas, swashbuckling adventure tales, and sweeping fantasy epics from a number of different studios and directors. Not sure where to start? We've got you. These are the very best anime movies available to watch on Amazon Prime.

Updated on September 30, 2021: As Amazon Prime changes its selection, we'll keep this list updated to reflect changes in its streaming catalog. Be sure to check back each month for the best anime movies available, as we'll be keeping this list current with what Amazon Prime has to offer.
Welcome to the Space Show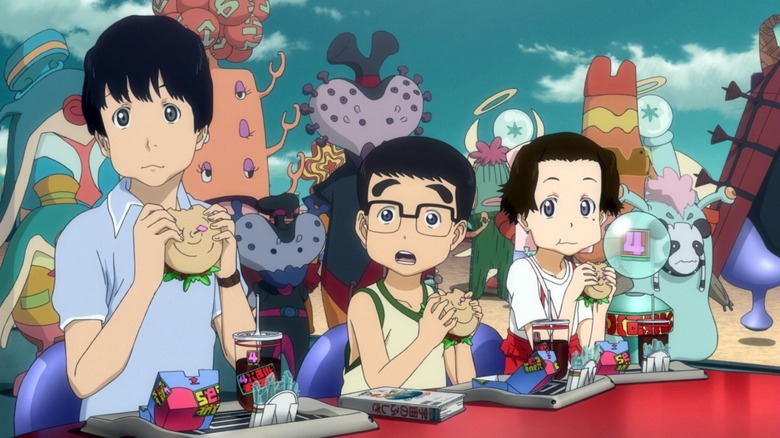 Aniplex
When a group of kids stumble upon an injured dog one hot summer day, they have no idea he's actually an alien researcher named Pochi. Once the four-legged scholar has healed, he doesn't just reveal his true nature — he whisks the kids off to the moon as a reward for their help. Things go awry, however, when the kids find themselves unable to return home. This is a jaw-droppingly gorgeous work of animation, brimming with psychedelic scenery, fluid motion, and unforgettably inventive character designs.
Starring (English Dub Cast): Cassandra Lee, Stephanie Sheh, Marc Diraison
Director: Koji Masunari
Year: 2010
Runtime: 136 minutes
Rating: 13+
Harlock: Space Pirate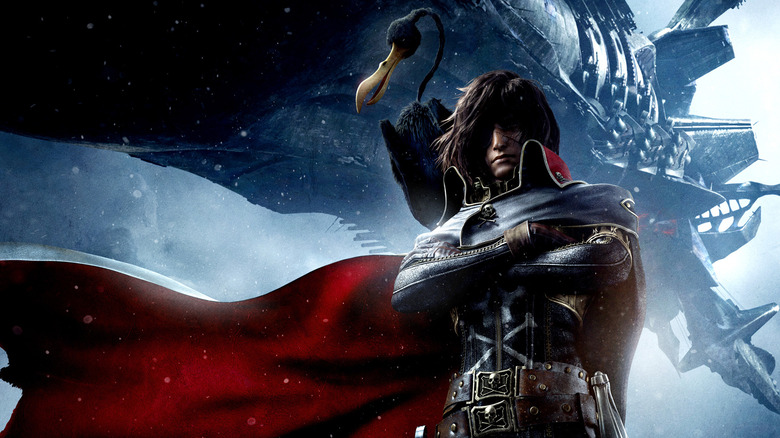 Toei Company
Classic anime hero Captain Harlock is back in this all-CGI adventure, and he's never looked better. Humanity has been shackled by the Gaia Coalition, a massively powerful cabal that will stop at nothing to keep the common man beneath its heel. Harlock, ever the rebel, plans to overthrow them by any means necessary. This is grand and moody adventure enlivened by strong performances, stunning animation, and a couple of operatic plot twists. Harlock die-hards and newbies alike are bound to love this new take on an old favorite.
Starring (English Dub Cast): David Matranga, Emily Neves, Jessica Boone
Director: Shinji Aramaki
Year: 2013
Runtime: 111 minutes
Rating: 16+
A Flying Princess and a Secret Island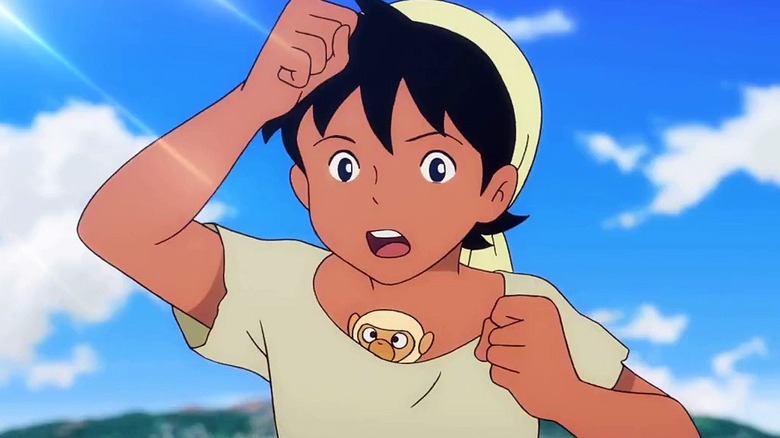 Ocean Productions
Part one of the "Sinbad" film trilogy, this all-ages adventure offers a treasure trove of action, friendship, and magic. Sinbad is a spirited young boy who dreams of globetrotting adventure. He gets his wish when he encounters a mysterious girl riding a flying horse ... and a group of shifty-looking men who are hot on her tail. An ideal choice for anyone who's exhausted Studio Ghibli's catalog, this feature's sunny animation, earnest heart, and winning sense of humor ensure a good time will be had by all.
Starring (Original Voice Cast): Tomo Muranaka, Momoko Tanabe, Nao Nagasawa
Starring (English Dub Cast): Cole Howard, Elyse Maloway, Michael Adamthwaite
Director: Shinpei Miyashita
Year: 2015
Runtime: 51 minutes
Rating: All-ages
Rotten Tomatoes Score: N/A
Redline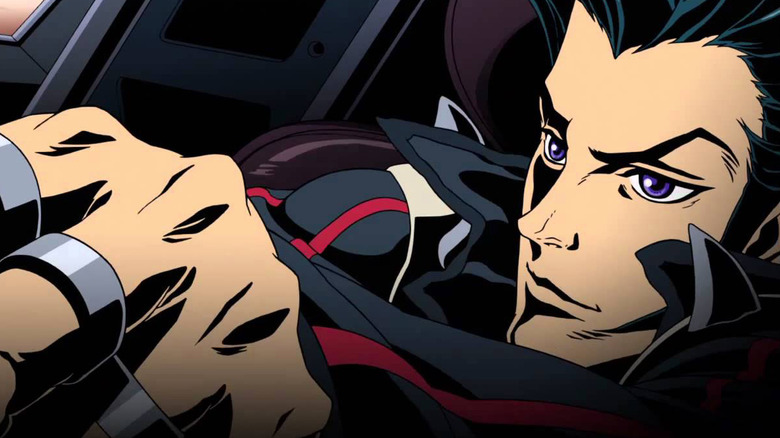 Tohokushinsha Film
When a couple of competitors drop out of the Redline, a mind-bendingly difficult race undertaken by the galaxy's most dominant drivers, pompadour-sporting rogue Sweet J.P. squeaks his way in. Unfortunately, this Redline will be held on a robotic dystopia that's none too pleased about the race's presence. Sweet J.P. might be good, but is he good enough to handle murderous cyborgs, malignant mob bosses, and a burgeoning interest in Sonoshee, his beautiful rival? From its throbbing soundtrack to its exhilarating animation, "Redline" oozes cool. (This is available on IMDb TV, which is free with ads.)
Starring (English Dub Cast): Patrick Seitz, Michelle Ruff, Liam O'Brien
Director: Takeshi Koike
Year: 2009
Runtime: 102 minutes
Rating: PG-13
Robot Carnival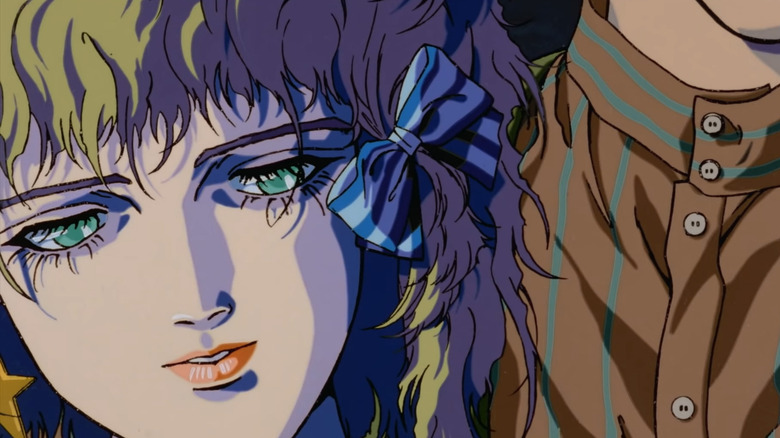 Amazon Prime Video
This electric anthology consists of nine shorts centered around robots. What results is a wildly diverse smorgasbord of genre, tone, and aesthetic. Darkly comic takes on "Frankenstein" coexist with charmingly romantic tales of teen girlhood in "Robot Carnival." What unites them all is an incredibly high level of quality and an innovative approach to sci-fi storytelling. Seasoned anime fans will enjoy getting a look at lesser-known work from luminaries like Katsuhiro Otomo ("Akira") and Koji Morimoto ("The Animatrix") while newbies will gain dazzling insight into just how imaginative anime can be at its very best.
Starring (English Dub Cast): Michael McConnohie, Lisa Michelson, Bob Bergen
Director: Katsuhiro Otomo, Hiroyuki Kitakubo, Yasuomi Umetsu
Year: 1987
Runtime: 90 minutes
Rating: 13+
The Princess and the Pilot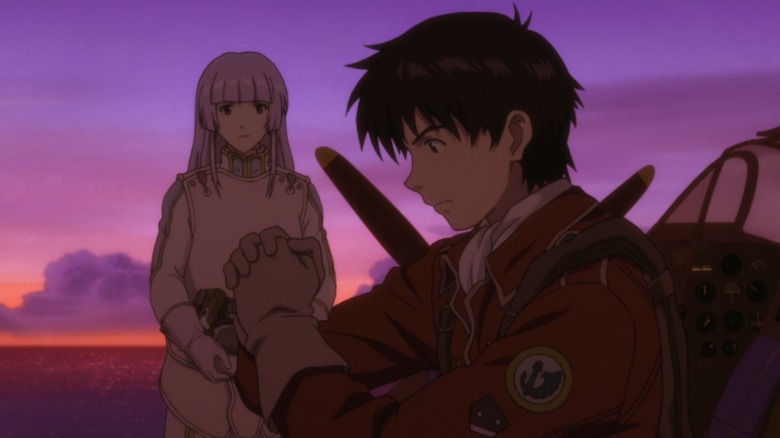 Amazon Prime Video
War has been raging between the Levamme Empire and the Amatsukami Imperium for years, so when expert pilot Charles Karino is hired to ferry Princess Juana to her betrothed, he doesn't expect a simple journey. What neither he nor Juana could have ever predicted, however, is falling in love. The sky offers this young couple boundless freedom, but the war continues on below, making its own demands. This stirring romance explores the unstoppable power of love and the inescapable destruction of war with passion, honesty, and breathtaking visuals.
Starring (Original Voice Cast): Sumire Morohoshi, Seika Taketomi, Ryunosuke Kamiki
Director: Jun Shishido
Year: 2011
Runtime: 99 minutes
Rating: 13+
Jin-Roh: The Wolf Brigade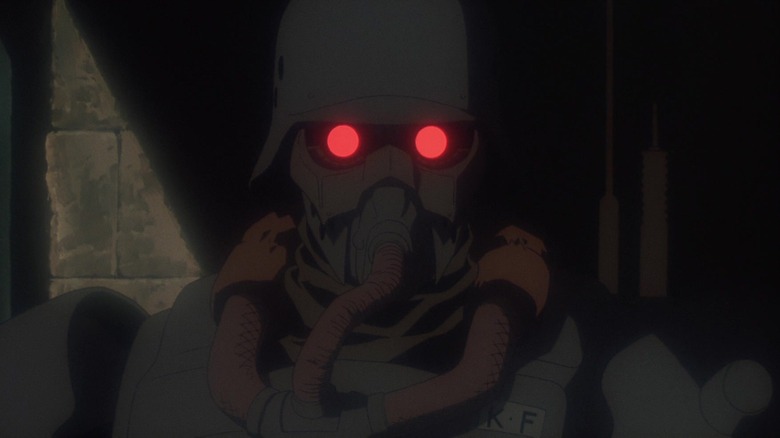 Bandai Visual
In Kazuki Fuse's world, Germany won World War II, occupied Japan, and left it in tattered pieces. Violence is omnipresent — a fact he knows well as a member of the Tokyo Capitol Police. Yet even he is shaken by the sudden and brutal death of a young rebel. Things get even more complex when a woman claiming to be the deceased's elder sister enters his life. Gritty visuals and an unswerving commitment to realism make "Jin-Roh: The Wolf Brigade" stand out against other anime movies available on Amazon Prime, but it's the multilayered portrayal of violence that makes it something truly special.
Starring (English Dub Cast): Michael Dobson, Moneca Stori, Colin Murdock
Director: Hiroyuki Okiura
Year: 1999
Runtime: 102 minutes
Rating: 13+
Evangelion: 1.11 You Are (Not) Alone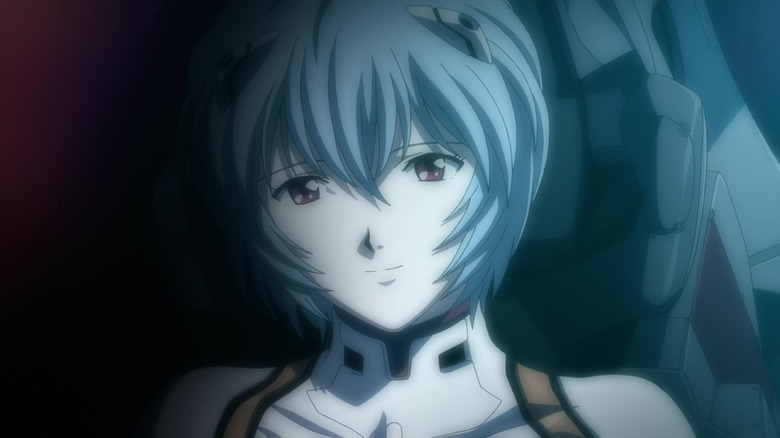 The KlockWorx
The first film in the "Rebuild of Evangelion" series, this retelling of the first six episodes of "Neon Genesis Evangelion" welcomes diehard fans and newcomers alike. As an anxious, insecure teenager, Shinji Ikari isn't your average giant robot pilot. But "Evangelion" isn't your average giant robot anime — it's a kaleidoscopic journey into human alienation. As he struggles to take his place in the fight against the bizarre and menacing "angels," Shinji experiences everything from bitter defeat to tender compassion. Sleek animation and strong performances make this reboot well worth watching.
Starring (Original Voice Cast): Megumi Ogata, Kotono Mitsuishi, Fumihiko Tachiki
Starring (English Dub Cast): Spike Spencer, Allison Keith, John Swasey
Director: Hideaki Anno, Masayuki, Kazuya Tsurumaki
Year: 2007
Runtime: 102 minutes
Rating: 16+
Evangelion: 2.22 You Can (Not) Advance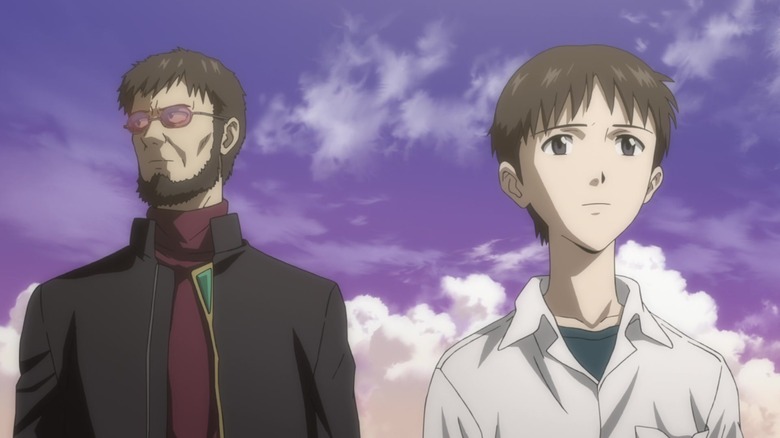 The KlockWorx
In its second installment, the "Rebuild of Evangelion" series ups the action, adds a bunch characters, and begins departing from its source material. New pilots Asuka and Mari shake up Shinji's world while a series of devastating angel attacks leaves our heroes and their robots in literal and figurative tatters. This movie's superb animation and tightly written script take the series to new heights of excitement and emotion. Clear some extra room in your schedule before you settle in to watch this film — you're going to want to devour the next one immediately.
Starring (Original Voice Cast): Megumi Ogata, Yūko Miyamura, Megumi Hayashibara
Starring (English Dub Cast): Spike Spencer, Tiffany Grant, Amanda Winn-Lee
Director: Hideaki Anno, Masayuki, Kazuya Tsurumaki
Year: 2009
Runtime: 113 minutes
Rating: 16+
Evangelion: 3.33 You Can (Not) Redo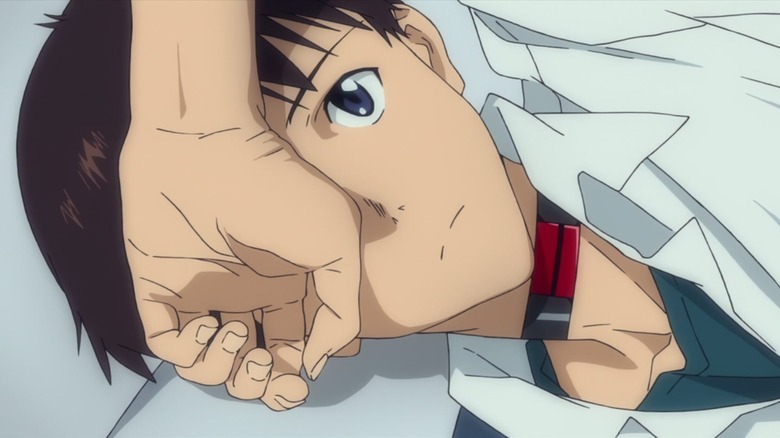 Toei Company
A total of 14 years pass between the second and third "Rebuild of Evangelion" movies, through which Shinji, locked in stasis within Unit 01, sleeps. He wakes to a changed world, featuring new factions, weapons, and allies. Terrifying revelations distinguish this movie from its predecessors, which involve everything from Gendo's plan for humanity to Rei's true nature. But beneath the horror, there's a vibrant layer of human emotion, most vividly evident in the bond Shinji forms with the mysterious Kaworu. 
Starring (Original Voice Cast): Megumi Ogata, Yūko Miyamura, Akira Ishida
Starring (English Dub Cast): Spike Spencer, Tiffany Grant, Daman Mills
Director: Hideaki Anno, Masayuki, Kazuya Tsurumaki, Mahiro Maeda
Year: 2012
Runtime: 96 minutes
Rating: 16+
Evangelion: 3.0+1.0 Thrice Upon a Time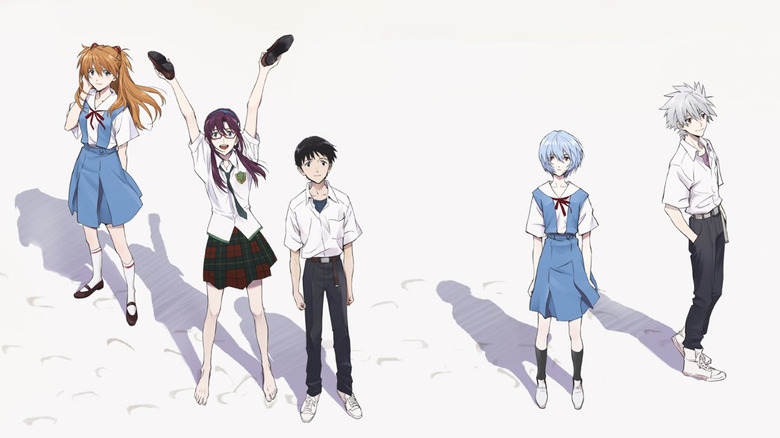 Toho
The final film in the "Rebuild of Evangelion" series is a magnificent tribute to one of the most important anime series of all time. Though the despair and destruction typical to the franchise is present here, so too is a fragile sense of hope. Shinji, Rei, and Asuka are offered a path forward ... but it's not necessarily going to be an easy one to walk. Bursting with spectacular animation and a conclusion even longtime "Evangelion" fans will be surprised by, this is one finale you won't want to miss. ("Evangelion: 3.0+1.0 Thrice Upon a Time" hits Amazon Prime on August 13.)
Starring (Original Voice Cast): Megumi Ogata, Yūko Miyamura, Megumi Hayashibara
Starring (English Dub Cast): Spike Spencer, Tiffany Grant, Amanda Winn-Lee
Director: Hideaki Anno, Kazuya Tsurumaki, Katsuichi Nakayama, Mahiro Maeda
Year: 2021
Runtime: 154 minutes
Rating: 16+