Sandra Oh's New Netflix Series Just Got Its First Official Trailer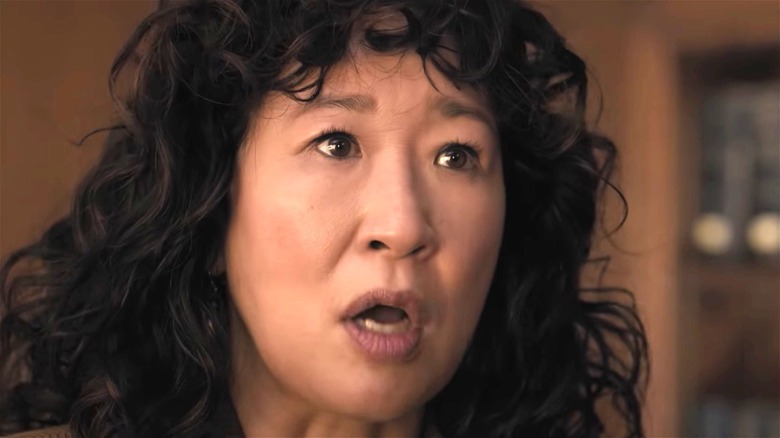 Netflix
Between her long-term stint on "Grey's Anatomy" and her celebrated performance on the BBC America spy dramedy "Killing Eve," it wouldn't be hard to make the argument that Sandra Oh is one of the biggest TV stars currently in the business. So, when she has a fresh project, it's certainly cause to stop what you're doing and check it out. The actor has a new Netflix Original series called "The Chair" arriving in August and the streamer has blessedly gifted us with an official trailer.
In "The Chair," Oh plays Dr. Ji-Yoon Kim, the incoming chair of the renowned English department at Pembroke University. The stratified and competitive halls of academia are known for being a treacherous workplace to navigate. To make things even more difficult for Ji-Yoon, she's arriving as the first woman chair of the department and taking over during a time of institutional crisis. Ji-Yoon must contend with the high expectations placed on her, the old-school attitudes of her colleagues, and her own rocky personal life as she tries to establish herself as a force to be reckoned with.
Back in June, Netflix released a short teaser for the series — which was written by actor Amanda Peet and counts "Game of Thrones" creators David Benioff and D. B. Weiss among its executive producers — that showcased the snowy collegiate setting and comedic tone. But with this first proper trailer, we're getting a better look at exactly what this smart comedy has in store.
Netflix viewers are excited to see Sandra Oh return to the small screen
The first official trailer for "The Chair" provides an intriguing look into the world of this new Netflix series. We get the opportunity to meet smart and scrappy Ji-Yoon, see the mostly-white and mostly-older academic world she's working within, and get a taste of the kind of fires she'll have to put out in her new role. Central to that last issue is Professor Bill Dobson (Jay Duplass, who also worked with Peet on the HBO series "Togetherness"), who is embroiled in a scandal that appears to be risking the reputation of the entire department. The trailer hints at a flirtation between him and Ji-Yoon that could complicate her ability to neutralize the situation.
Based on the reactions to the trailer on Twitter, it looks like Netflix viewers are amped to see Oh grace their TV screens once again. Twitter user @lisavollrath wrote, "Will watch anything with Sandra Oh in it," while @jgi2002 expressed a similar sentiment by adding, "i see sandra oh, i click."
Meanwhile, @tsubasa7_1 had a simple request: "Can I have it now? I LOVE SANDRA OH!"
They were no doubt thrilled to see that "The Chair" is slated to premiere on Netflix on August 20.