An Iconic DC Character Will Appear In Batwoman Season 3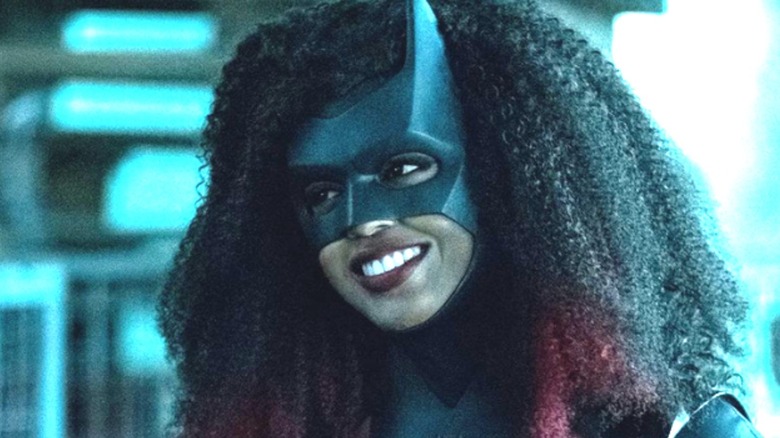 The CW
It looks like a new character will be coming to Gotham City, as represented in The CW's "Batwoman." Victoria Cartagena is set appear in the series' third season as a new regular cast member, playing Detective Renee Montoya, reports Deadline. 
As explained by DC's official website, the character of Renee Montoya originated in "Batman: The Animated Series" in 1992. The detective, generally depicted in a positive light to contrast with her boorish Gotham City Police Department partner Harvey Bullock, was popular enough to be adapted into the comics. Traditionally, Montoya is one of the few police officers in Gotham who isn't corrupt, which earns her the trust of both Commissioner Jim Gordon and Batman. A lesbian, Montoya is at one point outed by Two-Face, an event that has major ripple effects on her family life. 
In the comics, though, Montoya's story continues in an unexpected direction, when she is tapped to become the mysterious, faceless crime-fighter The Question after the death of the original, Vic Sage (via Comic Book Resources). Later, she also became Gordon's successor at the GCPD after ending her vigilante ways (in the 2021 relaunch called the "Infinite Frontier"). 
Montoya's comic book origins have Kate Kane (played by Wallis Day in "Batwoman") as her ex-girlfriend, so she'll definitely arrive in the Arrowverse with some interesting backstory, whenever in her timeline they choose to portray her.
In a tweet Cartagena posted on July 20, she said, "I guess #Reneemontoya and I have some unfinished business." That's because this is the second time she's played Montoya. She also portrayed the character on the Fox TV show, "Gotham," which aired from 2014-2019 — which is interesting, because "Gotham" and "Batwoman" aren't set in the same universe. 
This isn't Cartagena's first time playing Montoya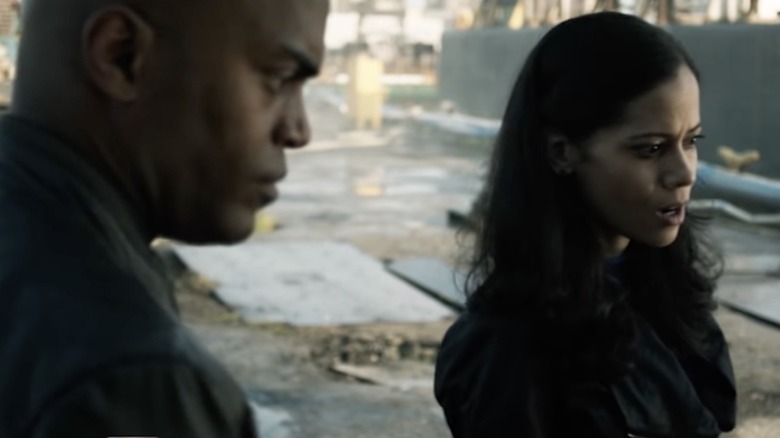 Fox
Cartagena played Montoya during the first season of "Gotham," where she was partnered with Crispus Allen. The two investigated the murder of Thomas and Martha Wayne, and eventually accuse Gordon of killing Osward Cobblepot — saving Gordon from a hit man when Cobblepot turns up alive. It's clear throughout this process that Montoya is holding a grudge because of her feelings for Barbara Kean, but she ends up apologizing to Gordon.
Cartagena told DirectSubmit about Montoya, "I welcome her complexity! She (and the writers who created her along with the writers at Gotham) challenge me to stay on my toes. She has so much going on in that beautiful mind. I always have to be aware of her intentions at every moment: she's compassionate, stubborn, loving, smart, angry etc. there is so much depth and so many layers to play!" She also noted, in an interview with American Latino, that at the time, "No one else has portrayed her, so I don't have that pressure of being compared to anyone."
Looks like she now has some big shoes to fill — her own! Cartagena is no longer the only person to have portrayed Renee Montoya in live-action, either: Rosie Perez also took on the role in the 2020 Warner Bros. film "Birds of Prey," which made her a member of the all-woman group. And it should be noted that the "Batwoman" Renee Montoya will certainly be a different character than both of her previous live-action iterations. As previously noted, the Fox version of "Gotham" was never considered part of The CW's Arrowverse, and "Birds of Prey" takes place in the DC Extended Universe of the movies. So the makers of "Batwoman" are free to interpret the character however they wish.