New Deleted Scene From The Office Confirms What Fans Suspected All Along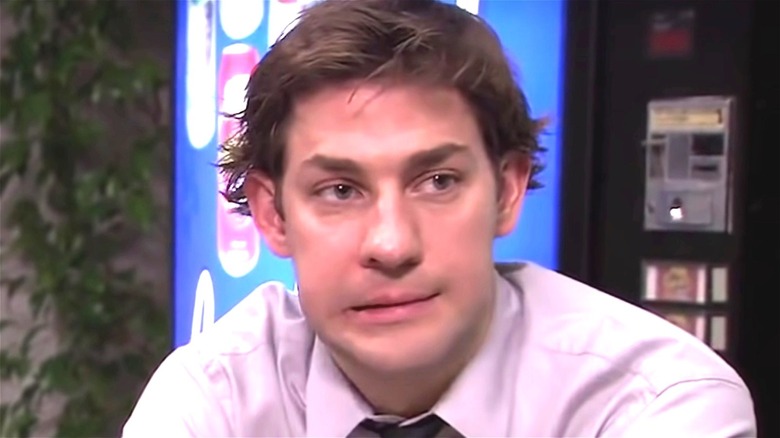 NBC
"The Office" is one of the biggest sitcoms of all time. Since its premiere in 2005, audiences have been obsessed with following the antics, drama, and heartwarming relationships of the team at Dunder Mifflin Paper Company. The Dunder Mifflin crew would be nothing, of course, without the World's Best Boss, Michael Scott, played by the very talented Steve Carell. Though Michael was written out at the end of Season 7 due to Carell's desire to explore other projects, the character's complete lack of self-awareness, desperate desire to be liked, and total lack of management skills are truly hallmarks of the show's humor.
Dedicated fans will fondly remember Season 2 episode "The Client," in which the Dunder Mifflin staff uncover Michael's unfinished script for "Threat Level Midnight," an action flick starring "Agent Michael Scarn." With Michael out of the office at a client meeting, the staff take the opportunity to read through the script, realizing how just hilariously bad it is. 
Now, for fans who enjoyed the dramatic reading of "Threat Level Midnight," it turns out that there are even more laughs to be had.
In the deleted scene, we see even more of Threat Level Midnight
As part of the exclusive streaming rights that NBC service Peacock now has for "The Office," the network is offering Superfans episodes for Premium Plus subscribers. These expanded episodes feature never-before-seen deleted scenes, bloopers, interviews, and featurettes, sure to delight any "Office" superfan.
Peacock has recently released more Superfans episodes for Season 2, including "The Client." The special episode includes an extended cut of the Dunder Mifflin team's impromptu "Threat Level Midnight" table read, showing just how bad Michael's script really was.
Of course, audiences were lucky enough to actually see "Threat Level Midnight" in Season 7, when Michael and the staff produce and star in the film. It was revealed that the gang had been slowly filming the movie since they discovered the script, and "The Office" even brought back former stars, such as Rashida Jones and David Denman, to really sell that the filming had been a long-time affair. The episode was one of Steve Carrell's last on the show, too, and in many ways, served as a love letter to the character. A 25-minute-supercut of the film was released for the Season 7 DVD box set, too, and is also available on "The Office's" official YouTube channel.
Michael Scott may not be an incredible leader or screenwriter, but we will always love the character for his big heart and even bigger dreams.