The Jackass Forever Trailer Brings The Pain And Hilarity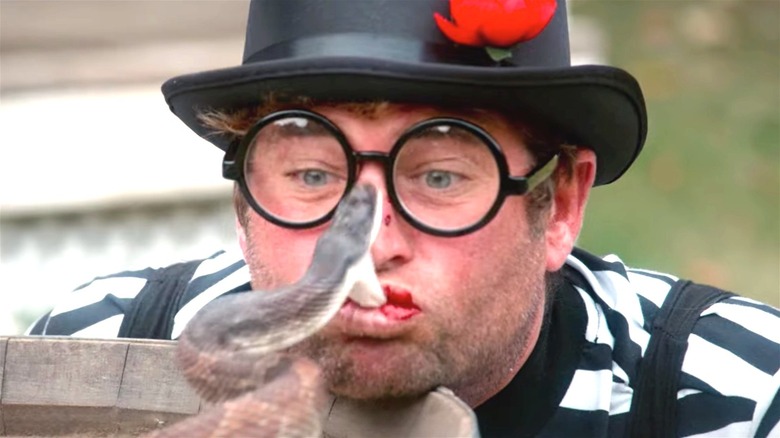 Paramount Pictures
In 2000, "Jackass" debuted on MTV as a 30-minute comedy series that revolved around a group of friends who played pranks on one another, participating in over-the-top stunts. Their pain was our pleasure for two years and three seasons as Johnny Knoxville led his group of miscreants in a series of shenanigans that significantly impacted the world of pop culture. 
The successful series spawned five movies, starting in 2002: "Jackass: The Movie," "Jackass Number Two," "Jackass Presents: Mat Hoffman's Tribute to Evel Knievel," "Jackass 3D," and "Jackass Presents: Bad Grandpa." Other versions of the films were released as extended cuts, but it's been eight long years since we've seen Knoxville or his gang in a feature film... and that's all about to change, thanks to "Jackass Forever." The trailer for the highly-anticipated comedy sequel has finally dropped, and it promises to be everything like its predecessors and much more. The men are older — but definitely not wiser — as they take on some of their most ridiculous stunts to date. Here's what we can expect from "Jackass: Forever," judging by its trailer.
The Jackass Forever trailer prove some things never change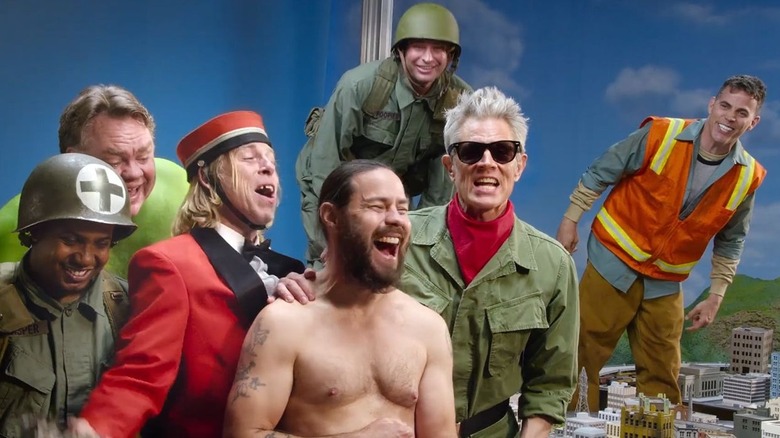 Paramount Pictures
In the hot new trailer, the first glimpse takes a trip down memory lane, reliving some of the best moments from "Jackass" past. After that, viewers finally get a look at some of the insane stunts and pranks the original "Jackass" cast recorded for the film. Adorned with a head of salt and pepper hair, Johnny Knoxville can be seen shooting himself out of a canon, a stunt he's performed numerous times in the past. Chris Pontius, Steve-O, Wee Man, Ehren McGhehey, Dave England, and Preston Lacy are all back as well as each participates in their own ridiculous scenarios. Missing from the group is Bam Margera, who was reportedly booted from the project for breaching his contract, according to Newsweek.
Some celebrities who showed up in the trailer include Eric Andre and Machine Gun Kelly, who are hilariously pranked by the "Jackass Forever" stars as both take serious blows to the face, while other celebrities set to appear in the film include Post Malone, Tony Hawk, and Shaquille O'Neal. The trailer leaves audiences with a major cliffhanger moment, where McGhehey is strapped and taped to a chair, leaving him incapable of moving. He's subsequently covered in honey while Knoxville piles up a bed of fresh salmon right in front of a pretty inconvenient place on his friend's body. Shortly afterwards, a black bear on a chain walks into the room as total horror sets in on McGhehey's face. The screen cuts to black, and we're left to wonder how that face-to-face turns out.
To see how it all plays out, catch "Jackass Forever" in theaters on October 22, 2021.