Why Sol Santos From Cosmic Sin Looks So Familiar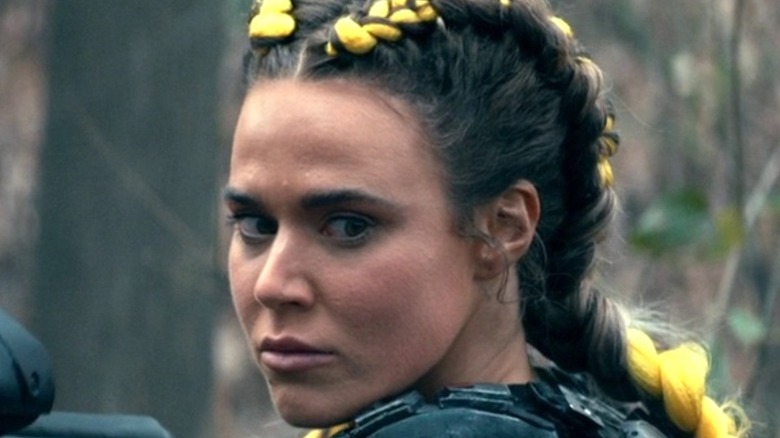 Saban Films
After a housebound pandemic year dominated by indies and straight-to-streaming dramas, the popcorn movie market is slowly heating up again. "F9," "Black Widow," and "Space Jam: A New Legacy" are just a few of the movies that have been beckoning audiences back into the multiplex over the last few months. However, as studio flagships begin to dominate the landscape again, the gradual return to normal is also heralded by the re-emergence of another once-omnipresent staple of popcorn cinema: the B-movie.
The most notable example of that is "Cosmic Sin." The Edward Drake-directed sci-fi actioner, which tells the story of a band of rogue intergalactic soldiers tasked with obliterating a civilization of zombie-like aliens in the year 2524, was finally able to get a theatrical release in March 2021, a full year after it had wrapped production (via Variety), and is now making its way to the top of streaming viewership rankings. Although stars Bruce Willis and Frank Grillo are the main attractions as far as casting goes, there's another actress in "Cosmic Sin" you might also remember from elsewhere. Here's why C.J. Perry, who plays badass sniper Sol Cantos, looks so familiar.
C.J. Perry cut her storytelling teeth for a near-decade as WWE's Lana
It's no big secret that WWE performers are among the most dedicated and versatile entertainers in the business, but they're not often given the credit they deserve. As C.J. Perry, better known for her identity as Russian manager-turned-wrestler Lana, explained to Digital Spy in March 2021, "I think the biggest misconception about WWE is, people don't realise that we are actors and we are storytellers. Yes, it's a professional sport but we are characters out there and that's what I actually love about my job in WWE."
During her WWE bow, Perry had ample opportunity to flex her acting muscles in addition to her literal ones, as Lana went through a rich years-long arc from cold-hearted villainess to sympathetic underdog with a softer side. Though Lana's Russian background was inspired by Perry's own, she told Digital Spy that good-guy Lana was closer to her own real-life personality — which actually made her harder to play. "It's definitely a lot more challenging as an actor because I think I just felt so comfortable in that villainous role but I love challenges and it's really exciting," she said.
Unfortunately for Lana's fans, the challenge didn't last very long, as she was let go by the wrestling promotion sometime later in 2021 (via New York Post). It remains to be seen whether Perry will join a competitor like AEW or focus on her budding film and TV acting career.
C.J. Perry put her musical skills to use in two Pitch Perfect movies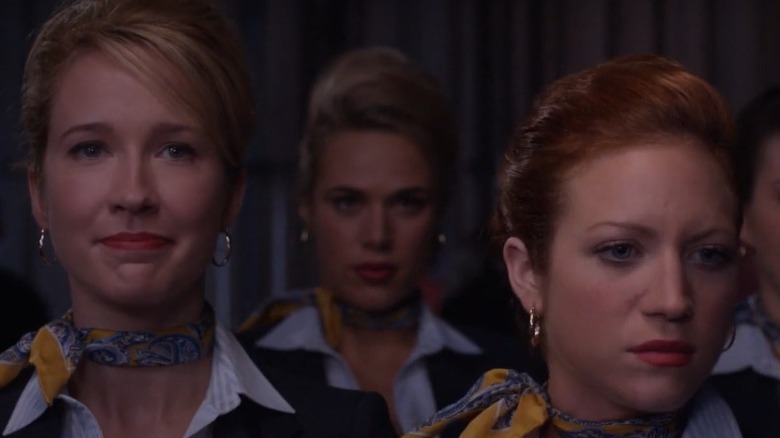 Universal Pictures
Before she became Lana, C.J. Perry worked for some time as a model and was one-fourth of the short-lived musical girl group No Means Yes (via SayWhatNews). This led to roles as a dancer in movies like "Big Mommas: Like Father, Like Son" and "Big Time Beach Party," and, finally, to a fateful appearance in "Pitch Perfect," in which she sang and danced as part of the opening Bellas' and the Footnotes' ensembles.
This was a role Perry particularly cherished. "The cool thing about that movie was when we performed on stage it was for a live audience but then at the same time they were filming so it was the best of both worlds. Stage and film combined," she told SayWhatNews. She was then able to double the experience into another small yet meaningful role as a Legacy Bella in "Pitch Perfect 2," which again allowed her to show off her musical and stage performance skills.
C.J. Perry got her start as an action movie star in Interrogation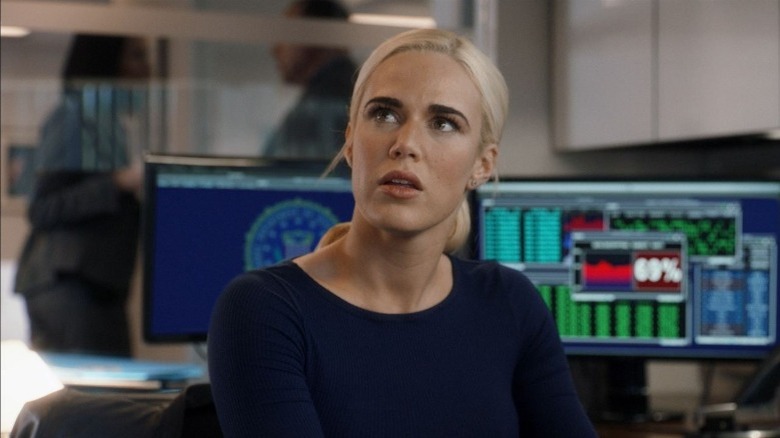 Lionsgate
Following the "Pitch Perfect" movies, Perry had a more substantial acting role as one of the two stars of the WWE Studios-produced action thriller "Interrogation," alongside Adam "Edge" Copeland. Perry played I.T. expert Becky, who is called in to help with the efforts of brilliant FBI interrogator Lucas Nolan (Copeland) to stop a bombing that could destroy the entire city of Minneapolis.
Between this more phlegmatic tech-genius role in "Interrogation" and her swaggering asskickery in "Cosmic Sin," the path seems clear for Perry to build on Lana's latter-day heroics and launch herself as an action star if she's so inclined. After all, she has even confessed to SWN that her ideal acting role would be as a superhero: "What I love about comic book heroes is that they stand up for what is right, they stand up for the underdog and for justice and that is how I try to model my life is standing up for the people that are persecuted, bullied or treated poorly for either their race, color, religion, weight, or background ... I would love to play that in a movie!"