Here's What Rick And Morty Fans Think Is Missing From Season 5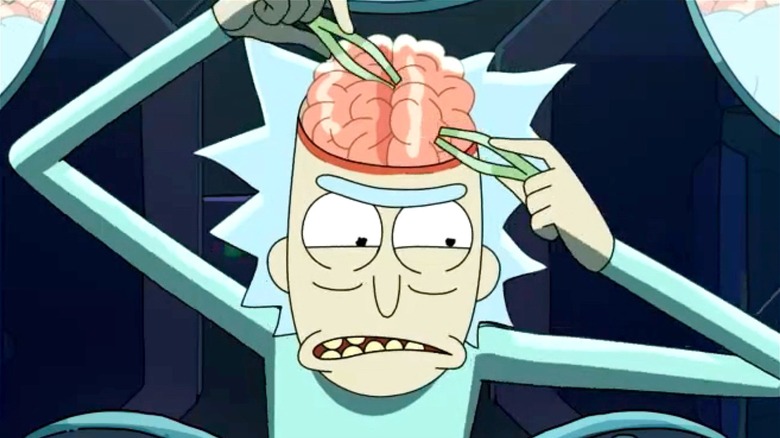 Cartoon Network
Season 5 of "Rick and Morty," now in full swing after airing five out of 10 episodes, has gotten mixed reviews so far. The show has stayed true to its previous winning formula, thanks to gross-out jokes, parodies of past pop culture, sci-fi setups, and plenty of sex and violence. Some of the plots, as expected, have been pretty clever, as in the second episode, "Mortiplicity." Yet, as Den of Geek noted, "Season five has so far been comedically weak and the plots have been either clever yet somewhat tiresomely convoluted or just plain dumb (i.e., the last two episodes)." And Collider said that the season "has felt a bit off," even though both publications liked the most recent episode, "Amortycan Grickfitti."
Critics and fans don't always agree, but in this case it seems like they're mostly on the same page. On Rotten Tomatoes, audience reviews for the show from the last week or so have plenty of complaints, calling it "downright perverted," as Nathan L did, or pointing out the "lazy, lousy, uninspiring and lukewarm political takes on important topics," as Lili H did, bemoaning the lack of "complex plots or relationships" (via Oleg S) or simply labeling it "thin on laughs," as noted by Aaron20 B. 
On Reddit, however, a post-episode discussion, in response to a post about "Amortycan Grickfitti," postulates on exactly what is missing about "Rick and Morty" in Season 5, and it makes some sense — because it basically comes down to the fact that the show has drifted from its roots in one very key way.
Redditors point out that classic adventures featured Rick and Morty together, but this season hasn't had much of that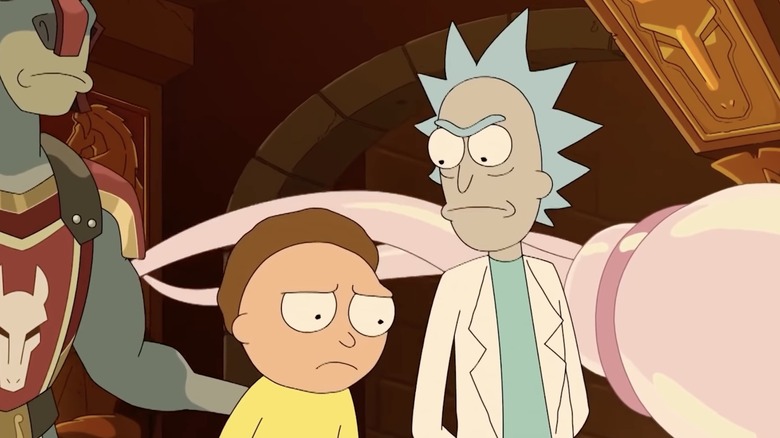 Cartoon Network
On Reddit, user @SomeOrangeJuice said, "Kinda missing the classic Rick and Morty adventures," a comment which garnered more than 180 upvotes. It was followed by a popular response from @u-Wot-Brother saying, "I think earlier episodes were defined by the presence of Rick AND Morty together. The past season has been Rick or Morty." @ThunderKant_1 expanded on the notion, pointing out, "Also Rick mostly does nothing in season 5, just going along with what the other characters are doing."
In Season 5 Episode 1, "Mort Dinner Rick Andre," Morty has a date with Jessica but keeps getting interrupted by Rick and Mr. Nimbus, and he goes to a parallel universe world to age wine. Mishaps happen, of course, and he becomes Public Enemy No 1. in that Narnia-like reality. In "Mortiplicity," both Rick (Justin Holland) and Morty (Maurice LaMarche) get pulled into a mind-bending adventure in which it's unclear exactly who the real family is. This is one episode that actually keeps the family together, which is key, as it's been considered one of the best episodes so far in Season 5. "Episode 3, "A Rickconvenient Mort," splits Morty and Rick again, sending Rick and Summer (Spencer Grammer) on a side quest while Mort falls in love with Planetina. Following that, "Rickdependence Spray" was widely panned for its not-clever premise and lots of sex jokes. It had one or two nice Rick-and-Morty-together moments, but not nearly enough. And Episode 5, "Amortycan Grickfitti," has Morty, Summer, and new student Bruce (Justin Roiland) having an adventure in Rick's ship while Rick hangs with Jerry (Roiland).
There are five episodes left in this season — and since "Rick and Morty" was renewed for a whopping 70 episodes after the close of its third season, it's guaranteed for up to five more seasons. Hopefully, the show can get back to its classic roots, and entertain viewers with its raunchy, nihilistic, imaginative plots, and dark sensibilities for years to come.