Charmed Season 4 - What We Know So Far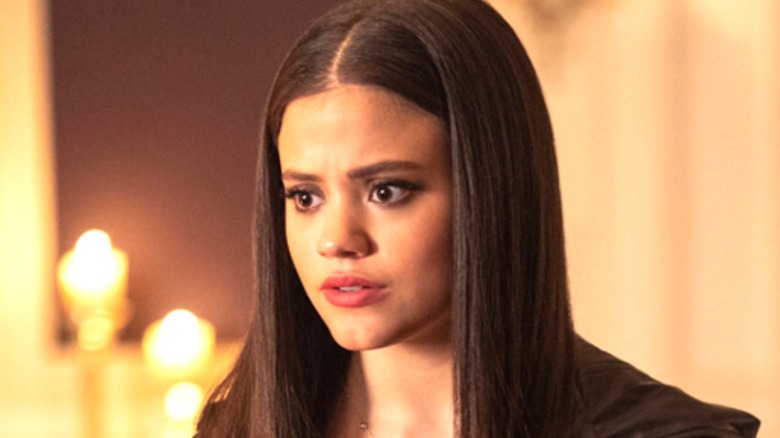 The CW
Reboots can be a risky business, but The CW's "Charmed" has proved that in right circumstances, the lighting can strike twice in the same place. The 2018 reboot of the popular supernatural drama replaced the original's iconic pop culture witches Phoebe (Alyssa Milano), Piper (Holly Marie Combs), and Prue (Shannen Doherty) with Mel (Melonie Diaz), Macy (Madeleine Mantock), and Maggie (Sarah Jeffery). However, their basic power set remains the same, and more than enough familiar, successful elements of the original show remain to make the show a must-watch for fans new and old alike ... even though the original "Charmed" cast has slammed the reboot.
The original "Charmed" ran for eight seasons, so the new version still has some way to go, but with Season 4 it'll already be halfway up there. But when will the season arrive? What will it be about, and who can you expect to return? Here's what we know so far about the release date, cast and plot of "Charmed" Season 4. 
Updated October 13, 2021: This article has been updated to reflect major casting news for Season 4, and the likelihood of a 2022 premiere date.
What is the release date of Charmed Season 4?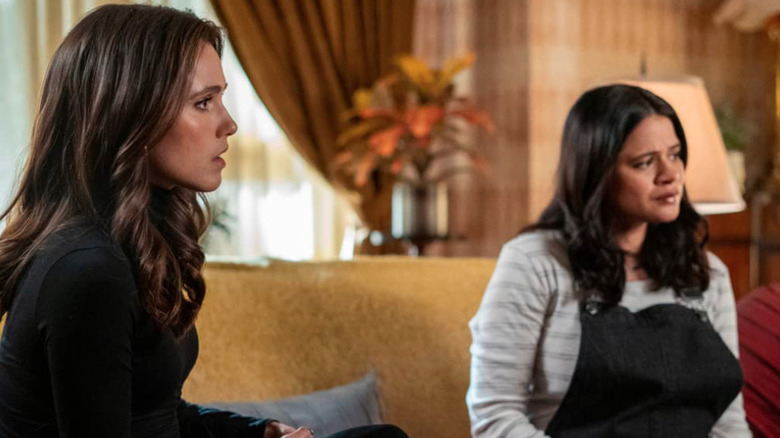 The CW
Unless a show has already been renewed for a new season, it can get tricky to predict just when — and, for that matter, if — a new season comes out. Fortunately, The CW hasn't been twiddling its thumbs about "Charmed" Season 4. Season 3 started airing in January 24, 2021, and in February, "Charmed" was already renewed for Season 4, along with 11 other shows the network clearly considers important (via Deadline).
So, with that, we know that the new season is coming. As for when it'll air, that's another matter. The first episode of Season 1 dropped on October 14, 2018, and the inaugural episode of the second season aired on October 11, 2019. Things get a little weird with the third season's January 2021 launch, but as Deadline notes, the production did face some hurdles related to the COVID-19 pandemic. 
Knowing this, the show's production cycle in normal circumstances can be determined to be roughly as long as a calendar year. Considering the early pickup for Season 4, you can probably expect the show to resume its year-long production cycle, in which case "Charmed" Season 4 should be out in January 2022.
Who's in the cast of Charmed Season 4?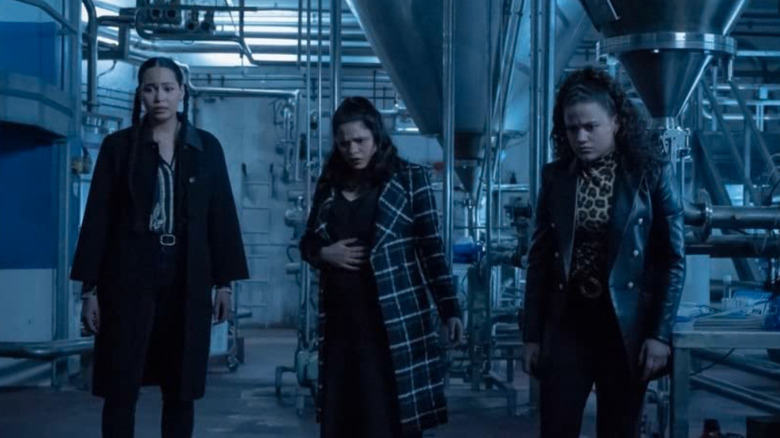 The CW
Shocking casting news struck "Charmed" early in the Season 4 production process. Just like its predecessor series, the "Charmed" reboot is losing one of its principal witches ahead of its fourth run. Madeleine Mantock, who plays Macy, is officially out. Melonie Diaz's Mel and Sarah Jeffery's Maggie are all still very much alive and kicking, and it's probably fair to say that they're pretty much guaranteed to return in the new season, but who knows for sure at this point? In the same vein, Rupert Evans' Whitelighter, Harry Greenwood, is fairly certain to return. 
On September 8, news dropped that "Charmed" had officially found its replacement for Mantock. Just like Rose McGowan before her, Australian actress Lucy Barrett will be swooping in to complete the coven (via TVLine). Behind the camera, Season 4 is also introducing a fresh writing trifecta as showrunners, all of whom collectively blessed us with this cryptic quote about Barrett's mysterious character: "What we will say is she's an artist with a wild, unpredictable love for life and a one-of-a-kind view of the world that serves her well in her art, which is her life's passion. She's fun, irreverent, impulsive, strong-willed and will bring a brand-new energy to the Power of Three."
As for the other cast, well, it remains to be seen. You can probably expect a brand new, yet-unknown big bad, and some new characters to stir the pot. The show's first three seasons have already introduced a pretty wide array of interesting characters, all of whom — well, the surviving ones at least — could also potentially make a comeback, should the plot so demand. Before solid casting news or returning character confirmations emerge, or until the first trailer drops, we play the waiting game. 
What is the plot of Charmed Season 4?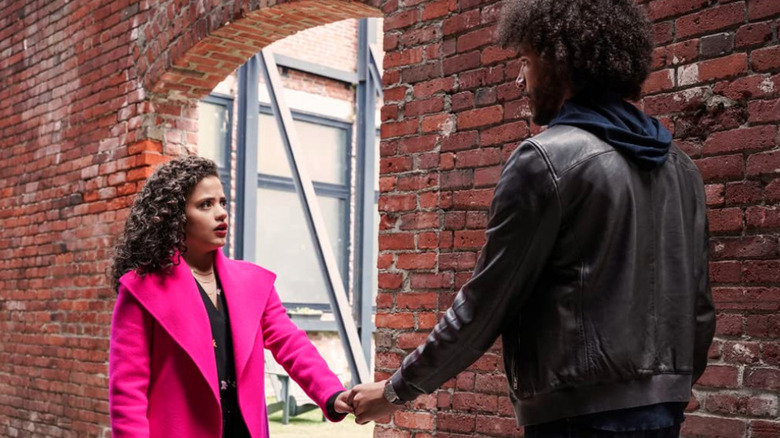 The CW
Since the fourth season is still a long way away, the best way to get a semblance of information about its potential plotlines is to look at where the ending of "Charmed" Season 3 leaves things, which, in turn, can't really be addressed until the season actually ends. The penultimate episode of the show sees the Charmed Ones go up against the Whispering Evil, a formless evil that used their friend, Jordan (Jordan Donica), to escape the prison plane known as the Tomb of Chaos. 
While obviously exciting, when it comes to predicting how the show will continue to its fourth season, this is not a particularly helpful scenario. After all, the show still has a chance to wrap up any of its plotlines in the ending of Season 3, or it could also choose to expand on them and end in a massive cliffhanger. The most intriguing scenario here is, of course, whether the show will pick up the biggest story beat from the original's third season, and kill — or at least seriously inconvenience — one of the sisters. In a show full of magic and rapidly changing situations, there's no real way to tell what's going to happen until it actually happens ... but then again, that's part of the charm, isn't it?