Michelle Yeoh's Shang-Chi Role Might Tease A Major New Setting For The MCU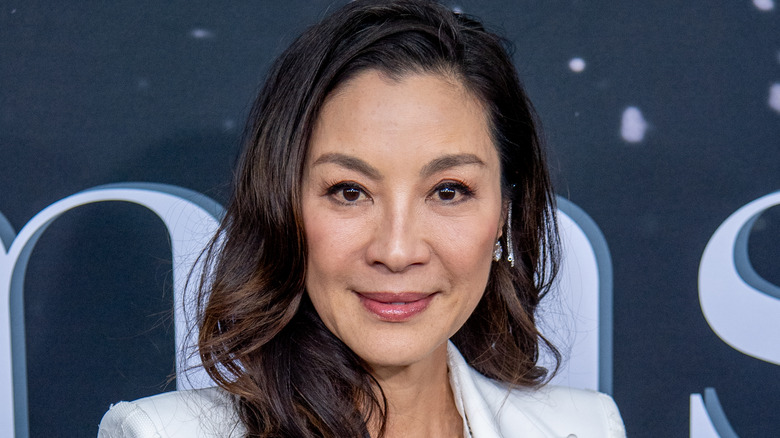 Roy Rochlin/Getty Images
As we embark on the second half of 2021, Marvel Studios is finally putting out some of its most highly anticipated offerings. The inaugural season of "Loki" is in the books, director Cate Shortland's "Black Widow" has arrived on the big screen and Disney+ Premier Access at long last, and the debut of the animated "What If..?" show is right around the corner. Not to mention, "Shang-Chi and the Legend of the Ten Rings" is coming up fast as well, currently slated for a release date of September 3.
Serving as the franchise debut of the titular Marvel Comics mainstay, "Shang-Chi" boasts an all-star cast of largely fresh faces to the MCU. Simu Liu will lead the charge, joined by Tony Leung as Wenwu, aka the real Mandarin, Awkwafina as Katy, Alina Zhang as Xialing, Florian Munteanu as Razor Fist, and several more. Given their connections to Shang-Chi, and the info we have about the film, most of these characters' roles in the story are well-known. However, there are a few names that we're left to speculate on ahead of the movie's premiere.
One of the most prominent in this bunch is Michelle Yeoh's Jiang Nan, who is apparently a friend and mentor to Shang-Chi. That vague description doesn't offer much, but recent comments from the legendary actress provided a bit more insight into who Nan is and, perhaps more noteworthy, where she resides.
Will we see K'un-Lun in Shang-Chi and the Legend of the Ten Rings?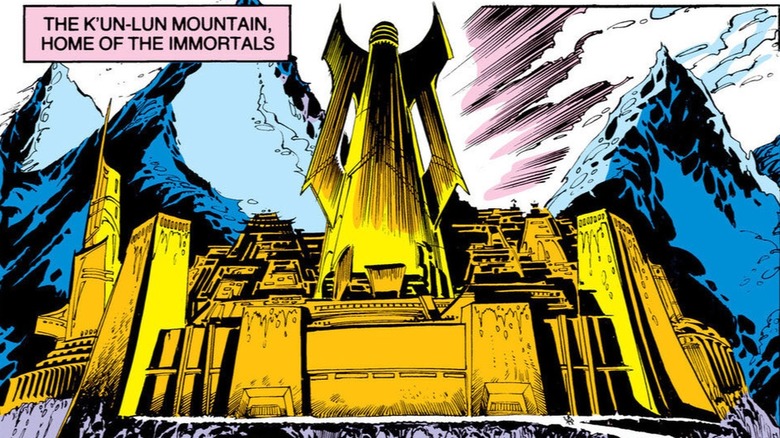 Kerry Gammill/Marvel Comics
On July 15, 2021, Michelle Yeoh spoke to Collider while promoting her latest project, Netflix's "Gunpowder Milkshake." During the interview, she pulled back the curtain on her "Shang-Chi" role and vaguely explained how Jiang Nan will factor into the plot. "I am a guardian of a mythical city. These young people come in, and they have to learn how to protect history, and to protect not just this world but the worlds that are around us from the demons that are locked away."
Though there's no way to know for certain, and this is mere speculation, but Yeoh may be hinting at K'un-Lun gracing the silver screen via "Shang-Chi." For those unfamiliar with this Marvel Comics locale, it's a lost city that resides in the K'un-Lun Mountains but only emerges from its pocket dimension every 10 to 15 years, depending on the story. Sounds pretty mythical and like the kind of place that would require guardians to keep it safe from evil, as Yeoh mentions. 
If this turns out to be the case, K'un-Lun's introduction has major implications for the future of the MCU. Chiefly, it opens the door for another classic hero to join the shared universe down the road.
Iron Fist's MCU debut could be on the horizon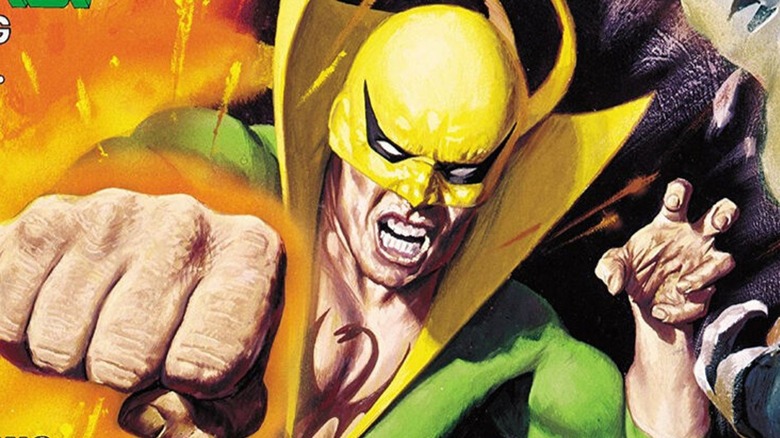 Bob Larkin/Marvel Comics
Roy Thomas and Gil Kane came up with the concept of K'un-Lun way back in May of 1974 for "Marvel Premiere" #15, and if it pops up in "Shang-Chi and the Legend of the Ten Rings," it would be the second time we've seen it in live-action. The location was an integral setting for Netflix's universally panned "Iron Fist" show, with Danny Rand (Finn Jones) being raised there from a young age and acting as the guardian of the gate once he received proper training. 
It has since been explained that Netflix's Marvel adaptations aren't MCU canon, however, it's not out of the question that elements from that continuity could soon trickle into the blockbuster series. There's no word on Finn Jones' involvement in "Shang-Chi," nor is there any confirmation that the Iron Fist character will have a part to play, so don't hold your breath for a proper introduction. Nevertheless, he could always be hinted at in passing or name-dropped should Shang-Chi actually travel to K'un-Lun. 
All in all, Michelle Yeoh's comments on her "Shang-Chi" presence are intriguing and raise plenty of questions. We'll just have to check out the film when it releases in just under two months to see if K'un-Lun and, maybe, Iron Fist, are in the cards.