The MCU Reunion You Didn't Notice In Gunpowder Milkshake
The female-ensemble assassin thriller "Gunpowder Milkshake" debuted on Netflix on July 14, and is now riding high on Netflix's Top 10, coming in at No. 3 on the list of most-streamed movies on the platform in the U.S. Distributor StudioCanal has so much confidence in the movie's prospects, it's already green-lit a sequel (via the Hollywood Reporter). 
Reviews for the movie have been pretty average, and it currently has a 67% Tomatometer score on Rotten Tomatoes, with a lower 52% audience score. Still, easy access to "Gunpowder Milkshake" on Netflix has made it a popular watch, with CNN calling the film "considerable fun" with its "weird mix of over-the-top violence and dark humor." The outlet also noted that "Gunpowder Milkshake" has an "inordinately good cast for such a silly movie."
That cast includes Karen Gillan ("Jumanji") as Sam, the assassin who kills the wrong person, and Lena Headey ("Game of Thrones") as her assassin mom Scarlet, who also runs the assassin sisterhood. Paul Giamatti plays Nathan, the Firm's guy who gives Sam her orders — and bad intel, as it turns out. Carla Gugino ("Watchmen") plays Madeleine, Michelle Yeoh ("Star Trek: Discovery") is Florence, and Angela Bassett ("American Horror Story") plays Anna May, with all three being members of the sisterhood that Scarlet belonged to before her disappearance when Sam was young. 
In case those names aren't instantly known to you (although they probably should be), three of the women get together in a scene within the first 20 minutes of "Gunpowder Milkshake" that constitutes a Marvel Cinematic Universe reunion of epic proportions.
Angela Bassett, Michelle Yeoh, and Karen Gillan play memorable MCU characters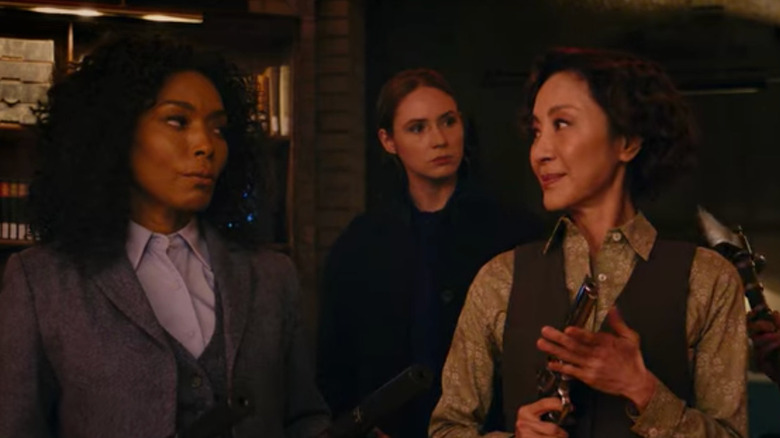 Netflix
In the MCU, Karen Gillan portrays Nebula, Gamora's (Zoe Saldana) sister, who plays a vital role in the Avengers' defeat of Thanos (Josh Brolin) as his adopted daughter and ex-henchman. She appears in the "Guardians of the Galaxy" movies, as well as in "Avengers: Infinity War" and "Avengers: Endgame" movies. Heck, there were even two versions of Nebula running around in one timeline. Nebula will be back in  "Thor: Love and Thunder," "Guardians of the Galaxy Vol. 3," and the animated series "What If...?"
Meanwhile, you know Angela Bassett from her "Black Panther" role as Queen Ramonda, T'Challa's mother. She, too, appeared in "Avengers: Endgame," but she and Gillan didn't share any screen time, as Bassett's appearance amounted to a short cameo at the end of the movie that took place in Wakanda. 
Michelle Yeoh also has a place in MCU history. Actually, she will have two, once "Shang-Chi and the Legend of the Ten Rings" debuts in September. In "Guardians of the Galaxy Vol. 2," Yeoh appeared in a minor role as Aleta Ogord, a Ravager who's the wife of Stakar Ogord (Sylvester Stallone). You may recall Aleta paying tribute to her downed comrade Yondu (Michael Rooker), saying, "I will see you in the stars." Yeoh also popped up in a mid-credits scene that saw a few Ravagers reuniting. In "Shang-Chi," Yeoh plays Ying Nan, the title character's mother. 
The reunion in "Gunpowder Milkshake" is just the beginning of the women's collaboration, really, and the actors also spent time together off screen and had a lot fun doing it. Back in June, Gillan posted an Instagram video showing herself, Headey, Gugino, Yeoh, and Bassett all sleeping on the job during filming. "It was an honour and inspiration to work alongside such professional and dedicated artists," she said in the caption. We wonder if they discussed their Marvel experiences together at all — what a room to be a fly on the wall in!