Nicolas Cage Has Bad News About That Joe Exotic Amazon Series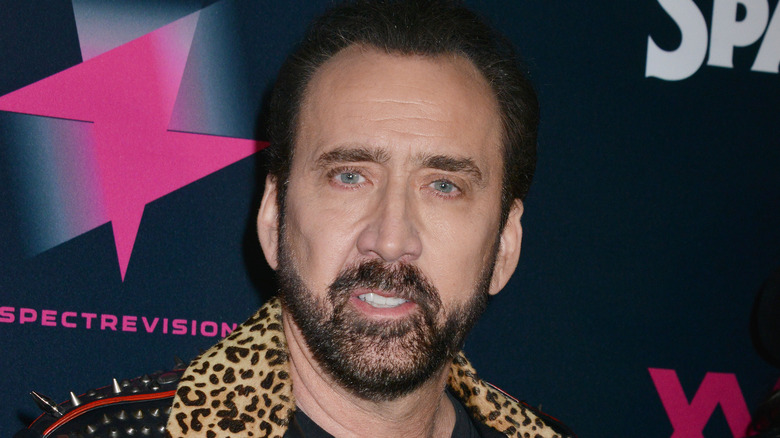 Shutterstock
It goes without saying that 2020 was one of the strangest and simultaneously unforgettable years of many people's lives. COVID-19 took over the news, we were all forced indoors for extended periods, mask mandates cropped up everywhere we went, and social distancing became the norm. The transition to this lifestyle wasn't easy, especially as the masses struggled to kill time while trapped in the confines of our homes, so what did we do for fun? We all logged into our Netflix subscriptions, seemingly in unison, to check out its original series titled "Tiger King: Murder, Mayhem, and Madness."
"Tiger King" — the eight-episode documentary train wreck that we couldn't look away from — provided the perfect, crazy escape from the horrors of early 2020. It focused primarily on the eccentric Joe Exotic, who told his story in the zookeeping business and shared his experiences as a big cat conservationist. His tale wound up taking viewers on a journey through the seedy underworld of big cat breeding, introducing us to the likes of Carole Baskin and Doc Antle along the way and providing us with memes that lasted months. 
Naturally, it didn't take long for production companies to take note of the massive success "Tiger King" was enjoying. By May of 2020, Variety broke the news that a scripted series based on Joe Exotic was coming down Amazon's production pipeline, with Nicolas Cage tapped to occupy the lead role. After months of silence, the actor recently gave an update on the series, and, sadly, it's not anything positive.
The Joe Exotic series is off the table for now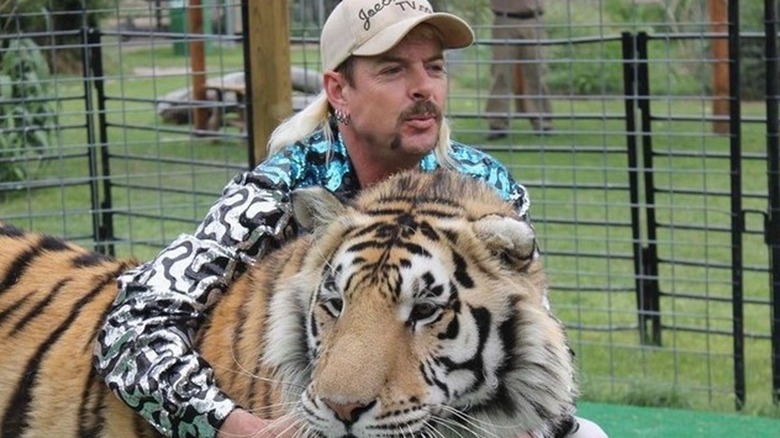 Netflix
Nicolas Cage spoke to Variety on July 13, 2021, and set the record straight when it comes to his "Tiger King"-inspired project. "I read two excellent scripts, which I did think were excellent, but I think Amazon ultimately felt that it was material that had become past tense because it took so long for it come together," the "Pig" actor revealed. He adds, "They felt at one point that it was lightning in a bottle, but that point has since faded into the distance, and it's no longer relevant."
According to the report, Imagine and CBS Studios may still attempt to shop the project around to other outlets, but nothing has come of their efforts yet. Additionally, it's noted that a narrative take on "Tiger King" is still on its way to the Peacock streaming service with "Saturday Night Live" favorite Kate McKinnon and John Cameron Mitchell set to star. In fact, images of the latter decked out in his full-on Joe Exotic wardrobe have recently begun to emerge (via Page Six), showing that at least some "Tiger King"-adjacent media is on the way.
All in all, it's easy to see why the Nicolas Cage-led Joe Exotic series is no longer in the cards. As he said, "Tiger King" was lightning in a bottle, and hype around it has largely died down over the past year. It was a cultural moment, one that those who lived it are certain to never forget.