The Real Reason Cobra Kai Fans Are Confused About The Show's 2021 Emmy Nomination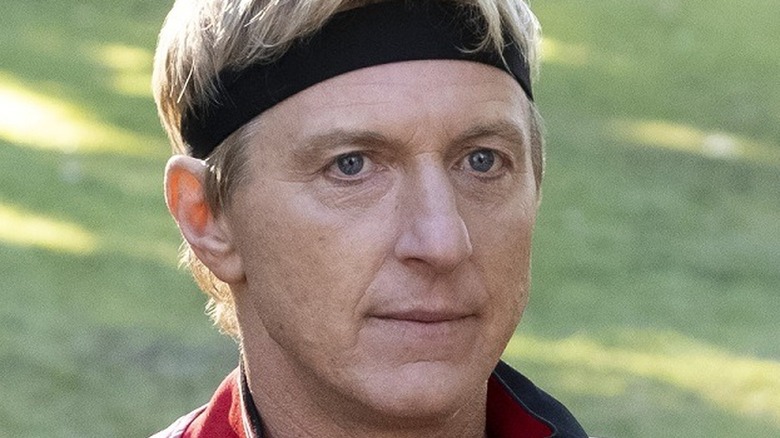 Netflix
If you took a time machine to the year 1984 and told young William Zabka that his stint as a karate-themed bad guy in a teenage drama will make him the star of an Emmy-nominated series 35 years down the line, he'd probably ... give you a funny look and shake his head, because he's obviously not a violent villain in real life. Regardless, that's how life worked out for the man behind Johnny Lawrence. In 2021, Netflix's "Cobra Kai" has three seasons under its black belt, and while it hasn't been shy about dipping its toe — or, rather, the entire leg — in sweet 1980s nostalgia, the show has also introduced viewers to a new generation of worthy successors. 
"Cobra Kai" has been nothing short of spectacular, and as the official Netflix Twitter account announced, the extremely long-awaited return of "The Karate Kid" franchise just got a major nod in the form of an Emmy nomination for Best Comedy Series. Still, despite this major accolade, many "Cobra Kai" fans have been confused about the show's 2021 Emmy nomination. Here's why. 
Many fans feel Cobra Kai should be nominated in the drama category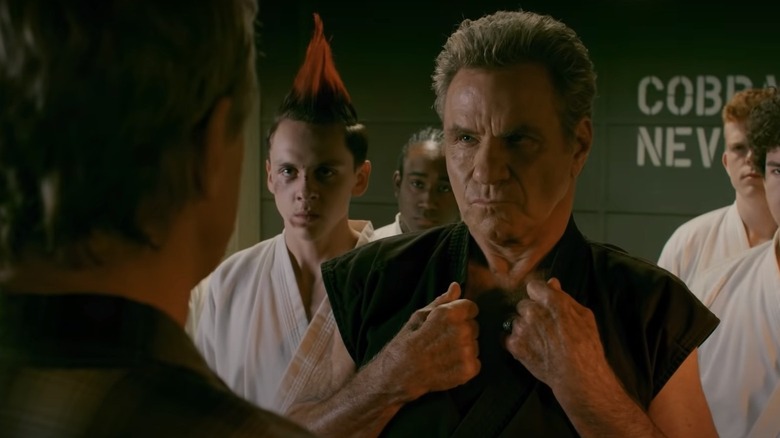 Netflix
"Cobra Kai" has plenty of comedic moments, which often stem from the way the adults stick to the spin-kicking glory of their youth. However, their reasons to do so are invariably more nuanced than you'd initially assume. Everyone gets a chance to speak their bit, to the point that Season 3 devotes several episodes to give a semi-sympathetic backstory to the otherwise utterly irredeemable John Kreese (Martin Kove). And that's just the adult characters. More often than not, the show treats the younger generation's various narratives as an out-and-out drama. 
In recognition of the show's deceptive complexity, many fans have been calling out the Emmys' decision to treat "Cobra Kai" as a comedy. "Wait, 'Cobra Kai is a comedy?? Didn't like one of the character[s] almost die or something?" Twitter user @BrooksHaralson replied to the "Cobra Kai" account's post about the Emmy nod, referring to Xolo Maridueña's Miguel and his dramatic fall during his fight with Robby (Tanner Buchanan). 
User @JoeDeProspero compared the show's combination of laughs and serious subject matter to Netflix's "Better Call Saul." "This is like 'Better Call Saul' being nominated for comedy. There are funny parts, but really, it's a drama." 
Many other Twitter users shared these sentiments. Then again, some folks chose to see the bright side, and noted that it's in "Cobra Kai's" DNA to excel in any genre it pleases. As @ChrisCa24923312 put it: "Many are surprised that this is considered a comedy, but really, isn't 'Cobra Kai' the best everything? I laughed, I cried ... I'm just glad this show is getting some well deserved recognition. I hope 30 years from now, they are doing a show about Miguel and Robbie's students!"