What Young Maleficent Looks Like Now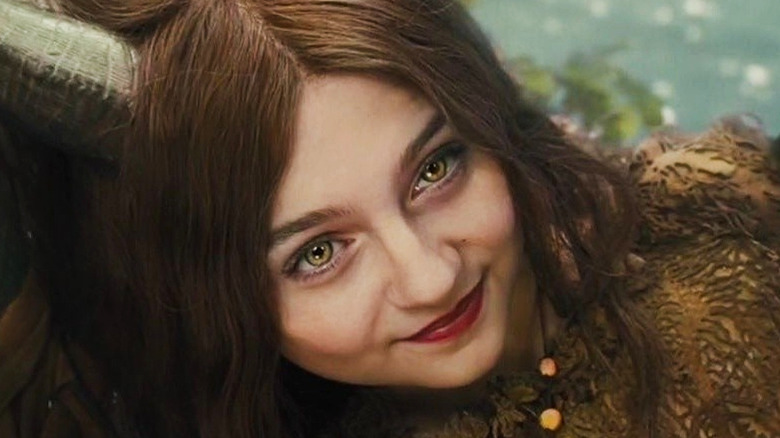 Walt Disney Studios Motion Pictures
"Maleficent" is a modern-day twist on the classic Disney princess narrative. Instead of putting the main focus on "Sleeping Beauty" princess Aurora (played by Elle Fanning), the film instead tells its story from the point of view of Maleficent, the evil witch — or, in the case of this movie, the evil fairy — that curses Aurora to sleep forever. It's a dark story full of betrayal, heartbreak, loss, and true love. And despite everything, it ends up having a somewhat bittersweet happy ending.
The narrative of "Maleficent" essentially travels through time, starting with a different actress playing Maleficent when she was a child. Angelina Jolie played grown-up Maleficent, but the performer who played Young Maleficent in the film is Isobelle Molloy. If you're wondering how she's aged in the years since "Maleficent" debuted in 2014 and what she's up to now, you're in the right place.
Little Maleficent is all grown up — and starring in a TV series
Isobelle Molloy was 13 during the filming of "Maleficent," and as of July 2021, she's 20 years old, turning 21 in October. Since her part in the 2014 Walt Disney Pictures blockbuster film, she's been in two other productions. The first was a 2016 film called "Una," about a woman who confronts a former lover in order to get closure and conquer her feelings of abandonment. In the film, Molloy portrayed a character called Molly. In 2017, Molloy played Sophia in the short film "Like Me," which details the dangers of posting on social media. 
Currently, Malloy has a recurring role in the ongoing British crime drama series "Whitstable Pearl." She plays Ruby Williams, a waitress who works at the Whitstable Pearl restaurant in the titular English coastal town. The series revolves around Pearl Nolan (played by Kerry Godliman), a restaurant-owner-slash-detective who runs the Whitstable Pearl and is investigating the suspicious death of her friend Vinnie. If you're interested in checking out the show, you can stream it online via Amazon Prime Video with a free 7-day trial of Acorn TV.
Overall, it looks like Molloy is doing quite well for herself — thanks in no small part to her role as Young Maleficent.