How Florence Pugh Really Feels About Black Widow's Post-Credits Scene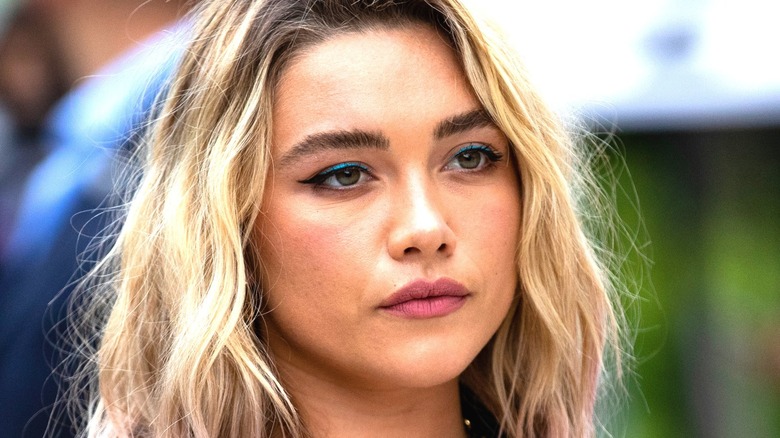 Christian Vierig/Getty Images
Contains spoilers for "Black Widow"
The latest entry in the Marvel Cinematic Universe — "Black Widow" — does two things simultaneously. First and foremost, it gives Natasha Romanoff (Scarlett Johansson) the fitting sendoff she deserves. The audience knew going into the movie that Natasha would soon meet her demise on Vormir with the events of "Avengers: Endgame." But at least she receives one final adventure to prove to the world she was more than the deadly assassin she became after training in the Red Room. She was a hero, and as "Black Widow" depicts, she sacrificed her life for the well-being of the two found families she had in this life. 
There's reason to be sad while watching the MCU film, but there's also reason to hope. The movie also introduces us to Yelena (Florence Pugh), who seems poised to take over the mantle of Black Widow in this universe. As the post-credits scene indicates, she's now working for Valentina Allegra de Fontaine (Julia Louis-Dreyfus). She has a new assignment on the horizon, namely tracking down and killing Hawkeye (Jeremy Renner). Valentina suggests Hawkeye is responsible for Natasha's death, so expect Yelena to make an appearance at some point in the "Hawkeye" Disney+ series. 
It's one of the best post-credits scenes to come out of a Marvel movie based on the ramifications it could have in the future of the MCU. Plus, Pugh herself believes the scene is a perfect moment to show what Yelena has been up to after The Blip.
Florence Pugh enjoys how Yelena is 'flourishing'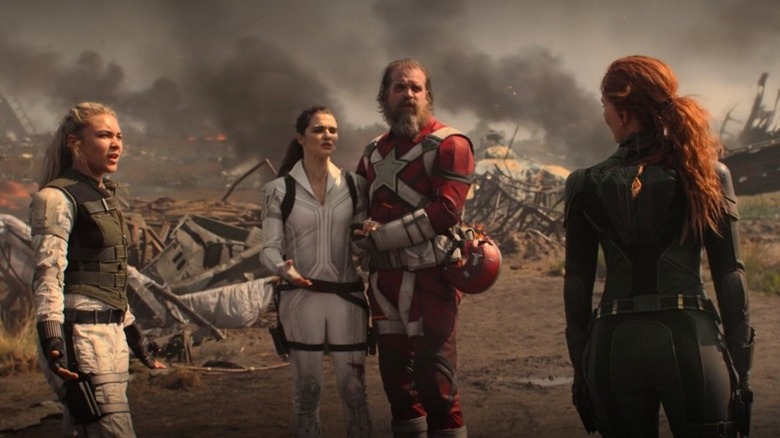 Marvel Studios/Disney
The post-credits scene shows Yelena dressed in plain clothes as she arrives at a graveyard. She approaches Natasha's tombstone in a somber moment before Valentina comes out of nowhere to give her a new assignment to kill Hawkeye. It's a powerful moment that shows how much Yelena remains connected to her sister. Pugh had this to say to Variety about the scene and what it means for her character moving forward: "She's going to continue what she's good at, and despite her sister not being there, she's back working. If you look at her costume, and you look at the way that she's dressed, it shows someone that's flourishing."
The significant theme of "Black Widow" centered on how women often have their agency taken away from them by the patriarchy. Yelena never had much of a choice in the direction of her life before, and now, it's clear she's using this new lease on life to its fullest extent. She's dressing how she wants and even got the dog she talked about earlier in the film. And while she's still a gun for hire, it's on her terms. It's unclear how or why she got roped into Valentina's seemingly nefarious efforts, but all good things come with time. 
For the time being, Pugh views the moment as nothing but a positive thing, stating, "To me, it was just really wonderful to kind of jump ahead and see she has been surviving." She may have thrived, but don't expect her to be Natasha 2.0 in the future. They function as each other's mirrors in the film, so expect her to play a unique role in Phase 4 of the MCU.