Richard E. Grant's Hilarious Pitch For A Loki Spin-Off Series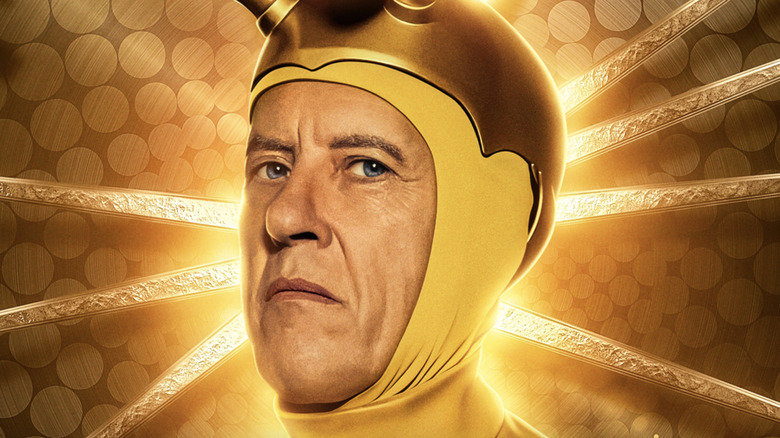 Marvel Studios/Disney+
Contains spoilers for "Loki" Episode 5
"Loki" Episode 5 finds Marvel's latest Disney+ original series leaning all the way into its multiversal premise. Set primarily in a desolate dimension known as the Void, the episode brings the series' prime Loki variant (Tom Hiddleston) into contact with countless other variants of himself — some of whom prove to be more trustworthy than others. The "Loki" episode features appearances from a number of notable Marvel comics variants, including the President Loki, who was featured in the series' initial marketing materials, and even a certain Frog of Thunder that fans were especially delighted to see brought to life on-screen. However, of all the variants seen in "Loki" Episode 5, there are two in particular that seem to have made the biggest impact.
The characters in question are none other than Classic Loki (Richard E. Grant) and Alligator Loki, two wildly different Loki variants who appear to have captured the hearts of Marvel fans everywhere. In the case of Grant's Classic Loki, a large part of that can be attributed to his stunning final scene, which sees him using nothing more than his immense sorcery skills to recreate Asgard in its entirety in the middle of the Void. It's an unforgettable moment, and while the character seems to perish in the episode's closing minutes, Marvel fans are holding out hope that they haven't seen the last of the already iconic, comics-accurate version of the God of Mischief.
They aren't the only ones interested in seeing Classic Loki return, either.
Richard E. Grant wants a Classic Loki and Alligator Loki spin-off series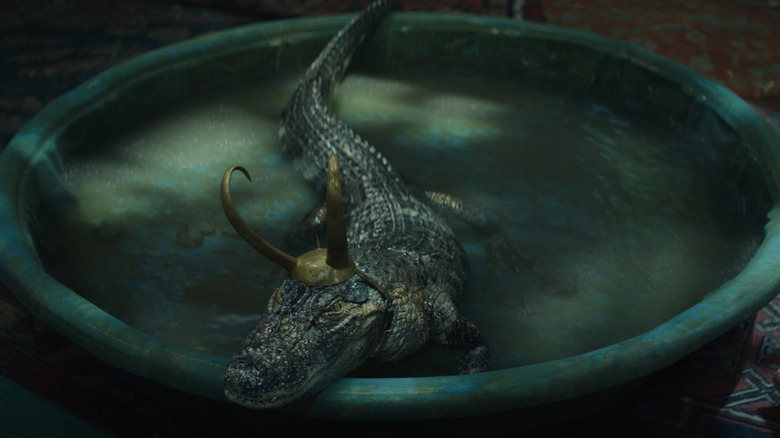 Marvel Studios/Disney+
Richard E. Grant recently expressed an interest in reprising his role as Classic Loki in a future Marvel Cinematic Universe project. Not only is Grant open to returning to the MCU, but he also has an idea of what his second turn as Classic Loki could look like.
Speaking with Entertainment Weekly about what it was like filming scenes in "Loki" Episode 5 with the Alligator Loki character, Grant said with a laugh, "Alligator Loki was fantastic because in reality, he was three stuffed sofa cushions that had been sewn roughly together to react to. The fact that I was the only person that could understand what he was saying was just fantastic. I think it's the perfect segue into having Classic Old Loki and Alligator Loki as a sub-series to go to next." 
Grant went on to confirm that he'd absolutely be open to playing Classic Loki again, so long as one specific request is filled: "If I had a muscle suit, most certainly. I was denied that."
Later on in the interview, Grant elaborated on his Classic Loki and Alligator Loki spin-off series idea, saying, "I am the Doctor Dolittle of the Marvel universe when it comes to speaking to alligators. I speak alligator fluently. Put that in the contract of when I'm doing a series as Classic Old Loki, with muscles and the alligator. It'll have subtitles, so the audience can hear what the alligator is saying, and everyone else is saying, 'What is he saying? What is he talking about?' That'll be the way."
Given just how well-received both Classic Loki and Alligator Loki were by fans, it seems fair to say that Grant wouldn't be the only one interested in seeing the two return for a spin-off series together. Depending on whether or not Classic Loki actually died at the end of "Loki" Episode 5, the spin-off could conceivably focus on either the duo during their time together in the Void or follow them on some adventures that take place after "Loki." Either way, it's a pretty delightful idea for a Disney+ series — even if the chances of it actually happening don't seem particularly high at the moment.
"Loki" returns for its final episode on Disney+ on July 14.