Black Widow's Post-Credits Scene Was Almost Very Different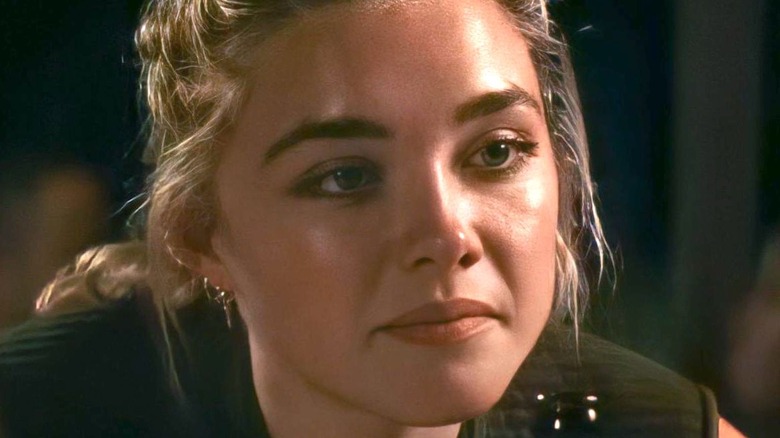 Marvel Studios/Disney
Contains spoilers for "Black Widow"
There's plenty to unpack in "Black Widow," as the film is loaded with mind-blowing action sequences and a plot that introduces us to some stellar new Marvel Cinematic Universe characters. While the main storyline is compelling and heart-pounding, the post-credit scene of "Black Widow" is one of the major moments that had people talking online. Suspenseful end-credit scenes have become a staple for any MCU project, and while the "Black Widow" credits rolled, many were left wondering what jaw-dropping moment was about to befall them.
In the sequence, Yelena Belova (Florence Pugh) is honoring her late sister-figure Natasha Romanoff (Scarlett Johansson) at her grave, which is adorned with flowers, stuffed animals, and photos. While Yelena stands there and stares at the headstone, a pensive moment is ruined by someone blowing their nose off screen. Fans who keep their ear to the ground regarding Marvel Studios news might have guessed ahead of time that this is Valentina Allegra de Fontaine (Julia Louis-Dreyfus), as it was reported that the character was set to appear in "Black Widow" before "The Falcon and the Winter Soldier," where she actually ended up making her MCU debut (via Vanity Fair).
Valentina's appearance is still shocking nonetheless, and the brief exchange hints at what's to come in the MCU. While Valentina admits Natasha's death was tragic, she suggests to Yelena that Clint Barton, aka Hawkeye (Jeremy Renner), is the reason for her demise. The scene ends on a shot of a photo of Clint and an angry Yelena, then swiftly cuts to black. 
As it turns out, however, this wasn't the original plan for the "Black Widow" post-credits scene.
The Black Widow post-credits scene was almost much longer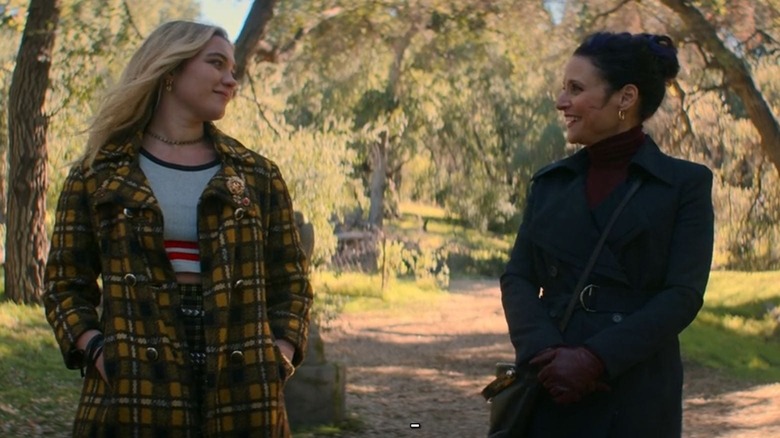 Marvel Studios/Disney
If we've learned anything from the post-credits scenes we've gotten from all the MCU properties, it's that they're very succinct. They often don't last more than a few minutes, as Marvel wants to offer fans only a taste of what's to come in the future. However, the original plan for "Black Widow" was to make its post-credits scene much longer than average (and longer than what fans ended up seeing, of course).
"Black Widow" writer Eric Pearson recently caught up with Collider and discussed the initial plan for the post-credits scene. "That tag scene was probably like five pages long because I was just so greedy," he said. "I was like, 'I want Yelena and Valentina just back and forth, bouncing dialogue off of each other.'"
Pearson remembered being so thrilled to write about Valentina and Yelena together that it got the best of him, and he wrote way too much dialogue. "You're not going to have a full scene as a stinger at the end. So we went with the smaller version, but I was just so excited to get those two actors together, to get those two character dynamics together," he told Collider. Additionally, the writer noted how much he loved the part where Valentina blows her nose, saying that the disrespectful act was taking Yelena's peaceful moment and "flushing it down the toilet." 
While we would have loved to see more from the unlikely duo's conversation, the "Black Widow" post-credit scene is highly satisfying, and we can't wait to see Yelena and Clint come face-to-face for the first time.
"Black Widow" is out in theaters now, and is available on Disney+ with Premier Access.