The First Look At The Live-Action Little Mermaid Is Absolutely Stunning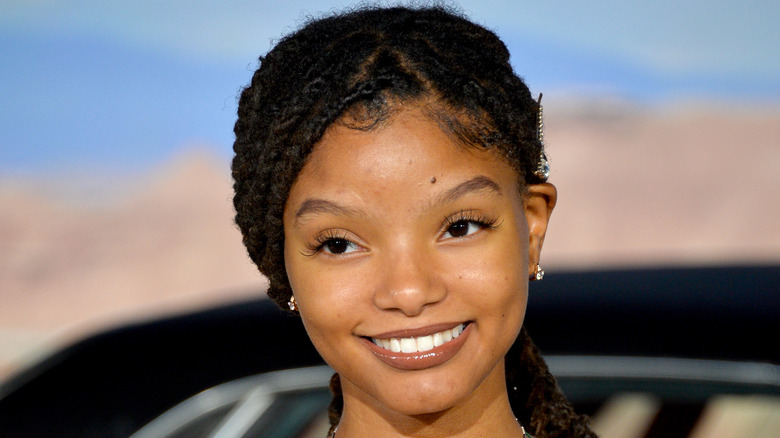 Shutterstock
"The Little Mermaid" is coming back to the big screen — this time, as a live-action film. The upcoming film will join the likes of other classic Disney films that have gotten the live-action treatment, including 2017's "Beauty and the Beast" starring Emma Watson and 2019's "Aladdin."
Deadline reported way back in 2016 that a live-action version of "The Little Mermaid" was in the works, but it took a few more years to get things going, with Halle Bailey cast in the lead role back in 2019 (via Variety). Alongside Bailey, the stars of the film include Jonah Hauer-King as Prince Eric, Melissa McCarthy as Ursula the Sea Witch and Javier Bardem as King Triton. In addition, Daveed Diggs, Jacob Tremblay, and Awkwafina are taking on the voice roles of Sebastian, Flounder, and Scuttle, respectively.
With such a stellar cast, as well as new music from "Hamilton" creator Lin-Manuel Miranda, "The Little Mermaid" is easily one of the most anticipated films on Disney's roster. Luckily for us, we just got a new look at the mermaid herself coming up for air on a familiar shore.
Bailey gave eager fans a gorgeous look
Bailey took to Instagram and Twitter to announce that the film has wrapped, complete with a gorgeous photo straight from the set in Sardinia, Italy. The photo shows Bailey fully embodying Ariel by lounging in the shallow parts of the ocean, nearly silhouetted by the soft colors of an Italian sunset. It's a striking image, and if the rest of the film's photography is just as captivating, then fans are definitely in for a treat.
In her post, Bailey expressed her feelings upon the end of filming. She wrote, "i feel so grateful to have experienced this film in all of its glory..it has been the toughest experience being away from everything and everyone i've ever known, to feeling self doubt/ loneliness, but also feeling such freedom and perseverance as i've reached the end. this experience has made me so much stronger than i ever thought i could be."
Bailey also conveyed her utter excitement for the film to come out, and for fans to get to see what she and the whole team created. She concluded, "i cannot wait for time to speed up so you all can watch this film because it was made with so much love (plus blood sweat and tears) lol thank you sardinia for a wonderful ending!!! xoxo."