Will There Be A Sky High 2?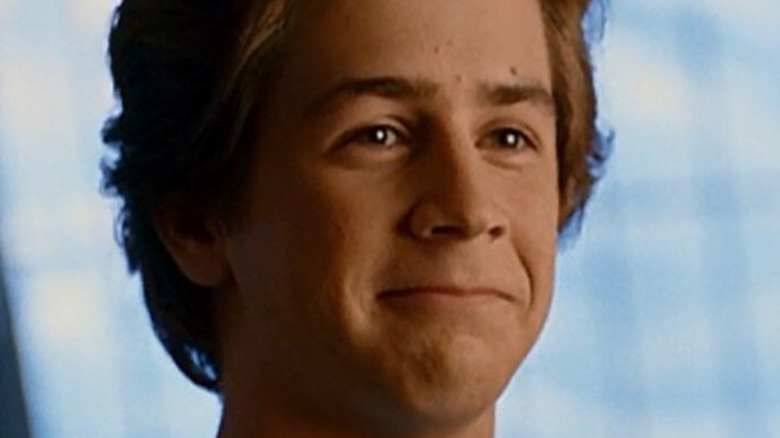 Buena Vista Pictures Distribution
While director Mike Mitchell's filmography is comprised largely of family-friendly comedies ("Deuce Bigalow: Male Gigolo" notwithstanding), his work within that genre generally consists of entries in animated film franchises. His directorial credits include the fourth "Shrek" film, the second "LEGO Movie," and the first "Trolls." Bucking that trend, however, is one of Mitchell's first family films: the live-action "Sky High."
Michael Angarano stars in "Sky High" as Will Stronghold, a new student at the titular Sky High and the son of two famous superheroes. Will is unable to use either of the superpowers he should have inherited from his parents, portrayed by Kelly Preston and Kurt Russell (in one of his many roles prior to his upcoming retirement). Nevertheless, Will attends Sky High, a high school for superheroes, in hopes that his lack of powers won't hinder his education in super-heroism. This conflict comes to a head when a notorious villain posing as one of Will's classmates defeats Will's parents and their cohorts, leaving it up to Will and the rest of the students of Sky High to save the day.
"Sky High" is arguably one of the most underrated superhero movies in the past 20 years, and even ranks among one some of the most underrated films produced by Disney. Even though "Sky High" has its fair share of proponents, a sequel has yet to see the light of day — but could it?
Sky High 2 was held back by financial complications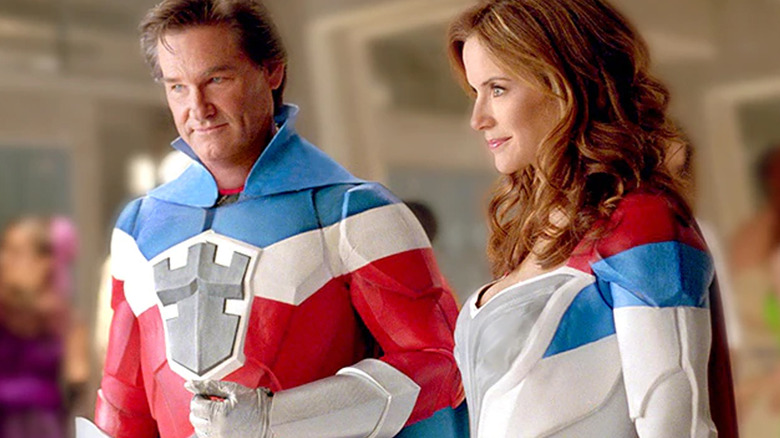 Buena Vista Pictures Distribution
Though a "Sky High 2" has yet to even enter into production, director Mike Mitchell did, at the very least, once plan what a sequel might look like. Mitchell's concept for a "Sky High" sequel is called "Save U," which would follow the young heroes of "Sky High" during their college years at Save University. In fact, Mitchell told io9 that not only was "Save U" once on Disney's slate, but its young actors were also signed onto a TV show adaptation of the film as well. 
However, the box office performance of "Sky High" wasn't up to Disney's standards (it made a little over $83 million worldwide against a 35 million budget, according to Box Office Mojo), and thus neither "Save U" nor the "Sky High" TV series ever saw the light of day. Plus, as Mitchell noted to io9, "Sky High" went up against stiff competition went it debuted in July 2005. "When it came out, it was kind of an underdog that no one knew about. [Also] it came out against 'Charlie and the Chocolate Factory,' the Tim Burton-Johnny Depp one, and then no one knew that 'March of the Penguins,' a documentary, [would become] the hugest family film of all time," he said.
The closest thing to news of a "Sky High" sequel came in July 2020, when Mark McCorkle, one of the film's writers, sat down for an interview with Inverse. McCorkle described the prospect of the continuation of "Sky High" as, by his estimation, a "natural fit for Disney+," as well as something for which he and Mike Mitchell still have a desire to make. That said, "Sky High 2" remains contingent upon Disney identifying enough interest in the franchise to justify a sequel. As McCorkle told Inverse, "Maybe if the people speak, their wishes will be answered." 
For the time being, however, there are no plans in place for the production of a "Sky High 2."