Where Is Joe Wexler From My 600-Lb Life Now?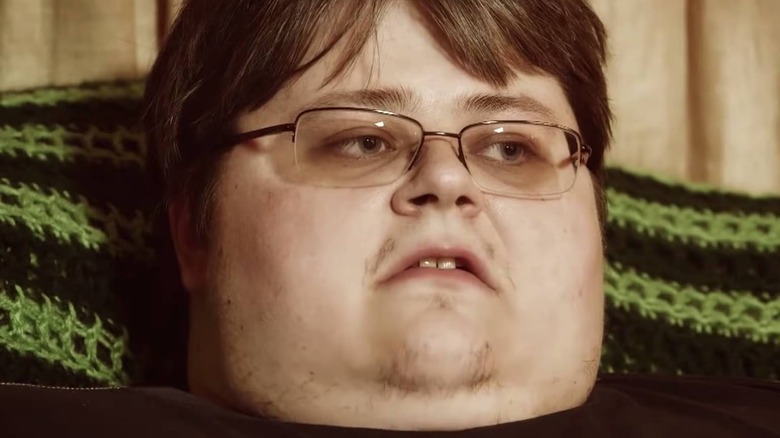 TLC
At times, "My 600-lb Life" on TLC is one of the most gut-wrenching series on television. The show goes beyond depicting obese individuals who have to learn how to eat better and exercise more to lose weight. In many cases, Dr. Nowzaradan tells his patients to see a therapist to get to the underlying cause of why they feel the need to eat compulsively. That was the case for Season 3's Joe Wexler, whose father ignored him growing up, and he dealt with his feelings by eating.
It wasn't an easy journey for Wexler to take off the pounds. At the beginning of his episode, we weighed 777 pounds, and after his first appointment with Dr. Now, he gained weight. Wexler was able to kick things into high gear after that point, and by the end of his initial episode, he had lost close to 200 pounds. Follow-up features on "Where Are They Now?" specials showed how he stuck with Dr. Now's regimen and lost 500 pounds all in. He also discussed how he planned on getting married to his fiancée and wanted to look for a job now that he could get out of the house more easily. 
Things looked to be on the up and up, but judging from social media, it hasn't been all easy for Wexler, who was nothing but kind to everyone he met during his time on the show.
Joe Wexler struggled with his weight loss after an extreme hardship
Joe Wexler seemed to have turned his life around after the last time he appeared on "My 600-lb Life: Where Are They Now?" He was about to get married, and he seemed excited to be a father to his future wife's daughter she had from a previous relationship. Sadly, not everything has worked out the way he initially anticipated. 
While the two eventually did tie the knot, the union didn't last. He revealed in a lengthy post published on Facebook in August 2020 that the two were now divorced. He goes on to explain how the situation impacted his fitness journey: "During the struggles with her I went into a deep depression and as a result I didn't care about myself or what I put in my body so I gained weight. It is no excuse and I make none because I control what goes into my body but during that time it was a miracle if I felt like waking up every day because of the crap I was being put through. I am in a much better place now and as of yesterday I have started my diet back up again so I can get back down to where I was at before."
Wexler doesn't mention how much he gained, and he hasn't posted since to explain where he is in his weight journey at this point. As he talked about in the August 2020 post, he feels that it's no one's business but his own. The main thing that matters is that he feels good about his health, both physical and mental. Wexler remains one of the greatest success stories to come out of the show across its run.