The Huge Decision Scarlett Johansson Made About Black Widow's Post-Credits Scene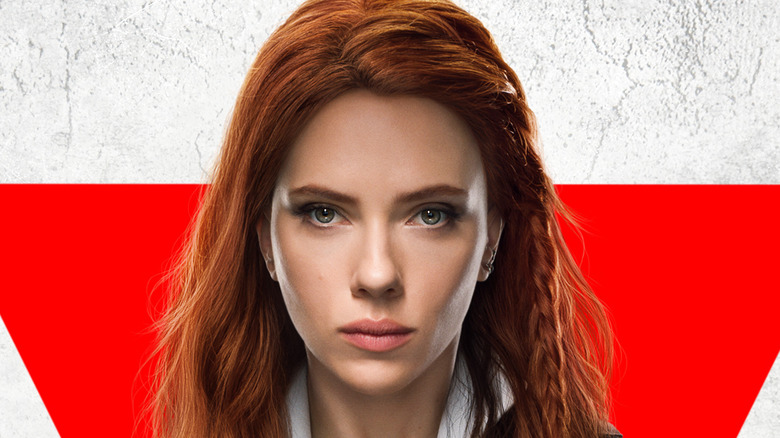 Marvel Studios/Disney
Warning: Contains spoilers for "Black Widow"
Though "Black Widow" takes place prior to "Avengers: Infinity War" and "Avengers: Endgame," both of which were released years prior, the film nevertheless deepens viewers' understanding of the Marvel Cinematic Universe largely through the introduction of the family of Natasha Romanoff (Scarlett Johansson) aka the Black Widow. Her adoptive father Red Guardian (David Harbour), her adoptive mother Melina Vostokoff (Rachel Weisz), and her adoptive sister Yelena Belova (Florence Pugh) ultimately serve to complicate and deepen the Black Widow character only depicted previously in a supporting role in other heroes' stories. Furthermore, each of her family members serves as a robust character in their own right over the course of the film's runtime.
At the end of the film, Black Widow's family sees her off, as she sets out to reunite with the Avengers, who viewers know will soon be assembling to combat the threat of Thanos, as covered in "Infinity War." All but those who are new to the MCU will also know that Black Widow sacrifices her life in "Endgame" in order to secure one of the alternate-timeline Infinity Stones necessary to stop Thanos. 
The film's final moments, then, implicitly depict the final meeting between Black Widow and her family.
The post-credits scene that caps off "Black Widow" jumps forward in time: it is set during the "present day" of the other MCU projects released in the lead-up to the film, falling somewhere along the same time as the Disney+ "The Falcon and the Winter Soldier." In the scene, Yelena visits Black Widow's grave in rural Ohio, where the two of them once lived as children. As it turns out, the choice of locale for Black Widow's final resting place came from none other than Johansson herself.
Scarlett Johansson thought Black Widow would prefer more anonymity in death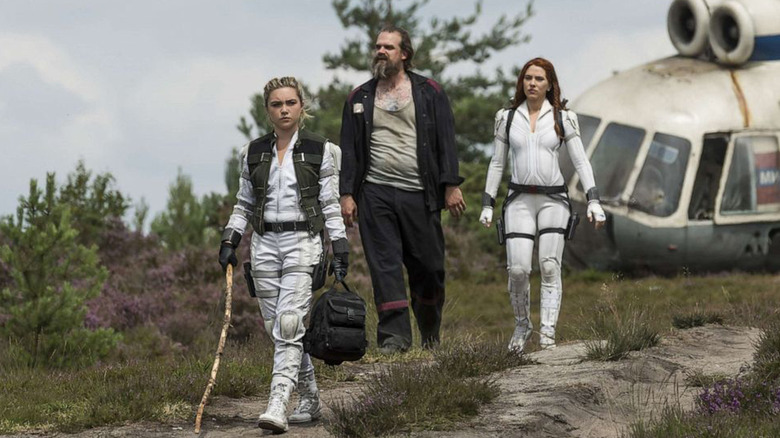 Marvel Studios/Disney
A piece published by Variety revealed that Scarlett Johansson personally suggested to director Cate Shortland that, if the film depicted the world's reaction to her death, the scale should be smaller. Thus was born the idea that Natasha's grave be in rural Ohio rather than in a more densely populated area. In comparison, "Spider-Man: Far From Home" shows how the death of Tony Stark turns out to have had a huge impact worldwide, as evidenced by various public tributes to the hero. Black Widow is presumably a celebrity of a similar magnitude to Tony Stark, and in fact, even her rural Ohio grave is adorned with stuffed animals left behind by her fans. 
However, by Johansson's estimation, Black Widow would have opted to avoid drawing attention to her death as much as possible. "Scarlett talked to me about it," Shortland told Variety. "Her character would have hated a public funeral. So I felt like the fact that she's buried in a really private place, in the boondocks somewhere, is perfect."
Instead, the scene is more personal than public, demonstrating Yelena mourning for the loss of her heroic big sister. "The fact that we got to see that moment between her and her sister, it means that to me, she is eternal, you know?"
While visiting Natasha's grave, Yelena encounters Julia Louis-Dreyfus's Contessa Valentina Allegra de Fontaine, introduced in "The Falcon and the Winter Soldier" as an anti-Nick Fury. In their brief discussion, Val attempts to recruit Yelena to kill Hawkeye (Jeremy Renner), who de Fontaine claims is responsible for Black Widow's death. Yelena and Hawkeye, then, will presumably clash with one another upon the release of the "Hawkeye" TV series on Disney+, which could arrive later this year.