Will Anchorman 3 Ever Happen?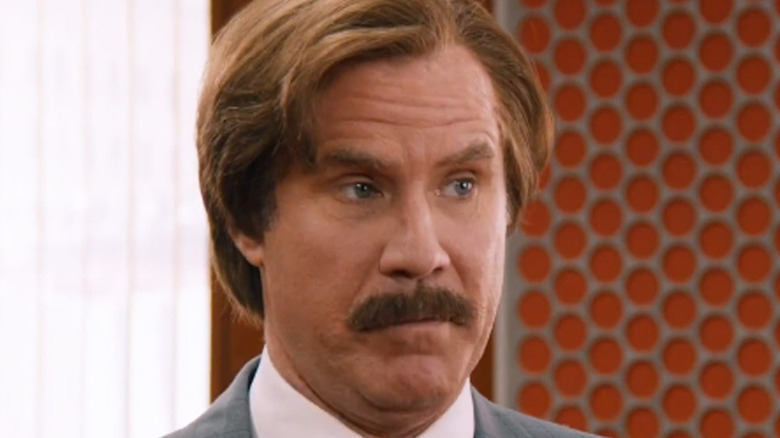 Paramount Pictures
It's been nearly a decade since audiences last saw anchorman about town and mustachioed charmer Ron Burgundy in "Anchorman 2: The Legend Continues." We were first introduced to the character amidst star Will Ferrell's incredible run of hit '00s comedies. Ferrell's impeccable improv skills and star power likely contributed to him being the perfect choice for Ron Burgundy, an overly confident news anchor who was king of the San Diego news scene in the 1970s. Starring alongside Ferrell as his news buddies were Paul Rudd as Brian Fantana, David Koechner as Champ Kind, and Steve Carell as Brick Tamland. The first "Anchorman" movie followed Ron as he grappled with working alongside a female anchor, the capable Veronica Corningstone (Christina Applegate). In "Anchorman 2," Ron and his boys head off to New York City to work at a prestigious network where they craft a sensationalist news program. 
While "Anchorman 2" ended on a high note, it feels like the Ron Burgundy story isn't quite over. Sure, the middling critical reviews for "Anchorman" (via Rotten Tomatoes) and "Anchorman 2" suggest there's no reason to make a third movie, but the box office numbers tell a different story. The first "Anchorman" was a decent hit, taking in a worldwide gross of $89 million. Despite the decade-long break between the first movie and the sequel, audiences showed their love for "Anchorman 2," nearly doubling the worldwide gross of its predecessor with $172 million.
So, what are the honest-to-goodness chances that "Anchorman 3" will actually happen?
Director Adam McKay has made interesting comments on the possibility of Anchorman 3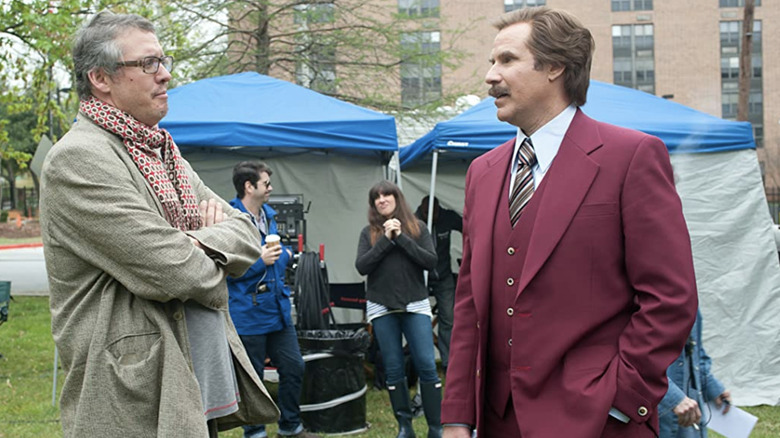 Paramount Pictures
There are no confirmed plans to make a third "Anchorman" movie, but that doesn't mean making a third movie is off the table. A few months after the release of "Anchorman 2," director Adam McKay seemed to be done with the "Anchorman" franchise. When asked if a third movie was on the horizon, McKay told Empire magazine (via Slashfilm), "It's done. I think that's it. It was great to do it and it was so fun to work with those guys again, but I think that's it for Ron Burgundy." A month later, in April 2014, McKay took a more optimistic stance on the "Anchorman 3" possibilities, telling TIME that he was "a little too harsh because the truth is, I really don't know." "With these movies, you really don't know how they've played until about two years after they come out, when people see them on repeat viewing. If 'Anchorman 2' gets that sort of second life, if three, four years from now people start asking us that question a lot and there's an idea, we would be open to that."
Despite McKay's more positive comments, he has made a focused career pivot away from outlandish comedies like the "Anchorman" franchise and into relatively stately fare, including the Oscar-winning drama "The Big Short" and the prestige dramedy "Succession." And while "Anchorman 3" doesn't depend solely on McKay's willingness to participate in any capacity, his involvement would certainly help get it in motion a lot faster.
Don't count the Anchorman franchise cast out just yet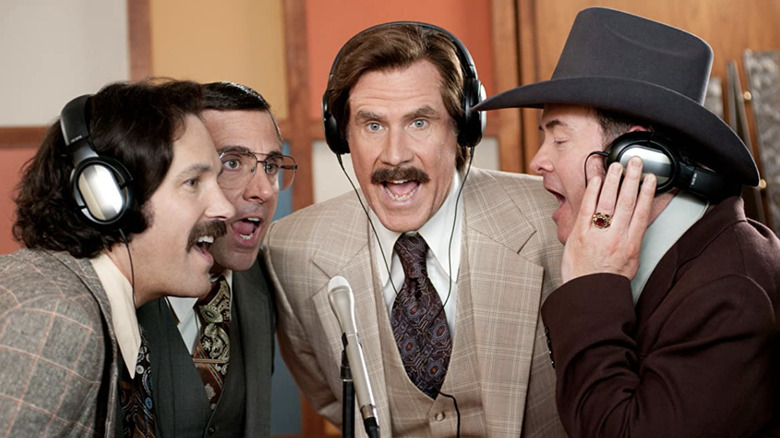 Paramount Pictures
There are a few additional key factors to consider when discussing the possibility that "Anchorman 3" will happen, among them whether or not any of the "Anchorman" franchise leads — Ferrell, Carell, Rudd, and Koechner — would be interested or available to return. This year, Koechner expressed an interest in returning for "Anchorman 3" while participating in an ET Canada interview, saying, "It took 11 years between the first and second one. So 11 years after the second one maybe."
Carell has also gone on the record to express interest in making a third "Anchorman" with his buddies. Back in 2018, the Oscar-nominated actor revealed to Variety, "If they make another one, I'll do another one. Those are really fun. That's just hanging out with friends and being silly."
However, things get tricky when it comes to Ferrell and Rudd. Although Ferrell has returned to the character outside of the movies (he made an entire podcast for the iHeartRadio network in-character as Ron Burgundy), it's unclear if he's interested or available to make "Anchorman 3." As for Rudd, his Marvel Cinematic Universe commitments as Ant-Man will keep him busy for at least a few more years, thanks to "Ant-Man and the Wasp: Quantumania" and any other projects that might arise in Phase 4 of the MCU and beyond. There is also the basic concerns around whether or not a viable story idea has been pitched, a question we don't have an answer for at this time. And so, even though the door is open to "Anchorman 3," we'll have to wait and see if the stars align and signal that a trilogy will be made.