How You Can Watch Bo Burnham's Inside In Theaters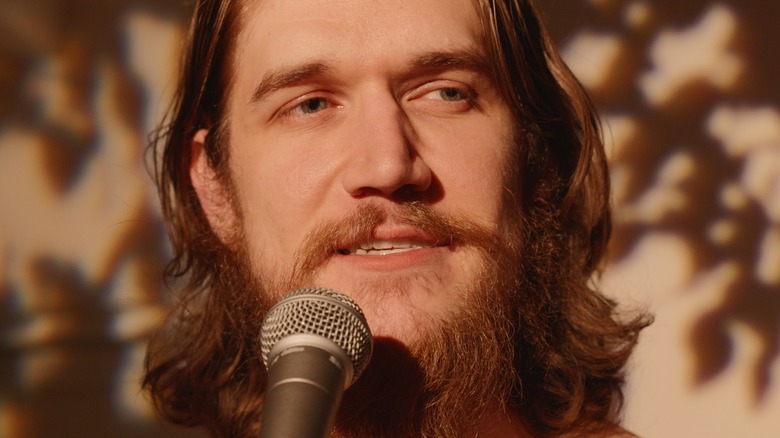 Netflix
After a long year of theaters being closed and Hollywood sending movies directly to streaming services, your local cinema is ready to welcome you back. But it's not just blockbusters that are on offer at theaters, there are also plenty of small films waiting to make a splash, and at least one streaming hit that's ready to make a one night only big screen appearance. The hit in question is Netflix's clever special "Bo Burnham: Inside," and trust us, you're not going to want to miss seeing the wildly original comedy film in theaters.
Released in May, the special is a bit hard to describe. Bo Burnham, who is a comedian-actor-filmmaker, filmed the entire thing on his own in one room during lockdown. The end result is a mix of biting satirical songs about the state of the world, mundane shots of Burnham changing camera angles, and a dash of standup thrown in for good measure. It's weird in the best possible way, and people can't stop talking about it.
With that in mind, it only makes sense for Netflix to give viewers a once in a lifetime chance to see "Bo Burnham: Inside" outside of their homes. In a press release obtained by Looper, Netflix announced the comedy special will be coming to theaters across the country for one night only on July 22.
How can you see Bo Burnham: Inside in theaters?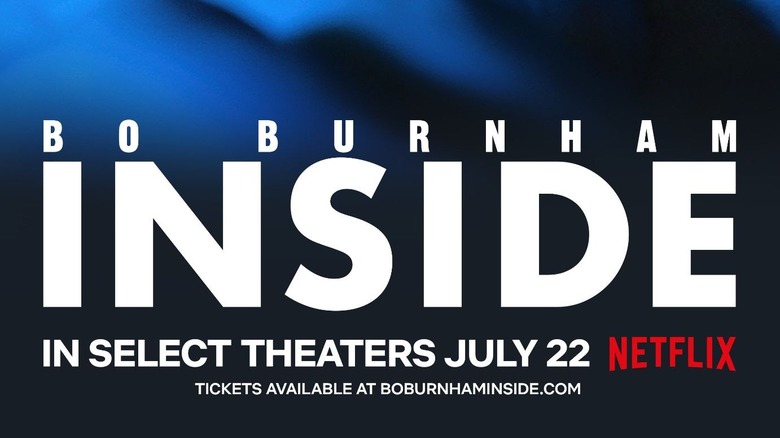 Netflix
Since the special's release, "Bo Burnham: Inside" has received rave reviews from viewers and critics alike. Currently, it's certified fresh on Rotten Tomatoes with a 94% rating from critics. Meanwhile, the soundtrack hit number one on Billboard's Comedy Albums chart just one day after its release.
There's no doubt that the movie is a hit, and now it's a hit you can actually see in theaters. While a full list of venues hasn't been released, it looks like "Bo Burnham: Inside" is going to be widely available during the special one night event. To see if the movie is going to be playing near you, simply visit boburnhamsinside.com and type in your location.
Netflix has teamed up with Iconic Events to make this special release happen. Per the press release, Iconic CEO Steve Bunnell said, "Iconic Events Releasing is excited to bring Bo Burnham's hilarious and groundbreaking musical comedy special to movie theaters so that Bo's fans can experience all the laughs and incredible music together."
And hey, even if your hometown theater doesn't get the special, there's a good chance a neighboring theater will. It seems like Netflix is hoping to make a big splash with the event, and the best way to do that is to get the experimental film on as many screens as possible. Ultimately, that's good news for Burnham's many fans who will no doubt be psyched to experience "Bo Burnham: Inside" in a whole new way.