Rogue One Tops List Of Saturn Awards Nominees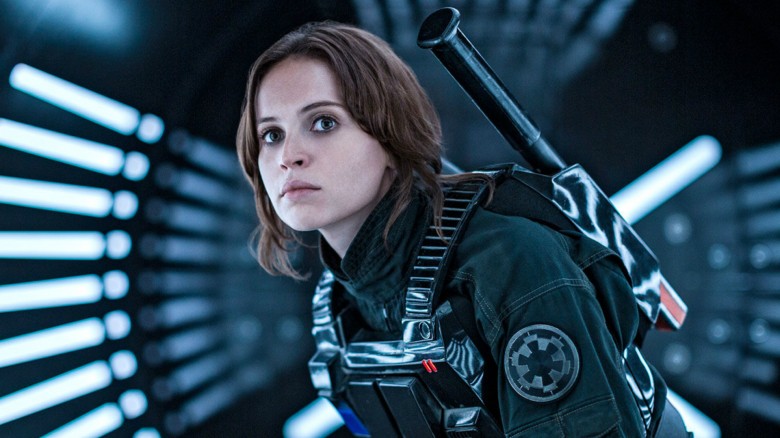 Lucasfilm
For everyone who thinks Rogue One: A Star Wars Story and Deadpool were far better movies than both La La Land and Moonlight, there's a far more attractive option than the Oscars.
The Academy of Science Fiction, Fantasy and Horror Films announced the nominations for the 43rd annual Saturn Awards. The awards cover both film and TV, with a focus on movies and shows you actually watch. The winners will be announced June 28 in Burbank, Calif.
Rogue One received the most nominations with 11, followed by Steven Spielberg's fantasy drama The BFG and Marvel's Doctor Strange with 10 nominations each. And although Ryan Reynolds didn't receive an Oscar nomination for Deadpool (despite his best efforts), he's up for Best Actor at the Saturn Awards.
Check out the full list of nominees below.
FILM
Best Comic-to-Motion Picture Release
Batman v Superman: Dawn of Justice
Captain America: Civil War
Deadpool
Doctor Strange
Suicide Squad
X-Men: Apocalypse
Best Science Fiction Film Release
Arrival
Independence Day: Resurgence
Midnight Special
Passengers
Rogue One: A Star Wars Story
Star Trek Beyond
Best Fantasy Film Release
The BFG
Fantastic Beasts and Where to Find Them
Ghostbusters
The Jungle Book
Miss Peregrine's Home for Peculiar Children
A Monster Calls
Pete's Dragon
Best Horror Film Release
The Autopsy of Jane Doe
The Conjuring 2
Demon
Don't Breathe
Ouija: Origin of Evil
Train to Busan
The Witch
Best Action/Adventure Film Release
Allied
Gold
Hacksaw Ridge
Hidden Figures
The Legend of Tarzan
The Magnificent Seven
The Nice Guys
Best Thriller Film Release
10 Cloverfield Lane
The Accountant
The Girl on the Train
Jason Bourne
Hell or High Water
The Shallows
Split
Best Actor in a Film
Chris Evans, Captain America: Civil War
Benedict Cumberbatch, Doctor Strange
Chris Pratt, Passengers
Ryan Reynolds, Deadpool
Mark Rylance, The BFG
Chris Pine, Star Trek Beyond
Matthew McConaughey, Gold
Best Actress in a Film
Amy Adams, Arrival
Emily Blunt, The Girl on the Train
Taraji P. Henson, Hidden Figures
Jennifer Lawrence, Passengers
Felicity Jones, Rogue One: A Star Wars Story
Narges Rashidi, Under the Shadow
Mary Elizabeth Winstead, 10 Cloverfield Lane
Best Supporting Actor in a Film
Chadwick Boseman, Captain America: Civil War
Dan Fogler, Fantastic Beasts and Where to Find Them
John Goodman, 10 Cloverfield Lane
Diego Luna, Rogue One: A Star Wars Story
Zachary Quinto, Star Trek Beyond
Christopher Walken, The Jungle Book
Best Supporting Actress in a Film
Scarlett Johansson, Captain America: Civil War
Tilda Swinton, Doctor Strange
Margot Robbie, Suicide Squad
Kate McKinnon, Ghostbusters
Betty Buckley, Split
Bryce Dallas Howard, Gold
Best Performance by a Younger Actor in a Film
Ruby Barnhill, The BFG
Julian Dennison, Hunt for the Wilderpeople
Tom Holland, Captain America: Civil War
Lewis MacDougall, A Monster Calls
Neel Sethi, The Jungle Book
Anya Taylor-Joy, The Witch
Best Film Direction
Scott Derrickson, Doctor Strange
Gareth Edwards, Rogue One: A Star Wars Story
Jon Favreau, The Jungle Book
Anthony Russo & Joe Russo, Captain America: Civil War
Bryan Singer, X-Men: Apocalypse
Steven Spielberg, The BFG
Denis Villeneuve, Arrival
Best Film Screenplay
The BFG
Arrival
Deadpool
Doctor Strange
Hell or High Water
Rogue One: A Star Wars Story
Best Film Editing
Arrival
Captain America: Civil War
Rogue One: A Star Wars Story
10 Cloverfield Lane
The BFG
The Jungle Book 
Best Film Production Design
The BFG
Rogue One: A Star Wars Story
Fantastic Beasts and Where to Find Them
Passengers
Captain America: Civil War
Doctor Strange
Best Film Music
Michael Giacchino, Doctor Strange
Michael Giacchino, Rogue One: A Star Wars Story
James Newton Howard, Fantastic Beasts and Where to Find Them
Justin Hurwitz, La La Land
Thomas Newman, Passengers
John Williams, The BFG
Best Film Costume Design
Alice Through the Looking Glass
Fantastic Beasts and Where to Find Them
Doctor Strange
Rogue One: A Star Wars Story
The Handmaiden
The BFG
Best Film Make-Up
Doctor Strange
Fantastic Beasts and Where to Find Them
Rogue One: A Star Wars Story
Star Trek Beyond
Suicide Squad
X-Men: Apocalypse
Best Film Special/Visual Effects
Arrival
The BFG
Doctor Strange
Fantastic Beasts and Where to Find Them
The Jungle Book
Rogue One: A Star Wars Story
Best Independent Film Release
Eye in the Sky 
Hunt for the Wilderpeople 
La La Land 
Lion 
The Ones Below 
Remember
Best International Film Release
Elle 
The Handmaiden 
In Order of Disappearance 
The Mermaid
Shin Godzilla 
Under the Shadow 
Best Animated Film Release
Finding Dory 
Kingsglaive: Final Fantasy XV 
Moana 
Sing 
Trolls 
Zootopia
TELEVISION
Best Science Fiction Television Series
The 100 (The CW)
Colony (USA)
The Expanse (SyFy)
Falling Water (USA)
Incorporated (SyFy)
Timeless (NBC)
Westworld (HBO)
Best Fantasy Television Series
Beyond (Freeform)
Game of Thrones (HBO)
The Good Place (NBC)
Lucifer (Fox)
The Magicians (SyFy)
Outlander (Starz)
Preacher (AMC)
Best Horror Television Series
American Horror Story: Roanoke (FX)
Ash vs. Evil Dead (Starz)
The Exorcist (Fox)
Fear the Walking Dead (AMC)
Teen Wolf (MTV)
The Vampire Diaries (The CW)
The Walking Dead (AMC)
Best Action/Thriller Television Series
Animal Kingdom (TNT)
Bates Motel (A&E)
Designated Survivor (ABC)
The Librarians (TNT)
Mr. Robot (USA)
Riverdale (The CW)
Underground (WGN America)
Best Superhero Adaptation Television Series
Marvel's Agents of S.H.I.E.L.D. (ABC)
Arrow (The CW)
The Flash (The CW)
Gotham (Fox)
Legion (FX)
Supergirl (The CW)
Best Presentation on Television:
11.22.63 (Hulu)
Channel Zero (SyFy)
Doctor Who: The Return of Dr. Mysterio (BBC America)
Mars (National Geographic)
The Night Manager (AMC)
Rats (Discovery Channel)
Best New Media Television Series
Bosch (Amazon)
Daredevil (Netflix)
Luke Cage (Netflix)
The Man in the High Castle (Amazon)
A Series of Unfortunate Events (Netflix)
Stranger Things (Netflix)
Best Actor on a Television Series
Bruce Campbell, Ash vs. Evil Dead (Starz)
Mike Colter, Luke Cage (Netflix)
Charlie Cox, Daredevil (Netflix)
Grant Gustin, The Flash (The CW)
Sam Heughan, Outlander (Starz)
Freddie Highmore, Bates Motel (A&E)
Andrew Lincoln, The Walking Dead (AMC)
Best Actress on a Television Series
Melissa Benoist, Supergirl (The CW)
Caitriona Balfe, Outlander (Starz)
Kim Dickens, Fear the Walking Dead (AMC)
Vera Farmiga, Bates Motel (A&E)
Lena Headey, Game of Thrones (HBO)
Sarah Paulson, American Horror Story: Roanoke (FX)
Winona Ryder, Stranger Things (Netflix)
Best Supporting Actor on a Television Series
Linden Ashby, Teen Wolf (MTV)
Mehcad Brooks, Supergirl (The CW)
Kit Harrington, Game of Thrones (HBO)
Ed Harris, Westworld (HBO)
Lee Majors, Ash vs. Evil Dead (Starz)
Norman Reedus, The Walking Dead (AMC)
Jeffrey Wright, Westworld (HBO)
Best Supporting Actress on a Television Series
Kathy Bates, American Horror Story: Roanoke (FX)
Danai Gurira, The Walking Dead (AMC)
Melissa McBride, The Walking Dead (AMC)
Thandie Newton, Westworld (HBO)
Candice Patton, The Flash (The CW)
Adina Porter, American Horror Story: Roanoke (FX)
Evan Rachel Wood, Westworld (HBO)
Best Younger Actor on a Television Series
K.J. Apa, Riverdale (The CW)
Millie Bobby Brown, Stranger Things (Netflix)
Max Charles, The Strain (FX)
Alicia Debnam-Carey, Fear the Walking Dead (AMC)
Lorenzo James Henrie, Fear the Walking Dead (AMC)
Chandler Riggs, The Walking Dead (AMC)
Best Guest Performance on a Television Series:
Ian Bohen, Teen Wolf (MTV)
Tyler Hoechlin, Supergirl (The CW)
Anthony Hopkins, Westworld (HBO)
Leslie Jordan, American Horror Story: Roanoke (FX)
Jeffrey Dean Morgan, The Walking Dead (AMC)
Dominique Pinon, Outlander (Starz)
Best Animated Series or Film on Television
Bojack Horseman (Netflix)
Family Guy (Fox)
The Little Prince (Netflix)
The Simpsons (Fox)
Star Wars: Rebels (Disney XD)
Trollhunters (Netflix)