The New Teaser For Disney's Encanto Is Absolutely Enchanting
A teaser trailer dropped for the latest Disney animated feature, and it's the first we're really seeing of the world of "Encanto" since it was first announced back in December 2020.
Set somewhere in the mountains of Colombia, "Encanto" takes place in an enchanted village. Within that village is the home of the Madrigals — a family where everyone has a special power. There's super strength, shape-shifting, and other fantastical abilities, but as sometimes happens in stories like this, there's one member of the Madrigal family who's particularly special... because she's not special. Mirabel (Stephanie Beatriz) is the only member of her family who has never exhibited any kind of magical ability.  Since this is Disney, though, Mirabel's adventures take her on a journey of self-discovery.
"Encanto" is directed by Jared Bush and Byron Howard, who previously worked on Disney's "Zootopia" together. It is also co-directed by Charise Castro Smith, whose previous work is in darker storytelling like Netflix's "The Haunting of Hill House" and "The Exorcist" TV series. Both Bush and Smith are taking on writing duties as well, but it's the composer of the music portion of the film whose name is key to understanding the direction of "Encanto" — Lin-Manuel Miranda. 
Encanto is a reunion for Miranda, Beatriz, and Disney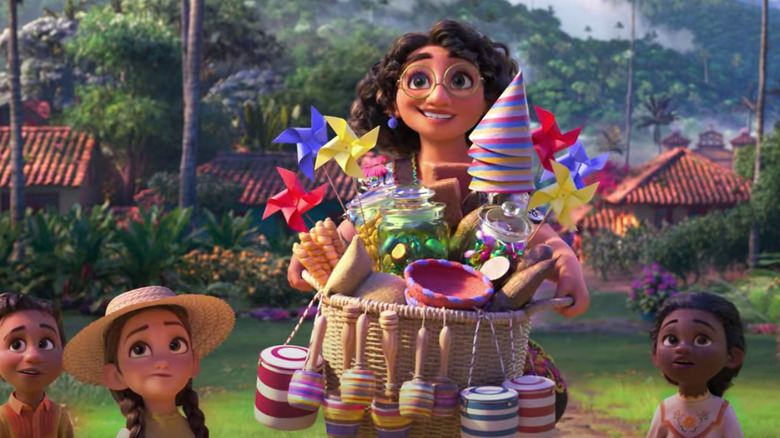 As it happens, "Encanto" is actually a reunion between star Beatriz and Miranda; Beatriz recently appeared in the film adaptation of Miranda's musical "In the Heights," and now, they'll work together on yet another musical project. This is also a reunion between Miranda and Disney — the composer previously crafted the music for "Moana" before his rise to stardom with the Broadway smash hit "Hamilton," and also appeared in Disney's 2018 film "Mary Poppins Returns. "It's been so exciting because with 'Moana' it was the joy of my life, but I was the last guy hired," Miranda said in an interview with Entertainment Weekly. "And with ['Encanto'] I've been in on the ground floor."
From this first teaser trailer, we can already feel a similarity between "Moana" and "Encanto," especially in their music. But also it's not hard to see that Disney is also trying to entice fans of Pixar's "Coco" with this trailer. "Coco" was an animated exploration of family through the lens of the Mexican Day of the Dead — and it's also about it's protagonist Miguel (Anthony Gonzalez) playing a musical instrument (a guitar). In the "Encanto" trailer, Mirabel is shown playing an accordion — albeit pretty badly, compared to Miguel.
"Encanto" will hit theaters on November 24, 2021.