Why Aurora From Maleficent Looks So Familiar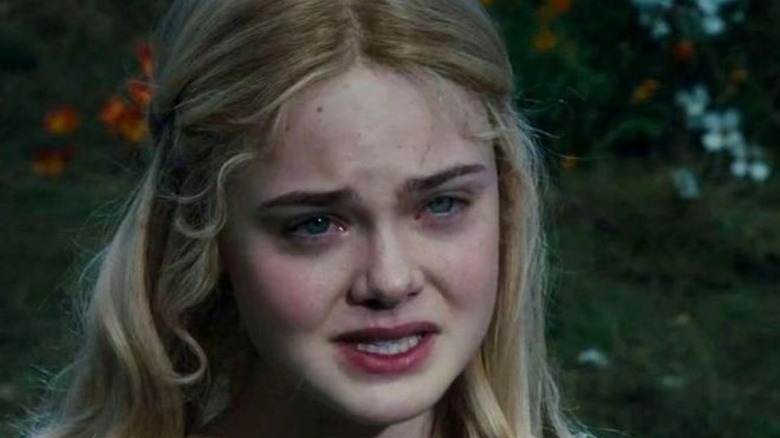 Disney
When you have somebody as visually majestic and charismatic as Angelina Jolie starring in the lead role in "Maleficent," it shouldn't come as a big surprise that the larger-than-life villain immediately commands all your attention the first time she appears on film. But viewers should not forget that villain only exists in Disney's live-action realm because she was the character that haunted the protagonist's dreams in the Disney classic "Sleeping Beauty." Equally as important to the story of "Maleficent" is the sleeping beauty herself — Princess Aurora — played in the live-action film by Elle Fanning.
Released in 2014, "Maleficent" has the distinction of being one of the first Disney animated properties to be reimagined as a live-action feature film after the blockbuster success of "Alice in Wonderland" four years prior. The approach to the tale was also unique in that "Maleficent" tells the tale from the vengeful fairy's point-of-view as she places a curse on the infant, Aurora, only to regret her decision when the child grows up. In the end, the film resonated with audiences so much that its box office success merited the 2019 sequel "Maleficent: Mistress of Evil," which again starred Jolie and Fanning in the leading roles.
While Elle Fanning certainly brought some name recognition with her to "Maleficent" — partly because of the acclaimed work of her older sister, film and TV star Dakota Fanning — there's no question the younger Fanning sibling has carved out quite a screen career of her own. And like her older sister, former child star Elle Fanning is showing no signs of letting up while she moves into more adult-oriented roles, including that of real-life screen legend Ali McGraw in the upcoming HBO movie "Francis and the Godfather," which tells the story of director Francis Ford Coppola's struggles to get his classic mob movie made.
But how did Fanning, establish her own identity and arrive at such a golden opportunity? Here's why Elle Fanning looks so familar.
Elle Fanning was one of the kid stars in Daddy Day Care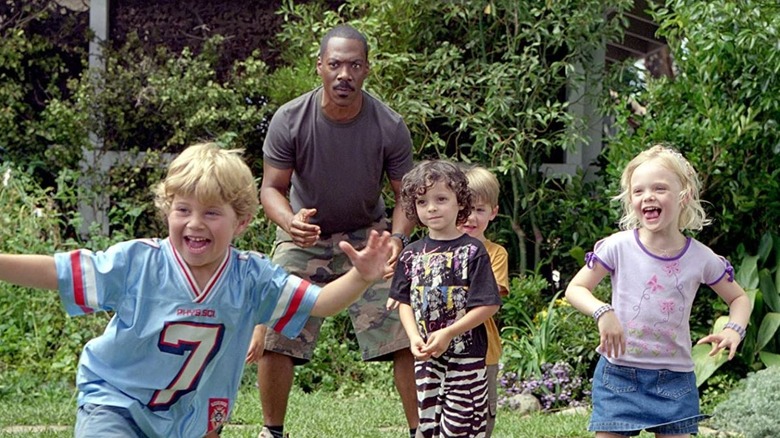 Sony Pictures Entertainment
While it might take viewers a few minutes to place the name with the then-5-year-old girl's face, there's no mistaking the platinum blonde hair of Elle Fanning, whose first major big-screen role came opposite Eddie Murphy, Jeff Garlin, and Steve Zahn in the 2003 comedy smash "Daddy Day Care." 
By the time Fanning did the film, though, she already had ample exposure to Hollywood in the critically acclaimed family drama "I Am Sam," playing the 2-year-old version of Sam's (Sean Penn) daughter, Lucy. The casting decision was a no-brainer, though, given that the version of Lucy as a 7-year-old was played by big sister Dakota, who is four years older than Elle in real life. In perhaps a bit of foreshadowing, "I Am Sam" also stars Michelle Pfeiffer, who, 16 years later would go on to star opposite Fanning in "Maleficent: Mistress of Evil."
Super 8 led to a starring role for Elle Fanning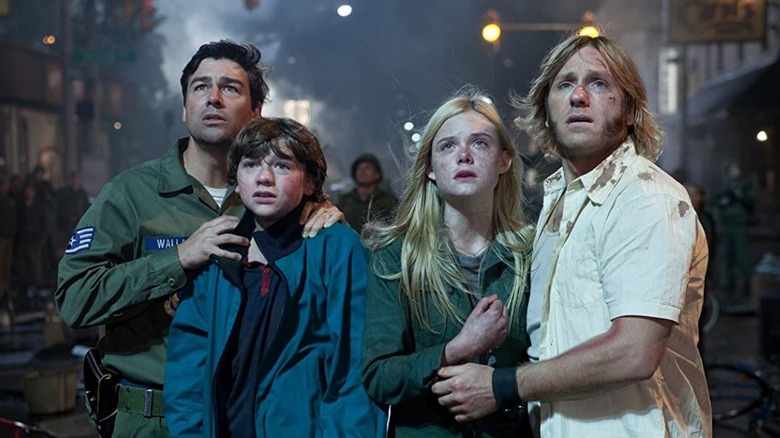 Paramount Pictures
While fans might not have put two-and-two together to recognize Elle Fanning in "I Am Sam" or "Daddy Day Care," the actor certainly distinguished herself among viewers in 2011 as a star on the rise in director JJ Abrams ode to amateur, backyard moviemaking in the late '70s with the sci-fi coming-of-age tale "Super 8." Fanning stars in the film as Alice Dainard, the young teen daughter of Louis Dainard (Ron Eldard), a man with a drinking problem that everybody knows about in their small Ohio town.
However, Louis is not only on the radar of Deputy Sheriff Jack Lamb (Kyle Chandler) because of his past behavior. Jack blames Louis for his wife's death since she filled in for Louis — who was too drunk to work  at the time— and died in a workplace accident as a result. That presents a problem for Jack's son, Joe (Joel Courtney), since he is forbidden by his father to speak to Alice, much work with her, since she's star of the Super 8 movie Joe and his buddies are putting together. All that changes, though, when a menacing alien escapes the confines of government after a train crash, and humans are generally better off putting their differences aside and banding together to fight extra-terrestrials.
Elle Fanning bought a zoo alongside Matt Damon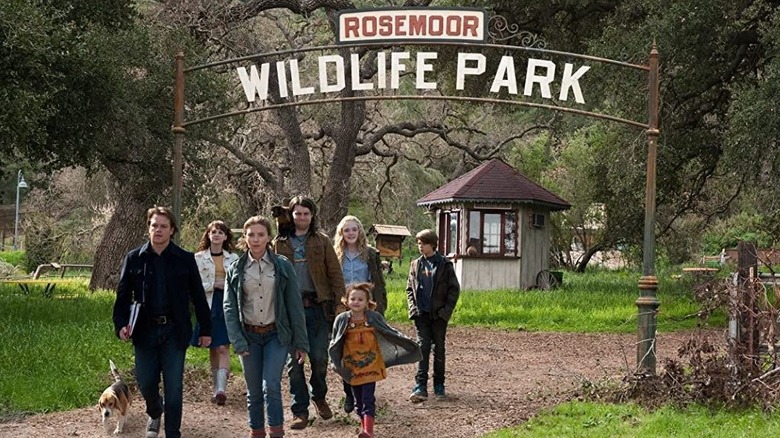 20th Century Fox
As Fanning's career has progressed, so have the opportunities with big-name stars and filmmakers. Proof of that came not long after "Super 8" in 2011 with a role opposite Matt Damon and Scarlett Johansson in director Cameron Crowe's family adventure "We Bought a Zoo." Based on a true-life story, Damon plays Benjamin Mee, a single father of two children who throws caution to the wind and purchases a struggling zoo despite words of warning from his accountant brother Duncan (Thomas Hayden Church). Fanning plays Lily, the 13-year-old home-schooled cousin of longtime zookeeper Kelly (Johansson) and dream girl to Benjamin's 14-year-old son, Dylan (Colin Ford).
In an interview with Seventeen about her role in "We Bought a Zoo," Fanning said she loved the family atmosphere Damon and Crowe brought to the set. "This set was so exciting. It was very family oriented," Fanning said. "Matt brought his daughters and Cameron would bring his sons. Just being on set with everyone was fun."
Elle Fanning plays a historical juggernaut in The Great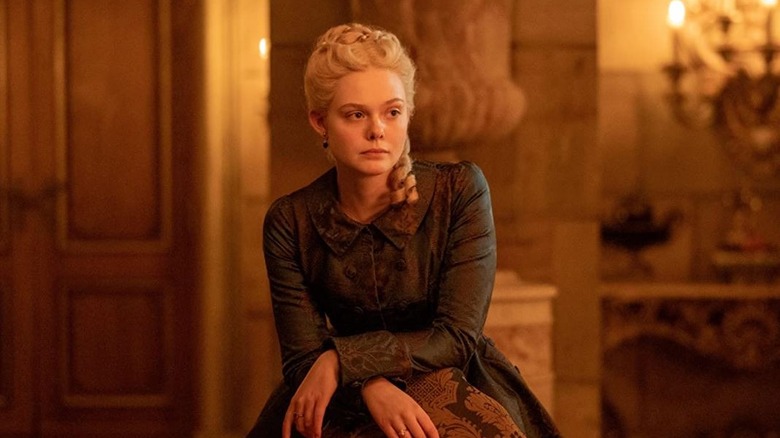 Hulu
While she has often found herself working among Hollywood royalty, Fanning's own crowning achievement came in 2020 in the Hulu series "The Great." Starring Fanning as legendary Russian Empress Catherine the Great, "The Great" — created by Tony McNamara — isn't your average biographical period tale, as it takes a "loosely-based" approach to the material. As a result, it affords "The Great" room for eccentricity, much like McNamara's Oscar-winner "The Favourite," and the opportunity for Fanning to give her input since she's also a principal player behind the scenes.
In an interview with Elle, appropriately, Fanning said she "felt a lot like Catherine in finding my voice" in an executive producer role: "I'd be on calls and I'd have to have the courage to speak up in situations that could be intimidating. I was learning to speak my opinion, even if it was an opinion someone was disputing. I can go head-to-head. That was a real confidence builder."