See Disney Star Ross Lynch As Jeffrey Dahmer In My Friend Dahmer Photo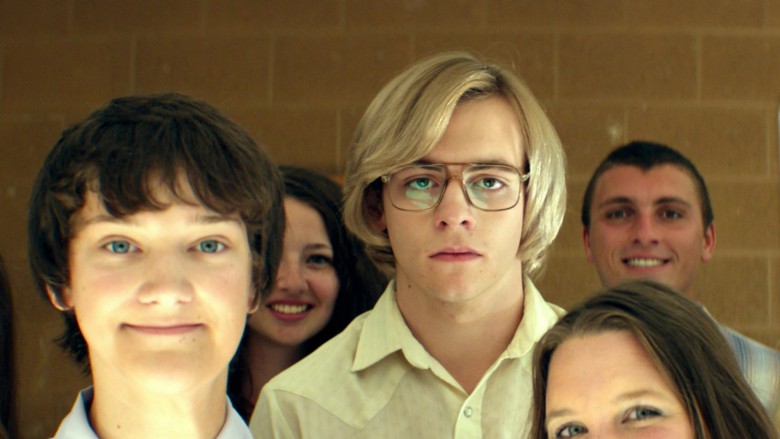 Entertainment Weekly
Many heads were turned when Teen Beach Movie and Austin & Ally star Ross Lynch was announced as the lead in the upcoming serial killer biopic My Friend Dahmer, but the first photo from the film proves that the casting was eerily accurate.
In the photo, released exclusively to Entertainment Weekly, Lynch can be seen in costume for a scene in the movie, which is based off the nonfiction graphic novel from Derf Backderf about his high school friendship with Dahmer, who would later go on to become one of the country's most notorious serial killers, murdering 17 people.
"It's the story before the story we're all familiar with," writer/director Marc Meyers told EW. "The book is this haunting, sad, funny, true look at Jeffrey Dahmer's high school years, growing up in the suburbs of Akron, Ohio, in the mid-to-late '70s— and that's exactly what this film has become."
According to Meyers, finding the right actor to play the young Dahmer was an "exhaustive search," but he "locked in" to Lynch when he saw him in the role. "I felt that he both had the versatility as an actor and the look," he said, adding that he thought Lynch's Disney background was "exciting." Meyers says that, especially in costume, Lynch looked so much like Dahmer that even Backderf and others who grew up with Dahmer were shocked.
"Some of the real friends that grew up with Dahmer in the '70s — the author of the book and a couple of others — came by set, and they confirmed for me how hauntingly similar Ross Lynch looks to the actual Dahmer," he said. "So much so, the author of the book asked him, 'If you want to talk to me, please take your glasses off, because it's freaking me out.'"
Anne Heche, Vincent Kartheiser, Alex Wolff, and Dallas Roberts also star in the film, which does not have a release date yet. For now, see how much Jeremy Renner, who starred in 2002's Dahmer, and other actors who played famous killers actually resembled their real-life counterparts.