Fans Of The Boys Just Got Exciting News Ahead Of Season 3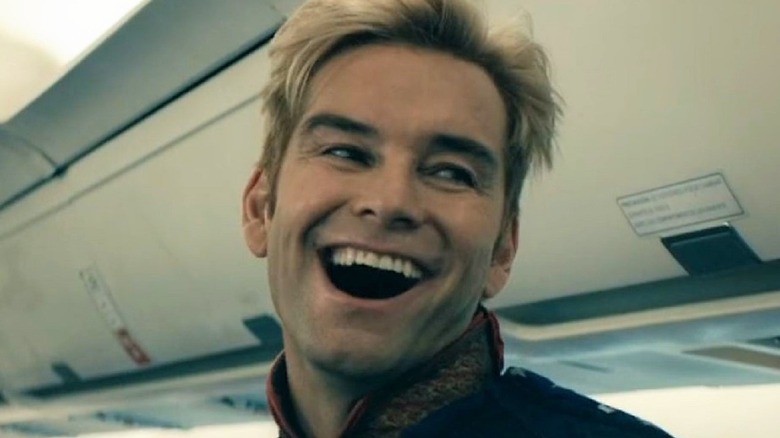 Amazon Studios
After the shocking and explosive Season 2 of "The Boys," fans are eagerly awaiting Season 3, which began production earlier this year. There's no news yet of a release date for the upcoming season, but Amazon has announced something new to give fans a little appetizer before the main event.
Each month, starting today, Amazon will release an episode of their new digital series, "Seven on 7," to give brief glimpses into what's happening in "The Boys" world between the seasons. The short episodes are stylized like a news broadcast from Vought News Network, the propaganda channel owned by superhero pharmaceutical company Vought International. Matthew Edison plays the VNN anchor Cameron Coleman, who hosts the segment "Seven on 7," which gives seven news stories on the seventh of each month.
According to Entertainment Weekly, showrunner Eric Kripke said in a statement, "The episodes are in-world canon, serving up brand-new information that bridges the story gap between Season 2 and 3. So enjoy the hot takes and catheter commercials, just like your parents do!" He added that next season will see more of Vought's "fair and balanced patriots," so it's possible that Coleman may be a character on the main series as well.
Vought News Network's first episode is out now
Amazon Studios shared the first episode today, a six-minute clip stylized like Fox News that includes news anchor Cameron Coleman reporting on everything from Starlight's (Erin Moriarty) new single to the ongoing supes in the army debate. In the midst of it, taking a page out of the book of "WandaVision," is a satirical ad making fun of MyPillow with the in-universe brand OurSheet.
However, Coleman also reports on an important story beat (with no objectivity at all): Congresswoman Victoria Neuman (Claudia Doumit) appointed Hughie (Jack Quaid) as the Federal Bureau of Superhuman Affairs' Senior Analyst. Why is that important? Well, even though Season 2 left many of the characters sitting comfortably after their win against Stormfront, the finale left a huge bombshell to be dealt with: The supe that's been blowing people's heads off all season? That's Neuman, the seemingly anti-Vought, outspoken congresswoman who has the public charm of real-life Representative Alexandria Ocasio-Cortez. Now, Hughie's working right alongside her with no idea who she really is.
It's sure to stir up drama next season, alongside the arrival of Jensen Ackles' Soldier Boy. In the meantime, however, the "Seven on 7" episodes will come out monthly on YouTube as a lead up to Season 3's first episode, "Payback."