Robert Downey Jr.'s Dad Robert Downey Sr. Dies At 85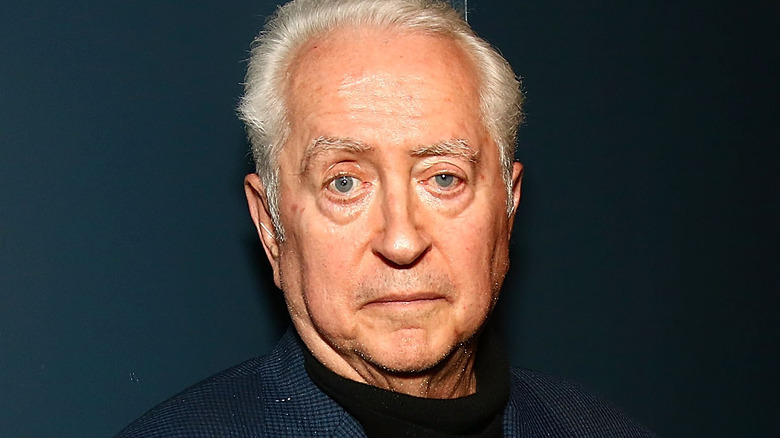 Astrid Stawiarz/Getty Images
Robert Downey Sr., the father of Robert Downey Jr. and a noteworthy filmmaker in his own right, has died at the age of 85. His wife, prolific author Rosemary Rogers, confirmed to the New York Daily News that Downey Sr. died in his sleep at home. 
Born Robert Elias Jr. in June 1936, Downey Sr. was diagnosed with Parkinson's disease five years ago, and his death was caused by resultant complications. 
Though Downey Sr.'s son Robert Downey Jr. has become well-known in recent years for his prominent role in the Marvel Cinematic Universe, during his early career, he was famously a rebel — both on and off screen. Roles like his turn as a bad boy in "Tuff Turf" in 1985 and a drug dealer in "Less Than Zero" in 1987 cemented Downey Jr. as an idiosyncratic performer, leading to jobs like his starring role in the Charlie Chaplin biopic "Chaplin" in 1992.
But Downey Jr.'s film career began not with these star-making performances but when he was just five years old in a film directed by his father.
Robert Downey Sr.'s film career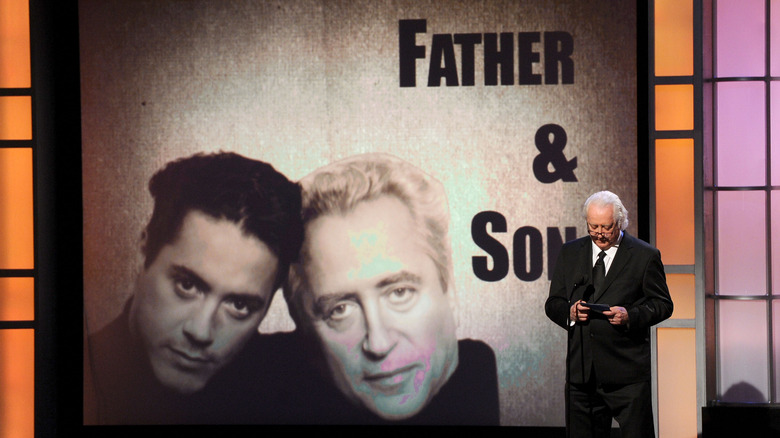 Kevin Winter/Getty Images
Robert Downey Jr.'s first acting credit was in 1970's "Pound," directed by Robert Downey Sr. By that point, Downey Sr. was already an established presence in Hollywood. At that point, his filmography included features like "A Touch of Greatness," "Babo 73," and "Chafed Elbows," as well as "Sweet Smell of Sex," in which a woman repeatedly fends off the advances of lascivious New Yorkers, and the experimental "No More Excuses," which combines documentary footage of real-life New York youth with the story of a time traveling soldier and other oddities.
Downey Sr.'s other credits — as either a director, cinematographer, editor, writer, producer, actor, or combination of those jobs — include "Greaser's Palace," "Sticks and Bones," "Moment to Moment," "The Gong Show Movie," "Matlock," "1st & Ten," "Hail Caesar," "The Family Man," "Tower Heist," and more.
As mentioned, Downey Sr. was also a performer, appearing in both his own films (like in "No More Excuses" and through voiceover in "Putney Swope") as well as in a variety of more mainstream works. For example, Downey Sr. appeared in an episode of "The Twilight Zone" in 1985, and popped up in a cameo appearance on "Saturday Night Live" as himself in 2015. He also collaborated with director Paul Thomas Anderson on multiple occasions, appearing in both "Boogie Nights" and "Magnolia."
Robert Downey Jr. shared a tribute to his late father on Instagram, including a black-and-white photo of Downey Sr. as a young adult along with a heartfelt message about his career and marriage. "Last night, dad passed peacefully in his sleep after years of enduring the ravages of Parkinson's ..he was a true maverick filmmaker, and remained remarkably optimistic throughout..According to my stepmoms calculations, they were happily married for just over 2000 years," Downey Jr. wrote. "Rosemary Rogers-Downey, you are a saint, and our thoughts and prayers are with you."