Gleipnir Season 2 - Will It Ever Happen?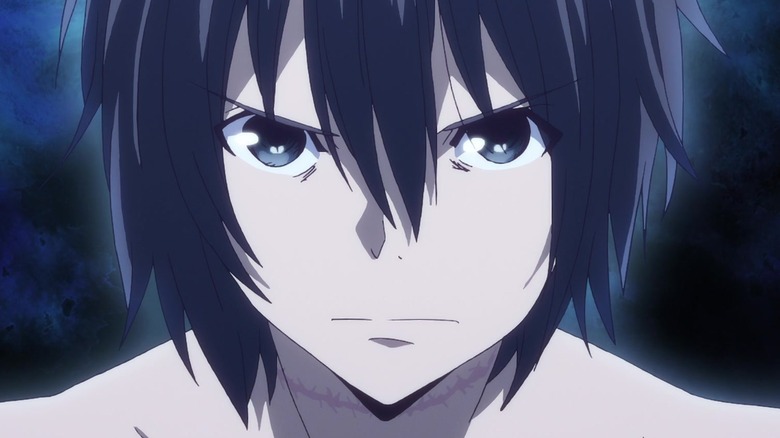 Pine Jam/Funimation
Its concept is as odd as its name. "Gleipnir" is the kind of anime you can't discuss with your parents – not because it's one of those "naughty" anime (it is, but that's besides the point), but because it's filled with all manner of oddities and Cronenberg-like body horror. Yet, as Anime News Network points out in its review, there's something compelling to all of that grossness. There are layers to the story and characters that you wouldn't find with a lot of family-friendly anime.
Originally written as a manga from author and artist Sun Takeda, "Gleipnir" focuses on the adventures of one disgusting dynamic duo. The most eye-catching one is Shuuichi, an average high school boy with the power to horrifically morph his body into a hollow mascot suit armed with a revolver. When his powers are discovered by the ill-tempered Clair, she becomes the pilot to his freakish flesh-mech, and the two set out on a journey to track down Clair's murderous sister. As they progress, they find themselves in the center of a secret coin-finding game run by a shapeshifting alien that has all-too-much to do with the pair's increasingly disturbing backstories.
With its first season wrapped up as of Summer 2020, "Gleipnir" fans have been kept in the dark as to whether they will see more of this supernatural thriller. In many ways, things are not looking good for Season 2, but there is always hope. Here is what we know so far.
When will Gleipnir Season 2 be released?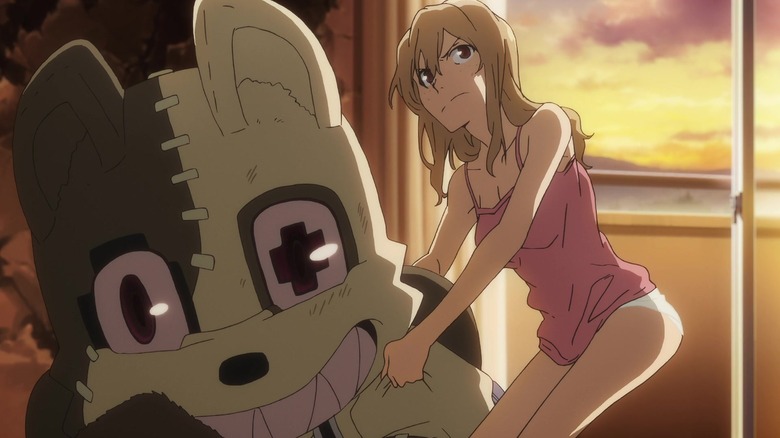 Pine Jam/Funimation
It's tragic news for fans of "Gleipnir" Season 1, as there have been no official announcements regarding a continuation of the series. While this far from excludes the possibility of a Season 2 from Pine Jam, fans should prepare themselves to be in this for the long haul. After all, it's already been an entire year since Season 1 wrapped up its final episode.
The fact that Pine Jam has neglected to speak on the issue raises several concerns. Obviously, the hectic nature of this past year in the wake of a pandemic spelled delays for a wide variety of shows. Furthermore, "Gleipnir" isn't the only show on studio Pine Jam's to-do list, with "Kageki Shoujo" being a recent addition to the studio's growing filmography (via Myanimelist). Even so, the lack of any update whatsoever opens up the possibility that Season 2 will never happen.
However, all hope is not lost. "Gleipnir" isn't the only anime lost in limbo between seasons, and it would be far from the first to receive a continuation after a long period of inactivity. As is often the case when it comes to anime releases, patience is the name of the game.
What is the plot of Gleipnir Season 2?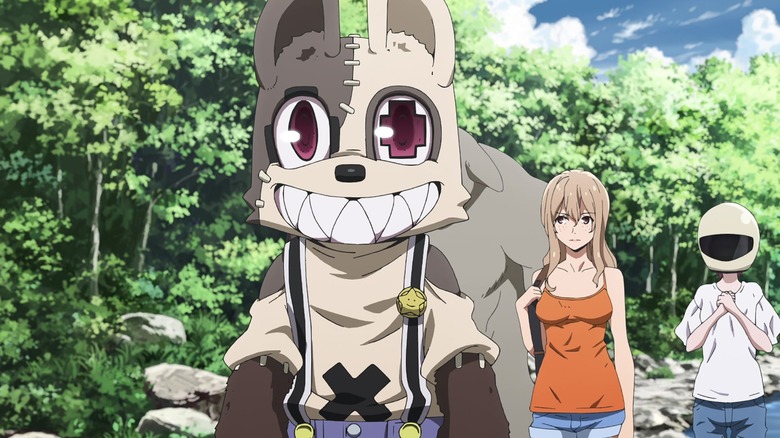 Pine Jam/Funimation
The strange, psychosexual story of "Gleipnir" seems as if it's saving its best for last. In the wake of Shuuichi and Clair's fight with Elena, the situation regarding the coin game and Shuuichi's past has only become more complex. The battle ends somewhat inconclusively, with a sudden interruption from a ghostly girl who may or may not be Shuuichi's supposedly dead friend, Honoka. Before this insurmountable specter can cause any damage, however, Elena erases Shuuichi's memories, erasing his knowledge of the alien ship and taking him off Honoka's hit-list.
Despite this, Shuuichi and Clair leave the fight more determined than ever to find the ship. What they have in store for them, however, may be more than they bargained for — as much as they want to find 100 coins and end the game, they aren't the only players. Many obstacles face them in the form of other gatherers, and the ensuing conflicts will test the limits of the pair's tenuous and confusing bond.
Who is starring in Gleipnir Season 2?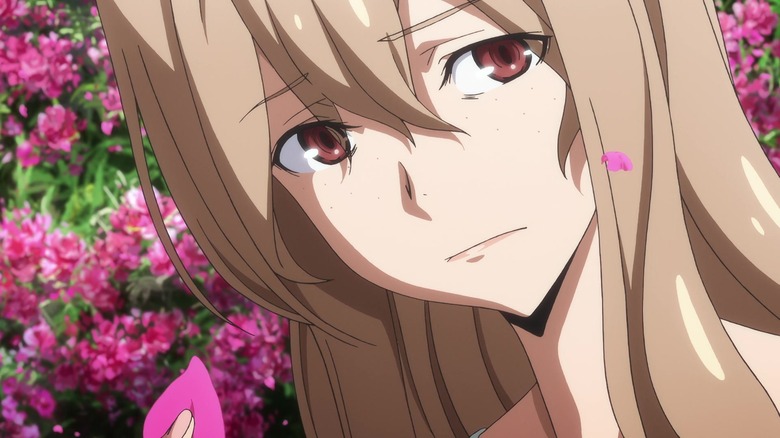 Pine Jam/Funimation
The big benefit of any second season is that, despite not knowing what will happen next narratively, you almost always know what to expect about other things. Thankfully, the cast is almost always one of those things. In that respect, "Gleipnir" fans probably shouldn't stress themselves over any major casting changes. They're still bound to see Nao Touyama and Natsuki Hanae step into the shoes of (or perhaps, climb inside the flesh-suit of) protagonists Shuuichi and Clair, respectively (via Myanimelist).
The same can be said of the supporting characters. Alien, the sibylline extraterrestrial living in a vending machine, will still more than likely be portrayed by Takahiro Sakurai. Perhaps more important to fans in the wake of the finale, however, is that Kana Hanzawa will continue to portray Clair's sister, Elena.
From there, it's fair to assume the other "Gleipnir" cast members are bound to stay the same, aside from any new characters. "Gleipnir" isn't the longest manga in the world, but it is a bit further along than the adaptation and has likely introduced a few new faces here and there. Unfortunately, these new characters (and their associated voice actors) must remain mysteries until Season 2 finds its way out of the woodwork.
Where to stream Season 1 of Gleipnir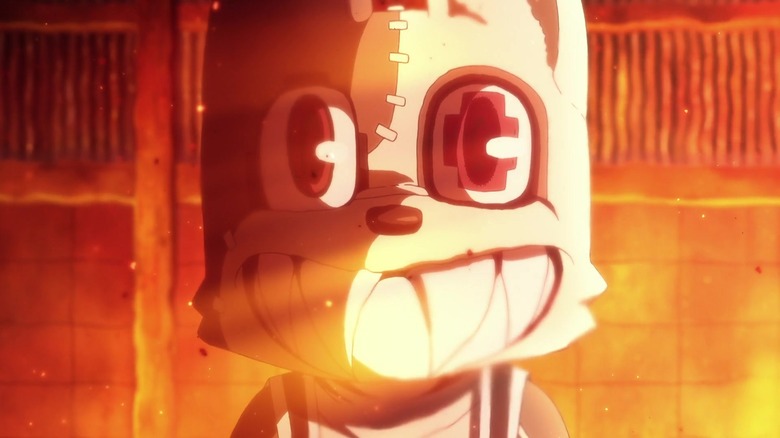 https://wp.looper.com/wp-content/tmp/uploaded/2b0e4b7746c5e2e99f19386f9d68a6f5.jpg
If you want to relive the intensity that is "Gleipnir" Season 1, you have a couple of options. First, you can catch all episodes of the first season on Funimation where all 13 episodes are available. Funimation requires a membership, but there are different tier options to choose from. The streamer offers a premium subscription at $5.99 a month or $59.99 a year, premium plus at $7.99 a month or $79.99 per year, and premium plus ultra at $99.99 per year. "Gleipnir" also has a maturity warning on it, so you'll need to adjust your settings in order to watch if you haven't already.
"Gleipnir" Season 1 is also available on Crunchyroll. The app also offers different tiers, starting at $7.99 a month. There are also $9.99 and $14.99 options, and all three offer no ads. You can also stream anything on Crunchyroll for free with their ad-supported system.