Demon Slayer Season 2's New Trailer Teases The Entertainment District Arc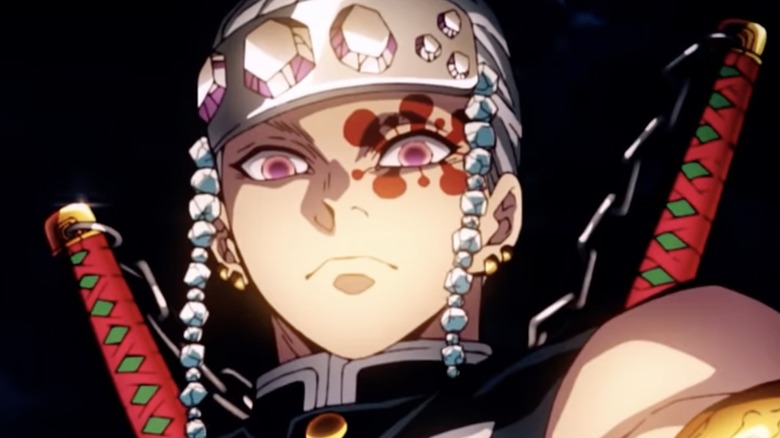 Ufotable
The first season of "Demon Slayer: Kimetsu no Yaiba" by studio Ufotable aired in Japan and around the world in 2019 and was quickly followed by a movie in 2020. "Demon Slayer the Movie: Mugen Train" became the highest-grossing film in Japanese history that year (via Japan Times). Now, fans are awaiting Season 2 of the anime, and Ufotable has released an English-subtited trailer teasing the series' next story: the Entertainment District Arc. 
The trailer came out over the weekend as part of a panel at the Anime Expo convention, and was posted as a tweet on July 4 (via ComicBook.com). It is short and not very informative, although it does reveal the design for a vital character in the season's narrative: Demon Slayer Tengen Uzui. It also describes the place in question as "awash in vanity and desire of men and women, a town of the night swirling with love and hate." The season's events are based on the "Demon Slayer" manga, which was written by Koyoharu Gotouge and continues from the end of the 2020 movie.
The Entertainment District arc is a fan-favorite and the series' halfway point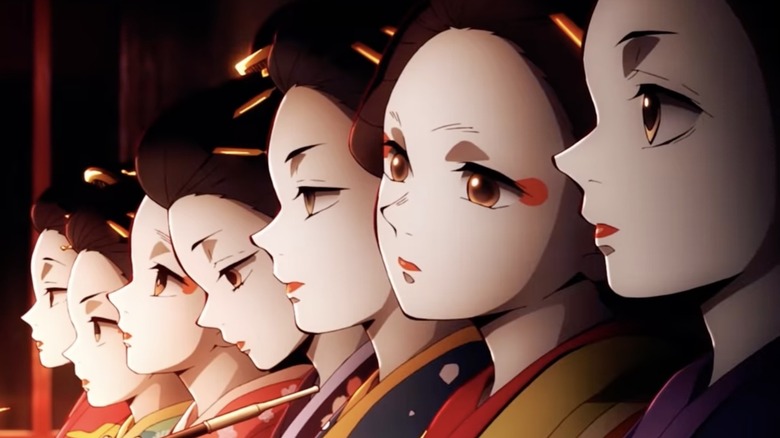 Ufotable
"Demon Slayer" is based on the manga in which an adolescent boy, Tanjiro Kamado, is recruited to slay demons as he's trying to find a cure for his sister, who became one of them. The Entertainment District arc (also known as the Red Light District arc) comprises about 30 chapters of the manga, and is considered by many fans (discussing the season on Reddit) to be the best in the series. 
According to ComicBook.com, this is an especially important arc, as it's the halfway point in the manga that "begins a huge shift in the flow of the action," the publication noted, tying fights in with one another and laying the groundwork for a conclusion. The plot has Tengen, the sound Hashira, getting Tanjiro, Inosuke, and Zenitsu's help in finding his missing wives, who were investigating rumors of demon activity in the area. The characters disguise themselves as women to sneak into the area.
The brevity and lack of detail in the video shows that production probably still has a ways to go when it comes to finishing up the second season of "Demon Slayer," but it should be noted that the Japanese version of the trailer was released in February 2021. Viewers likely won't see the show return until the final quarter of 2021 (via ComicBook.com), though, so there's plenty of time to jump on the bandwagon and catch up with the show in the meantime.