Yellowstone's Season 4 Teaser Has Fans Rewatching A Season 2 Episode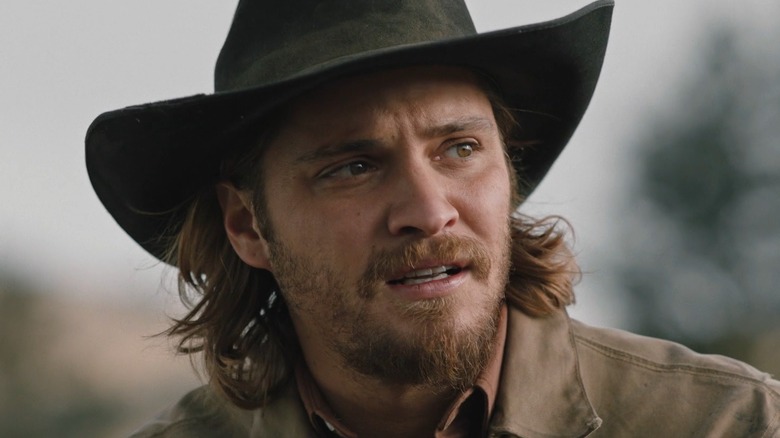 Paramount Network
Ever since the shocking Season 3 finale that left the fates of three separate Duttons in the balance, fans have been desperate to get their eyes on Season 4 of "Yellowstone." The new episodes won't arrive until fall but to get fans hype to see their favorite dynastic Montana family return, Paramount Network did release a new teaser. But if you were hoping that it might let some details slip about whether Beth (Kelly Reilly), Kayce (Luke Grimes), and John (Kevin Costner) will survive the assassination attempts against them, it's best to manage your expectations.
Although it does contain a few snippets of fresh footage, the "Yellowstone" Season 4 teaser is mostly made up of scenes from older seasons meant to reintroduce viewers to the characters and stakes. One of these scenes in particular caught the attention of a fan on Reddit.
In a thread titled "The Teaser/Trailer," Reddit user u/7ruby18 pointed to a moment from the teaser where Kayce says to John, "I heard you talkin' about what a fight it is, this place. It always like that? Your dad and his?" John replies to this by saying, "And his before, son."
There was some initial confusion at first about whether this scene was something new or from the archives. Eventually, fellow commenters confirmed that the moment was from the Season 2 episode "Enemies by Monday." But regardless of where it's from, the conversation does potentially provide some insight into what role Kayce might play in the complex Dutton family dynamic heading into the next season.
What the Yellowstone Season 4 teaser potentially means for Kayce's story
Although their initial theory about the freshness of that Kayce and John scene from the "Yellowstone" Season 4 teaser proved to be incorrect, u/7ruby18 did have some intriguing thoughts about what the dialogue could mean for Kayce's arc in the upcoming season.
"I think Kayce will finally grasp, during the course of season four, what John and his ancestors have truly been fighting for," u/7ruby18 explained, "and Kayce will accept and proudly do what is necessary to maintain that way of life."
While much of the larger narrative arc of "Yellowstone" has been a Duttons v Others battle, the show has also seen plenty of intra-Dutton conflicts. That was especially true of Season 3, which saw Jamie (Wes Bentley) seemingly turn on his family altogether. In including this particular bit of dialogue in the teaser trailer, Paramount Network could be signaling that in a potential Dutton Civil War, Kayce will play the role of John's enforcer.
And that might put him at odds with others close to him. In their introductory post, u/7ruby18 also noted, "I'm sure that will cause some fireworks between him and Monica, but that's the nature of drama ..."
We'll have to wait and see how that plays out when Season 4 of "Yellowstone" premieres in fall 2021.