The Seinfeld LEGO Set Reveal Has Twitter Going Bonkers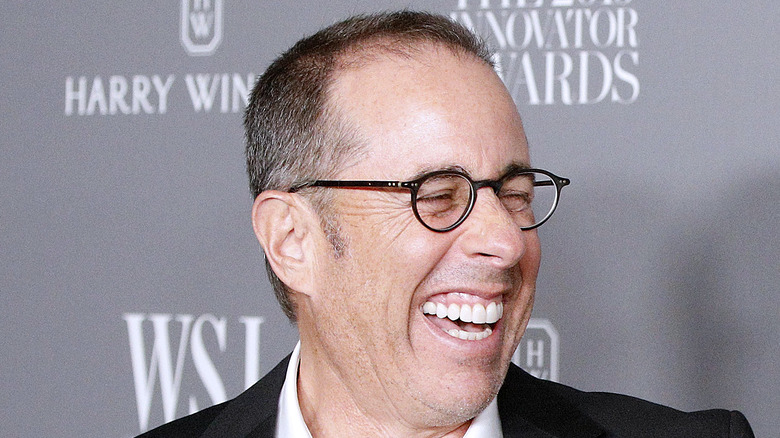 Lars Niki/Getty Images
"Seinfeld" was so much more than a sitcom when it originally aired on NBC from 1989 to 1998. It was a cultural phenomenon. A period piece. A hilarious critique of modern life that you wanted to simultaneously step into and step away from. It took a special crew of comedians to deliver this "show about nothing" (via Vox) – and deliver they did. Jerry (Jerry Seinfeld), George (Jason Alexander), Kramer (Michael Richards), Elaine (Julia Louis-Dreyfus), and Newman (Wayne Knight) kept us laughing, crying, and cringing through nine seasons. And then, they abandoned us. How could they!
In celebration of the show's 30th anniversary, LEGO has brought "Seinfeld" back, this time in brick form. LEGO's Twitter reveal of the new set is wild. Elaine dances in her famously awkward fashion. Kramer bursts predictably through the door. George's posture tells us he's about to go off the rails on some undeserving topic, while Jerry sets up a joke on stage. It's enough to send us straight back to the '90s to those iconic episodes we long to reexperience and recreate.
Remember the one where they lost their car? Remember Festivus? Die-hard fans certainly do, and one LEGO designer's dream proves there are plenty of them out there.
The Seinfeld set is a fan creation
"Seinfeld"'s genius grew from the groundbreaking idea that ordinary life could be entertaining — and worth watching for half an hour each week. Remember Season 3, Episode 6, "The Parking Garage," when Elaine, Jerry, George, and Kramer spend the whole show searching for their lost car? LEGO Ideas Fan Designer Brent Waller proves he did by including a tiny piece in the set that the Elaine mini-figure can hold. It's a goldfish in a clear bag. The set also comes with other "Seinfeld"-specific pieces, like a Festivus pole for celebrating Frank Costanza's (Jerry Stiller) favorite — and not-entirely-fake — holiday and a pretzel, from Season 3, Episode 11's "The Alternate Side," signifying the unforgettable catchphrase, "These pretzels are making me thirsty."
Waller originally created the "Seinfeld" set because he loved the show when it aired in the '90s and felt strongly about how it deserved LEGO representation. After all, "Friends" was taking off in brick form, so why couldn't "Seinfeld" do the same? He dove into building Jerry's apartment and took about two weeks to do it. "The build was fairly quick, but I spent a fair bit of time finding images for reference," he explained on the LEGO blog. "The whole time I was researching and building, I'd have the show on in the background."
So far, reactions to the "Seinfeld" LEGO set have been overwhelmingly positive. "This set is so awesome. It'll go nice with my central perk," wrote Twitter user @Gobalakitay, who apparently has the "Friends" set as well. Another user, @MrRespectabl3, quipped that they'd watch the entire series if "the full show was redone in Legos." Others responded with various "Seinfeld" GIFs or suggested other shows to create sets for.
LEGO and Seinfeld are a winning combination
In case you haven't heard, the LEGO Ideas website is open to anyone. Got an idea for a LEGO set? Build it, get a bunch of fans to vote for it (10,000 to be exact), and you could earn the LEGO Ideas Fan Designer title just as Waller did.
After the build, he promoted it to fans of LEGO and "Seinfeld" alike. "Over those 3 months, for sometimes a few weeks at a time I'd create new content to spread the word almost every night," he recalled. "Partially because it was so much fun recreating all those classic scenes from the show."
Creating the content was the hard part, but tapping into a ready-made fanbase must have been easy by comparison. More than 73 million viewers tuned in to the "Seinfeld" finale, via Business Insider. Meanwhile, Vox reported that LEGO sells 73 billion bricks each year. If you think about it, the numbers are staggering -– and even more so in combination. It's no wonder fans are flipping out about the LEGO Ideas "Seinfeld" set.