Lansky's Harvey Keitel Dishes On His Relationship With Mob Movies - Exclusive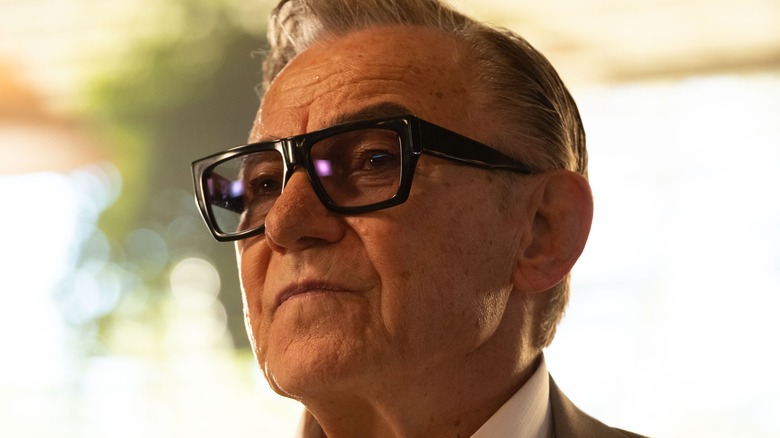 Vertical Entertainment
Since kicking off his film career in the romantic drama "Who's That Knocking at My Door" for first-time filmmaker Martin Scorsese in 1967, actor Harvey Keitel has had a storied run over five-plus decades in showbiz. He's worked with some of the industry's most celebrated auteur directors, including Scorsese, Quentin Tarantino, and Ridley Scott. His work spans multiple genres, however it's his roles in crime thrillers like "Bugsy," "The Irishman" and now, "Lansky" — new in theaters and video on demand — that have arguably defined his success and his impact on the industry.
In an exclusive interview with Looper, Keitel opened up about his latest foray into the organized crime sub-genre. Interestingly, he said he approaches his mob characters just like any other role he chooses to tackle. "It's an opportunity. I mean, I don't engage myself in these kinds of movies because they're mob movies. To me, they're stories that take place in a mob milieu. So, it's what experience I can gather from entering into the idea of trying to create this character. That's my gift that I have, that I received, the opportunity to invade myself if you will, to slaughter myself, to resurrect myself, and hopefully in that, come up with some relationship to the character."
Lansky tackles the notion that perceptions can be changed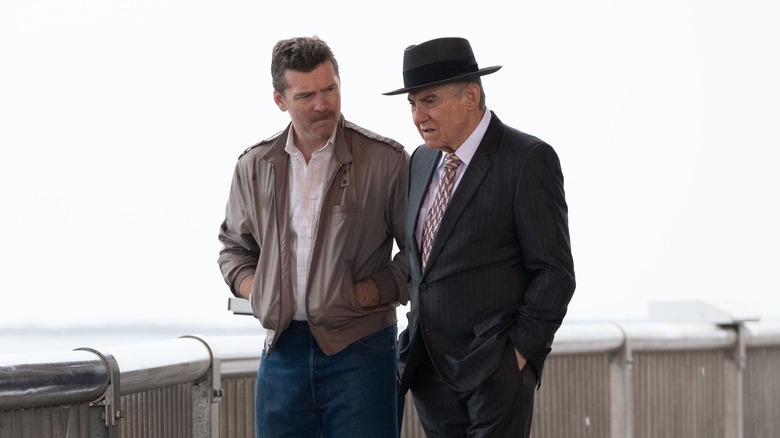 Vertical Entertainment
Inspired by a true story, "Lansky" finds an aging and cancer-stricken Meyer Lansky — one of the many mobsters to evade prosecution throughout his life — in 1981 Miami Beach, where he is preparing to tell his life story to a struggling writer, David Stone (Sam Worthington). In a series of interviews, Lansky recounts his association with notorious gangsters like Benjamin "Bugsy" Siegel and Lucky Luciano, as well as how he helped form Murder, Inc., the National Crime Syndicate, and his gambling empire in Cuba. Considering the nature of these revelations, Lansky tells Stone that he is to speak with no one about the interviews, and the biography can only be published after his death.
There's a particularly powerful scene in "Lansky," wherein the retired mobster tells Stone, "I don't have the power to change my past. I only have the power to change the perception of it." And while the change of perception may be what Lansky is trying to achieve with Stone's book in the film, does Keitel believe the film "Lansky" will change the perception of who the mobster was?
"I do, because the other way around, it's like typecasting. You only play this character to any actor that you know. 'Oh, they always played this type of character. They're always a bad guy. They're always a good guy,' blah, blah, blah," Keitel explained. "For me, it's not about that. That's not why I entered into the theater. I entered into the theater for the same reason you did, and everybody involved with us here today, to realize something about themselves."
That "something" is what Keitel called the "changing gift" that you get when you wake up every morning: "You're about to have some experiences, but you didn't expect that's going to influence you in some way. To be able to create a dance, a poem, a piece of music, a character is what theater was created of, to go in, and for the community to enter together, and try and realize what their desires are, and their anxieties and their wishes."
Co-written and directed by Eytan Rockaway, and also starring AnnaSophia Robb, Minka Kelly, and John Magaro, "Lansky" is now playing in select theaters and on video on demand.