How Jennifer Aniston Really Felt About Matt LeBlanc At First On Friends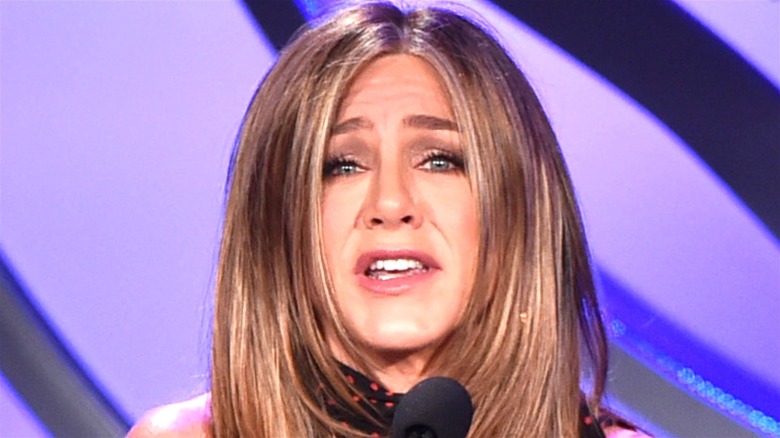 Alberto E. Rodriguez/Getty Images
Despite airing its final episode in 2004, "Friends" remains one of the most popular and endlessly rewatched series of all time. As for the secret to the show's success, well that's a no-brainer: It's the cast. Courteney Cox, Jennifer Aniston, Lisa Kudrow, David Schwimmer, Matthew Perry, and Matt LeBlanc have a chemistry that just can't be faked.
While it's rare for castmates to get along off set as well as they do onscreen, the "Friends" cast has proven to be the exception to the rule. Over the years, the sextet of actors have made a habit of being there for each other, whether the cameras are rolling or not. It's certainly true that some of the cast seems closer than others — if Instagram is to be believed, Kudrow, Aniston, and Cox have semi-regular hangouts to this day — but they all genuinely get along, as the "Friends Reunion" on HBO Max reminded viewers.
That's why it's so hard to imagine a scenario where Aniston didn't immediately click with LeBlanc. Of the show's many combinations of characters, Rachel and Joey was easily one of the best. However, when she first met her co-star, the actress was wary of getting too close to him due to a fear that he was every bit as womanizing as his onscreen counterpart.
In a 1995 interview with People, Aniston got candid about her first impression of LeBlanc. "I was scared of that type of guy," she said of LeBlanc, who she assumed would be macho on set. As a result, she initially gave him a bit of a cold shoulder until she realized he was actually a big softie.
Jennifer Aniston and Matt LeBlanc quickly became pals despite the actress' first impression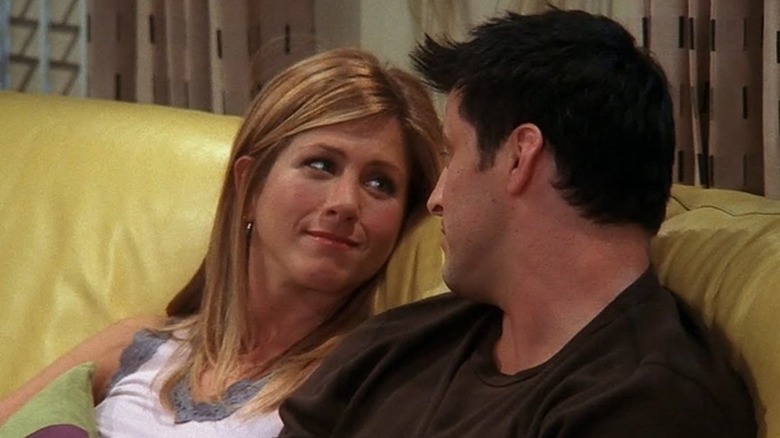 Warner Bros. TV
Thankfully, Aniston's fears about LeBlanc were swiftly proven wrong. As she told People, "He thinks it's very funny now. And actually, he can sit down and comfort me just like Courteney or Lisa could."
Eventually, the writers went on to pair Joey and Rachel off romantically in the later seasons. And while the viewer response to that storyline remains mixed, there's no denying that Aniston and LeBlanc have superb onscreen chemistry as friends. In fact, the friendship between Joey and Rachel, which really took off after she moved in with him in Season 6, was one of the sweetest pairings on the show.
And that friendship simply wouldn't have worked had Aniston not moved past her initial first impression of LeBlanc. For his part, LeBlanc has made it clear he thinks of the actress as something of a little sibling. In a 2015 interview with People, he said, "Jen's like my little sister. Courteney [Cox] and Lisa [Kudrow] are like my big sisters, but Jen's like my little sister."
Clearly, Aniston missed the mark when she assumed LeBlanc was the ultimate guy. If anything, he's like another brother to the star.