Does This Black Widow Clip Debunk A Taskmaster Fan Theory?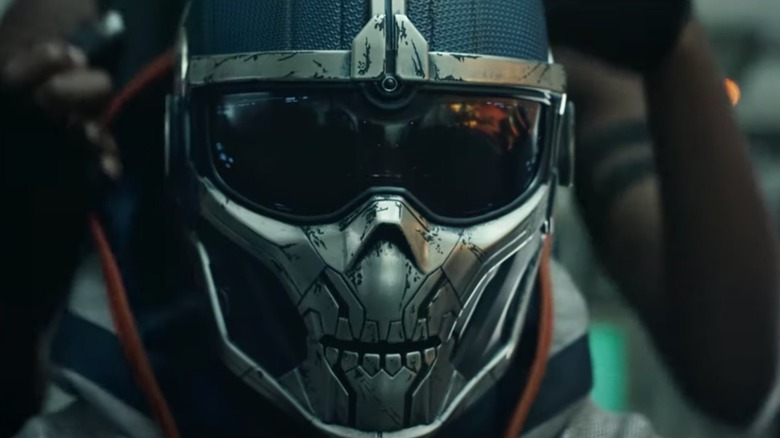 Marvel Studios/Disney
Black Widow has fought aliens, the Winter Soldier, and Thanos. However, over the last year, she's fought her most formidable foe to date — the COVID-19 pandemic. 
While her first solo movie was initially supposed to come out in May 2020, it had to be pushed back due to unforeseen circumstances. It's now finally about to make its way to theaters and on Premier Access on Disney+ on July 9. The last year has been a long one for comic book fans, and further delays have only allowed more fan theories to grow surrounding the movie, particularly when it comes to the true identity of Taskmaster. 
In the comics, Taskmaster's real name is Tony Masters. No one by that name has popped up in the Marvel Cinematic Universe yet, which has led fans to speculate the character could receive a facelift for his live-action debut. Over the past year, fan theories have run rampant, with some of the most popular ones suggesting the villain could be a woman this time around. Melina (Rachel Weisz) and Yelena (Florence Pugh) have come up frequently (via PopBuzz), but in a week leading up to the film's release, one of the film's actors may have dropped a massive hint regarding the true nature of Taskmaster.
David Harbour refers to Taskmaster as 'he'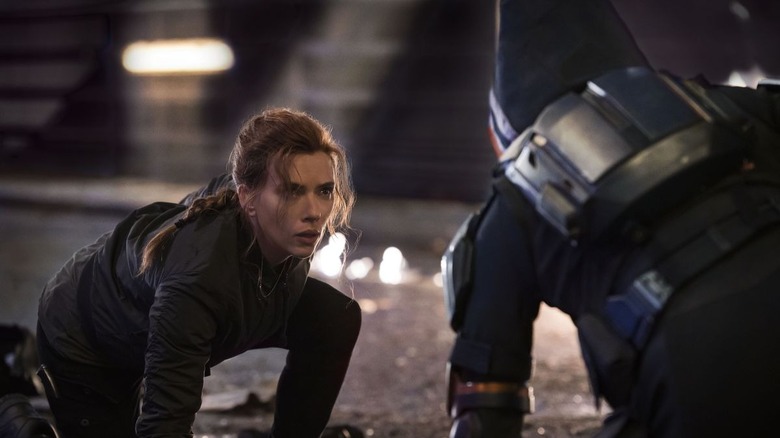 Marvel Studios/Disney
The official "Black Widow" Twitter account has released a new featurette to promote the movie, with director Cate Shortland and several of the actors commenting on the legacy of Taskmaster. Based on clips, the character displays the ability to mimic the fighting styles of several different Avengers, including Captain America, Hawkeye, and Black Panther. This serves as a powerful force for Natasha Romanoff to go up against, especially seeing how the Avengers have been her family throughout her storyline. Now, she has to face those powers face-to-face.
A lot is going on in the 45-second clip, but if you listen carefully, then you can hear a crucial word when actors describe Taskmaster. First, David Harbour, who plays Red Guardian, says, "He has the ability to mimic other characters' moves." Note the use of the word "He" in that statement. Later, Rachel Weisz also refers to Taskmaster as a "He." It's some subtle nods, but it does suggest Taskmaster is a man in the movie. 
If that indeed ends up being the case, it would eliminate Melina and Yelena as the secret identities. Other possibilities could include Rick Mason (O-T Fagbenle), who's marketed as an ally to Natasha, but allegiances change all the time in the world of spycraft. There's even some speculation Taskmaster could be Jeremy Renner's Hawkeye. It wouldn't be the first time the two fought, and a battle between those two could serve as a parallel between their scuffle on Vormir in "Avengers: Endgame," as they duked it out for who would sacrifice themselves for the Soul Stone.
Then again, Taskmaster could be someone we haven't even been introduced to yet. We'll have to wait until July 9 to see who's really behind the mask.