Netflix's Beckett - What We Know So Far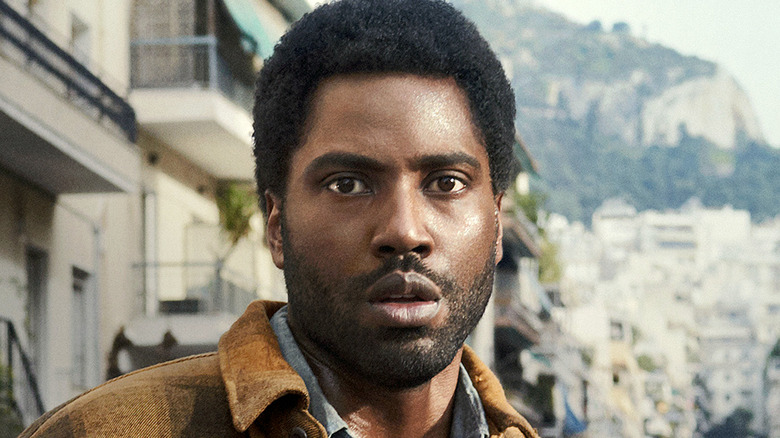 Netflix
Netflix has an upcoming thriller that's bound to garner plenty of fans due to its fast-paced action and tense plot. The film in question is "Beckett" starring John David Washington, who many will recognize for his starring roles in both "Tenet" and "BlacKkKlansman," as the title character, a man whose romantic vacation in Greece suddenly goes terribly wrong. After impressing many with his past performances, Washington has his pick of great projects to work on next, with two upcoming films being the Gareth Edwards-directed science fiction movie "True Love," as well as the star-studded untitled David O. Russell film (Slash Film, Deadline). 
Directed by Ferdinando Cito Filomarino and produced by Luca Guadagnino, "Beckett" was originally titled "Born to Be Murdered," before Netflix acquired the film in October 2020 and changed the name (The Hollywood Reporter). Clearly, many people have faith in the upcoming action thriller, as Deadline reported that it was selected as the opening film for the Locarno Film Festival in Locarno, Switzerland, which starts on August 4, 2021, and it will be the movie's world premiere. 
Eager to check out the new Netflix movie? Here's everything we know about the upcoming thriller "Beckett." 
What is the release date for Beckett?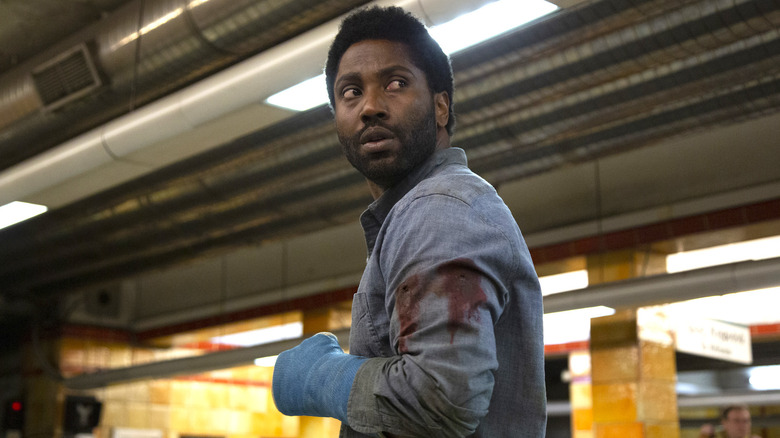 Netflix
Thankfully, there isn't too long to wait until "Beckett" is released on the streaming platform. After a world premiere at the Locarno Film Festival at the beginning of August, the movie will premiere on Netflix just over a week later, on August 13, 2021. This is only two days after another highly anticipated Netflix film, "The Kissing Booth 3," is released on August 11, 2021.
While "Beckett" doesn't necessarily have to compete with theatrically released movies, there are a couple of high profile films scheduled to come out on the same day as the thriller. This includes Ryan Reynolds' delayed meta adventure, "Free Guy," along with the horror sequel, "Don't Breathe 2." 
Summer's a particularly popular time to release movies due to the fact that school's out, people are on vacation, and movie theaters are an air-conditioned alternative to basking in the heat outside. Throughout the rest of August, other major films like "Candyman," "The Suicide Squad," and the Aretha Franklin biopic "Respect," will all be released as well.
Who is in the cast of the upcoming Netflix movie?
Netflix
Along with Washington as the title character, "Beckett" has a small main cast of talented actors, surrounded by an expansive international supporting cast. Alicia Vikander, who won an Oscar for her role in "The Danish Girl," plays Beckett's girlfriend April, who he appears to be deeply in love with before a fatal car accident destroys their life together. Alone and with no one to trust, Beckett does everything he can to get to Athens, where he hopes he can find real help at the American embassy. 
On the way to Athens, Beckett meets a woman named Lena, a political activist who is potentially a helpful ally for Beckett. Lena is played by Vicky Krieps, who some might recognize from her role as Alma in the Oscar-winning film "Phantom Thread." Rounding out the main cast is Boyd Holbrook from "Logan" as Tynan, a man who works at the American embassy in Greece who is potentially in on the plot against Beckett. There are also a few other key characters, like a corrupt Greek police officer Beckett meets after the car accident, but it's unclear as of yet what each remaining actor's role is and what the other characters' names are.
What is the action thriller Beckett about?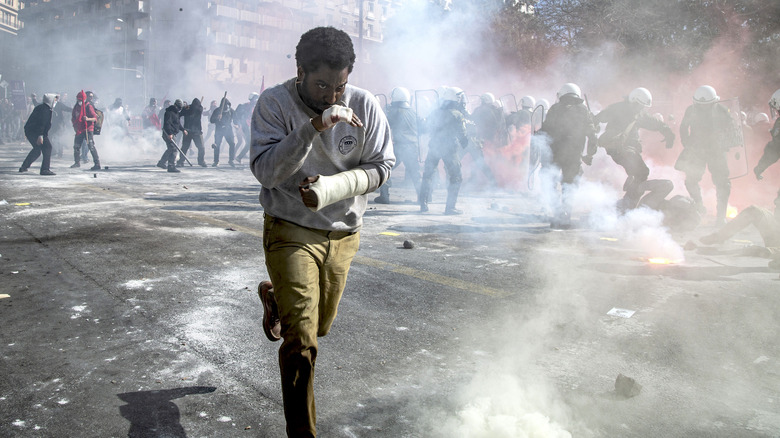 Netflix
"Beckett" starts out as a cute story of a couple, Beckett and April, on a romantic trip through the countryside of Greece, enjoying themselves as if they don't have a care in the world. Unfortunately, their lovely time spent together is cut short after they get in a terrible car accident. In an interview with Entertainment Weekly, Washington revealed that Beckett "stumbles upon a kidnapping," which "makes him the target of a nationwide manhunt." When Beckett tries to tell the police about what he saw, they claim that there was never anyone in there, and he must be making it all up. But Beckett knows what he saw, and he's determined to deliver the information to the embassy in Athens and hopefully get out of Greece with his life. 
One thing that allows "Beckett" to stand out from the many other manhunt thrillers out there is that Beckett is very clearly just a normal guy. He doesn't have some secret military background or special skills. He's just someone who ends up in the wrong place at the wrong time and doesn't want to die. In fact, Cito Filomarino shared that Washington "definitely lost some weight in the process of making this movie because he was running so much." Throughout the movie, Beckett suffers many injures as he runs through the Grecian countryside all the way to the city of Athens, jumping of cliffs, fighting on a train, and sprinting through crowds of protestors, among other things.